Why James Spader Shaved His Head For The Blacklist
James Spader has a new primetime role in NBC's The Blacklist, and to portray his mysterious character Red Reddington, he's got a new 'do for it, too. At NBC's TCA, Spader expounded on why a shaved head is the ideal look for a former criminal who helps a newbie FBI agent (Megan Boone) find other criminals. Spader also had some surprising things to say about his stint on The Office, while his costar Diego Klattenhoff spilled on what his job on The Blacklist means for his Homeland character Mike.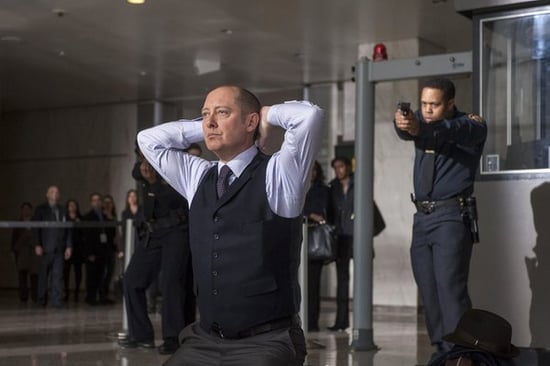 Spader had a lot to say about Red's shaved head, which was a creative choice he made partially to distance himself from other roles: "Actors are burdened with everything they've done before that. I thought it would be nice to take off my hat, and it's an entirely different person." But what was it about the distinct style of the cue ball that was so alluring? Spader explained, "He should have a haircut that he can do himself. I just thought it was streamlined . . . his clothes are like that, too. He looks well-dressed, [but they are] traveling clothes. He wears clothes that he can go to a bank or a cave [in]." I guess you can't say James Spader doesn't think about his looks.
Klattenhoff, who plays an FBI agent on The Blacklist, is probably best known for playing Mike on Homeland, so he was asked what his commitment to this new show meant for his role on the Showtime hit. While Klattenhoff said he was "still recurring," Homeland producers had also let him know that "things were winding down, and [he] wasn't going to be on it in the same capacity."
Spader had a few interesting things to say about his guest arc as Robert California on The Office, starting with the fact that he was originally only supposed to appear on the season finale when Michael Scott leaves. "I just had a ball working with those people just in that episode," he shared, and when he was called back by The Office producers, he could only commit "as long as you let me out for the Fall to do this film." The film? "Lincoln — a film everybody was doing for very little money." As for Spader's general takeaway of The Office, he said, "I never really felt like more than a visitor there, but I'm fine with that."