Why Nick Offerman Is Blond
Nick Offerman (aka Ron Swanson) Explains Why He Went Blond
Nick Offerman, who plays Parks and Recreation's manly-man character, Ron Swanson, recently surprised people when he surfaced with a freshly-dyed head of blond hair over the hiatus. Is it for a movie role? A long-held desire to be a towhead? I had a chance to chat with Offerman recently, so of course I asked why he made the hair change. Find out why Offerman went blond (I should have known it had to do with his funny-lady wife, Megan Mullally) and whether people still recognize him.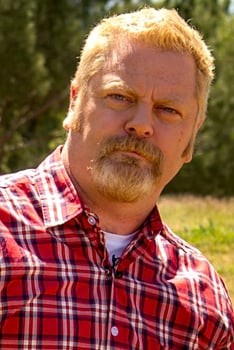 BuzzSugar: There are some photos of you that popped up recently with blond hair. Can you tell us about that?
Nick Offerman: I felt like I wasn't having enough fun in my life, so I thought one easy remedy would be to become a blond, and it's working great; I've just been having a blast. It's really true that blonds have more fun. I honestly did it as a fun surprise for my wife; she thinks it's really funny, and we get a kick out of seeing me as a beautiful blond.
Buzz: Are people not recognizing you as much with this hair?
NO: There's a little bit of that. Disappointingly, people are still managing to make me out in a crowd, so I'm not sure what I'm going to have to do to get fully disguised.
Buzz: Do you feel that you relate a little more to your costar Amy Poehler with the hair?
NO: I do. I saw her last week and I feel like we could come across as siblings.
Check back for the rest of my chat with Offerman, where we discuss how Parks will be different next season with Leslie as an elected official, and what Ron's romantic future holds.