Why This Year's Golden Globe Awards Will Be Better Than Last Year's Telecast
6 Reasons the Golden Globes Are Going to Be Even Better This Year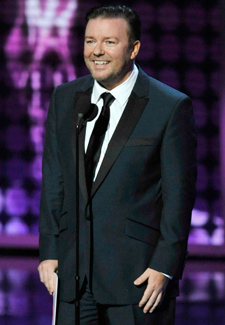 This post comes from 2010 Award Season Mayhem group member braddybradshaw.
The Golden Globes have always been known as the party-loving stepchild to the Oscars, but the telecast can be hit or miss. I'm banking on this year's version being even more entertaining than it's been in the past (or so I hope) for a few key reasons.
1. Ricky Gervais is hosting
He could just be the most hilarious Golden Globes host yet — well, he's at least the first one since 1995. If last year was any indication, between his toting beer on stage and making a Holocaust joke at Kate Winslet, the guy clearly doesn't give a sh*t, which makes for good TV. Plus, he's beloved by the industry, so I wouldn't be surprised to see a few funny on-stage gags where he teams up with his peers. How 'bout a follow up to his 2008 Emmy-stealing bit with Steve Carell?
2. It's live nationwide
For the first time ever. That means us west-coasters no longer have to wait three hours for the telecast — or have to try to stream the show from a shoddy website.
To see the rest of braddybradshaw's reasons,
.
3. (Hopefully) an acceptance speech by Gabourey Sidibe
It would undoubtedly be the highlight of the night for me. She's like the Hollywood fresh-faced newcomer who is actually genuine. I'm obsessed with her back story, her love for N*SYNC, and her performance in Precious. Did you hear about her acceptance speech at the National Board of Review Awards? She said, "Thank you, thank you, thank you. And George Clooney, let's get a drink." Anything that comes out of this girl's mouth will be fascinating to watch.
4. More Animated Film nominations
Which is good, because there are several worthy candidates in my mind, so I'm glad to see that there's more room for them to get recognized (even though Up is probably a shoo-in.)
5. Kathryn Bigelow is going up against her ex-husband James Cameron for Best Director
This is one of the awards I'll be watching most closely. My guess is one of them is going to win the honor; the other is going to give really awkward death stares to the camera, which is going to make for awesome television.
6. Martin Scorsese is receiving the Cecil B. Demille Lifetime Achievement Award
Not that last year's honoree Steven Spielberg wasn't totally deserving, but I've always thought of Marty Scorsese as the underdog director of the industry. Even though he's churned out Taxi Driver, Goodfellas, and Raging Bull, it took him nearly 45 years to get recognition with a Best Director Oscar (for The Departed), and I actually got goosebumps when it finally happened. I'm looking forward to his additional kudos.
We'd love to read your award season posts in our 2010 Award Season Mayhem group, so sign on, and we may even feature your thoughts here on BuzzSugar! If that's not your thing, check out the rest of the groups in community — you're sure to find something you like!