William Shatner Reveals He Doesn't Use Twitter
TCA Tidbits: $#*! Shatner Says and Jerry O'Connell's Wild Vegas Nights
Before another exciting day at the Summer TCA, I wanted to bring you a few more highlights from yesterday's CBS panels. I've already given you the inside scoop on the network's new daytime talk show, my trip to the set of Parenthood, and the lowdown on cute Alex O'Loughlin and Hawaii Five-O, but here's what else went down on the first day of the tour.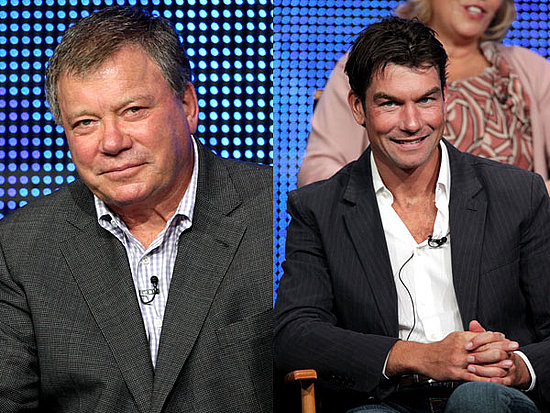 The cast and crew of The Big Bang Theory are feeling confident about the show's switch to Thursday nights — and a little fan support doesn't hurt. Fresh off an appearance at Comic-Con, Jim Parsons said he met "the sweetest least psychotic group of people." Guess the eye-stabber skipped that panel at the convention.
In other geektastic Big Bang news, expect to see a cameo from Steve Wozniak as himself in the next season.
The premise for new sitcom Mike & Molly is a couple that meets at a meeting for Overeaters Anonymous. Naturally, there were plenty of questions from critics about using fat jokes on the show and beyond, but Billy Gardell won major points with his sweet but honest responses. For example: "Everyone would like to look a little better than they are. Everyone just has a different tick, mine just happens to be pizza." He also joked that he's psyched to play a main character since "When you're a fat guy in Hollywood, you're the bad guy, the cop, or the neighbor."
Melissa McCarthy (Sookie from Gilmore Girls!) was also sweet saying that she hopes the show will help viewers go a little easier on themselves about personal appearances.
Jerry O'Connell plays a Las Vegas Lawyer alongside Jim Belushi on The Defenders, and he's had some wild Vegas experiences of his own. He talked about how his trips to Sin City have changed since marrying Rebecca Romijn: "I used to go to Vegas with about 20 or 30 friends, and we'd share one hotel room. There would be 30 of us sharing two single beds. So that's how I remember Vegas, but now that I'm married, look, I go there with my wife. A lot of shopping is done. To be honest, my credit card maxed out the last time we went there."
For more fun highlights just keep reading
The $#*! My Dad Says panel proved to be just as entertaining as I'd hoped — thanks, of course, to William Shatner. He kicked things off by revealing that (gasp!) he doesn't operate his own Twitter account, and the fun continued from there.
Even if he doesn't tweet (or twit, as many of the panelists said), Shatner is very, very excited to be part of the sitcom, because it's the first show to keep up with the age of technology. He said, "The show is born in a twitter. We're all atwitter. It's a viral show. It's an electronic miracle. It's in front of the curve."