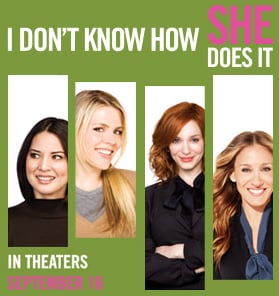 Do you ever look at someone and wonder "How does she do it"? Whether it's a mom who effortlessly juggles a family, marriage, and a job or just a woman walking down the street who seemingly put together the world's most perfect outfit, some women are worthy of being admired.
I Don't Know How She Does It, out in theaters Sept. 16, is a film that explores the intricacies, challenges, and triumphs of today's modern women. The film's star, Sarah Jessica Parker, plays Kate Reddy, a woman devoted to her job with a Boston-based financial management firm who goes home to her adoring, recently downsized architect husband Richard (Greg Kinnear) and their two young children. It's a nonstop balancing act that unfolds to tell a story that women everywhere can relate to.
And to celebrate you, I Don't Know How She Does It wants to treat you and your friends to a night on the town. Just comment below on why you're the quintessential modern woman, and you'll be entered for the chance to a $1,000 American Express gift card and four movie passes to a theater in your area!