Win Win Movie Review, Starring Paul Giamatti and Amy Ryan
Win Win: It's a Winner
Win Win has all the necessary elements for a great indie film: a down-on-his-luck central character, a strong cast, and a quirky but heartwarming comeback story told with humor. Though it's a smaller film, Win Win appeals to a wider audience with its charm.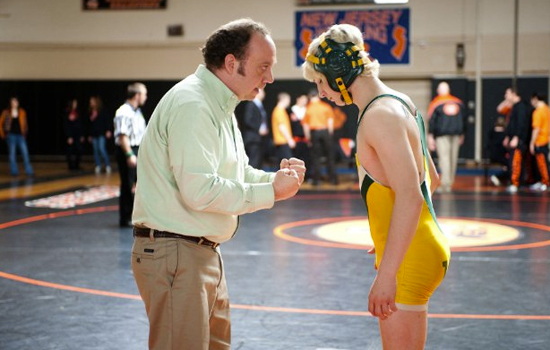 Paul Giamatti stars as small-town attorney/high school wrestling coach, Mike Flaherty. Stuck with a struggling legal practice (and a bad hot-water heater), Mike is cutting costs to keep his business afloat while still providing for his wife Jackie (Amy Ryan) and his young daughters. When one of Mike's elderly clients needs a guardian to provide for his care, Mike takes on the job to make some extra cash. But when the man's grandson Kyle (Alex Shaffer) unexpectedly shows up, Mike becomes way more involved in the family's life than he bargained for.
To find out why I enjoyed the film, read more.
Kyle is a high school kid with bleached hair and back tattoos (Jackie calls him Eminem). After his mom (Melanie Lynskey) winds up in rehab, he flees home to track down the grandpa he's never met and encounters Mike instead. Mike takes Kyle in, and he starts bringing him along to his wrestling practices. The teenager proves to be star on the mat, and Mike finally eyes the opportunity to give his ragtag high school team a chance at ending their losing streak.
Writer and director Thomas McCarthy (The Visitor, The Station Agent) gives the actors great material to work with, and the entire cast rises to the occasion. Mike is, by nature, a good guy who makes some wrong choices. Kyle's mom is an addict who's only out for herself, but we also get glimpses of her genuine remorse for her lack of parenting skills. The dynamic between Mike and his two closest friends played Bobby Cannavale and Jeffrey Tambor are especially hilarious.
Win Win isn't just a film about a flailing wrestling team. It's about human connection, family, and the importance of doing the right thing. It's these larger themes that really take the film beyond being another underdog story.