Wreck-It Ralph Movie Review
3 Reasons You Don't Have to Be a Kid to Enjoy Wreck-It Ralph
In Wreck-It Ralph, John C. Reilly voices a video-game villain who's tired of being a bad guy. He sets out on a quest to lose the label, and in doing so, he encounters lots of other characters who are also more than what their two-dimensional selves seem. It's candy-colored and cute, but even if you're not a child yourself, there are plenty of reasons to head out to theaters to see it. Check out my reasons below to find out why Wreck-It Ralph is more than just kids' stuff.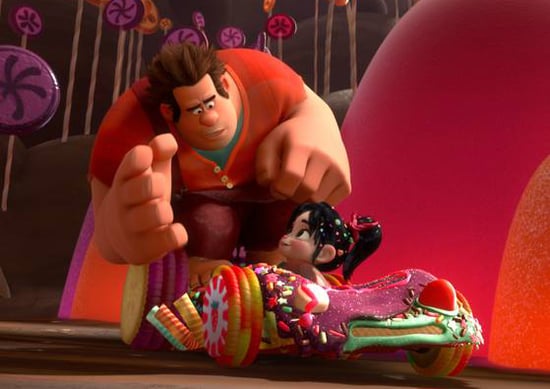 It's worth seeing for the video-game references alone. While Wreck-It Ralph does have some made-up games in it, like Sugar Rush, there are plenty of references to old-school video games you'll recognize. There's Q*bert, Sonic the Hedgehog, and Bowser, just to name a few. Be prepared to feel a flood of nostalgia as you remember playing those games as a kid — and feeling like a kid while watching Wreck-It Ralph is a big reason why it's so fun.
There's enough grown-up humor. Kids will get a kick out of silly jokes like the double entendre of "Hero's Duty" lobbed by Vanellope (Sarah Silverman), but there's plenty of humor for big kids, too. Not only do the jokes make you laugh, but also, the idea of the video-game world as its own society makes you smirk, especially when you see what the characters do in their off-hours, like drink at bars and attend self-help meetings. Plus, the voices of supporting characters like Jane Lynch and Jack McBrayer recall their usual, funny, prime-time characters.
There are deeper themes than your average kids' movie. The fact that protagonist Ralph is a bad guy alerts you early on that this isn't going to be your traditional Disney movie, and while we ride along on Ralph's journey to prove himself, the themes that emerge are pretty mature. There's the frustration in having a reputation you don't like, and the necessity of self-acceptance (as well as a lesson in bullying), but don't worry — it doesn't get overly preachy.