X-Men Comic-Con Panel 2013
All the X-Men Come Together in a Huge Way at Comic-Con
X-Men fans were treated to a sweet surprise today when we got to see the very first footage of X-Men: Days of Future Past. The film combines the mutants from the original film, like Wolverine (Hugh Jackman), Storm (Halle Berry), Rogue (Anna Paquin), and more, with the younger crop from X-Men: First Class, like Mystique (Jennifer Lawrence), and Beast (Nicholas Hoult). What was truly exciting was that pretty much the entire cast amassed for the panel, including the old and young Magneto (Ian McKellen and Michael Fassbender) and Professor X (Patrick Stewart and James McAvoy). It was one of the largest panels I've ever seen at Comic-Con, so of course, the many stars had plenty to talk about with their fan base. Here are highlights from the panel: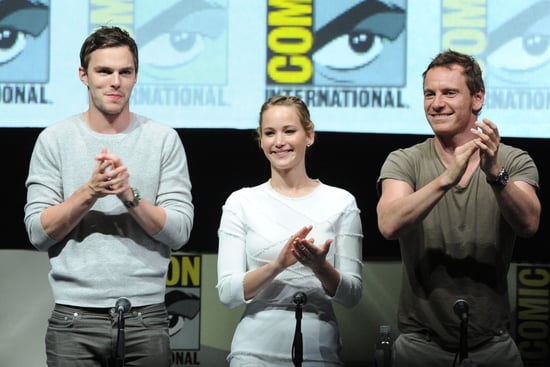 Evan Peters and Peter Dinklage are new to the X-Men franchise, and they gave us a few hints about their characters. Peters described Quicksilver as "really fast, and he's a bit of a spaz," and Dinklage confirmed that he'll be playing military scientist Bolivar Trask.
The footage of the film shows an older Professor X sending Wolverine back in time in an attempt to prevent a war from breaking out between himself and Magneto. In the '70s, Xavier is rocking a pretty serious hippie vibe, complete with long hair. Of the look, McAvoy joked, "I look incredible in this film — I just want that out there."
Seeing Lawrence, Berry, and Paquin on the same stage brought up a few comments about the fact that all three women have won Oscars. When asked if he'd like to play a different mutant, Stewart even quipped, "I'd like to play any female character in any X-Men movie because then I'd stand a chance of winning an Academy Award."
McKellen couldn't resist commenting on the recent breakthroughs in gay rights and managed to hit on Fassbender in the process. He said, "I just want to say how lovely it is to be back in California. I feel safe here now that you've gotten rid of Proposition 8. And I want to say how lovely it was to meet you, Michael."
Berry wondered why Storm never gets any romance, saying, "What I hate about Storm is that she never gets any love. What's up with Storm? Is she asexual, and nobody's told me?"
Lawrence shed some light on what's up next for Mystique: "She's starting to find her journey to the later Mystique that we know, but is still close to Charles. Though they haven't seen each other in a long time, so not close geographically."
For the most part, Jackman was just grateful that he's gotten to play Wolverine a whopping seven times. He gushed about the character over and over again and said, "This is an embarrassment of riches. To work with the people in the very first film I ever did, that's incredible on its own. This is two great movies in one. This is something I'll never forget."