Are You There, Chelsea Interviews and TCA Panel
Chelsea Handler on Watching Someone Else Play Her on TV
Chelsea Handler came to the TCA stage today to talk about NBC's new sitcom Are You There, Chelsea?, which is based on her bestselling book. Even though the show is about Handler in her 20s, Laura Prepon has the honor of playing Chelsea, while Handler has a supporting role as Sloane, a character based on Handler's own sister. The cast and showrunners talked about the various challenges of their roles and the alcohol-related reasons the title was changed.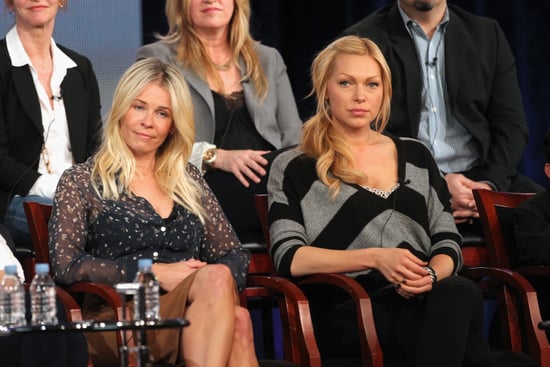 Handler was eager to talk about Prepon's portrayal of her, joking that Handler has "been living this life for a long time and I'm over myself." But Handler said that she wanted to give Prepon license with the character and assured the room that Prepon's Chelsea isn't going to be a caricature of her. Handler also joked, "I like myself much better as her."
Handler answered questions about playing her own sister on the show, Sloane, but noted that "Sloane" isn't her real sister's name (it had to be changed for legal reasons). Even though Sloane is the show's most judgmental character, Handler said that her real sister "is thrilled" about it, and Handler is also happy about the role, because it's more challenging than it would have been to play herself.
The cast addressed the fact that the title was changed from Are You There, Vodka? It's Me, Chelsea to the shorter and booze-free Are You There, Chelsea?. Prepon suggested that maybe "not everybody likes vodka," and Handler said "we thought it was a funner play," because "not everybody is into alcohol as much as I am."
Handler actually won't appear in every episode due to her work schedule ("I have some other jobs," she cheekily added). And she actually likes it that way, because she wants Prepon to have time without her. She added supportively, "ultimately, it's Laura's show."