Your Highness Movie Review
Your Highness: The Dark Ages Done Dirty
Your Highness may have a marijuana reference right there in the title, but it's not exactly Cheech and Chong in tights. It is, however, an amusing spoof from director David Gordon Green, who reproduces the comedic tone of his last movie, Pineapple Express. He also reunites with a couple of its cast members; James Franco stars as Fabious, a virtuous prince in line for the throne, and Danny McBride plays his brother Thadeous, who's far less concerned with courageous quests and much more into drinking, smoking, and women.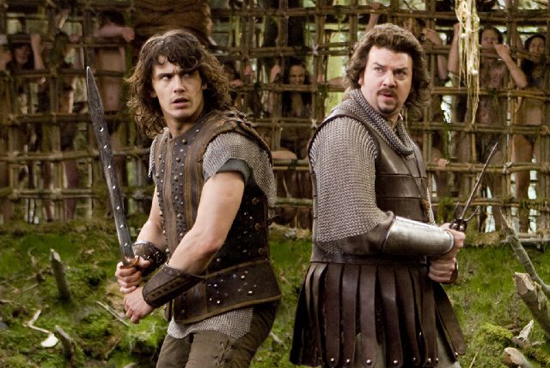 Fabious returns from a quest with a bride, Belladonna (Zooey Deschanel), but their ceremony is crashed by evil wizard Leezar (Justin Theroux, disguising his handsome face). Leezar kidnaps Belladonna, intending to take her virginity as part of a dastardly plot. Naturally, Fabious wastes no time in embarking on a new quest to get his bride back, and underachieving Thadeous has to step up so he can accompany his brother. This adventure and the characters they meet along the way (including Natalie Portman) set the scene for a raunchy takeoff of the medieval genre. To find out why I found myself chuckling at Your Highness, just
.
McBride, who co-wrote the script with Ben Best, has the biggest role, and he uses his time in the spotlight to shine. He's funny and natural, with more goofball moments than anyone else in the movie. Franco, meanwhile, is a lampoon of a dashing knight in shining armor, and he's perfectly cast as a dopey dreamboat. Together, they're the ideal pair of comedic complements.
Portman makes her appearance about halfway into the movie, and though her character isn't necessary to move the plot forward, it's refreshing to have a woman thrown in the boys' club. It's even better that it's Portman, who's still fresh in my mind as an uptight ballerina in Black Swan. It feels like she's letting her hair down here and just having a good time, which in turn makes her fun to watch. However, there are lesser-known actors in the ensemble who steal the show, like Theroux, who makes his villain as silly as he is wicked. Likewise, British newcomer Rasmus Hardiker, who plays Thadeous's right-hand man Courtney, earns giggles even when he's just pulling a funny face.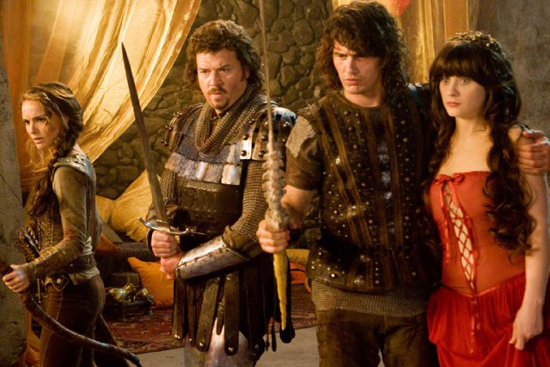 Your Highness's biggest shortcoming is in its sluggish storytelling. Though the elements of films set in the Dark Ages make a great leaping-off point, the story loses its cleverness. Still, the combo of well-timed f-bombs and the incorporation of modern slang almost make up for the lack of the narrative's follow-through.
The great cast and humor are the real draw, but this is far from a classic comedy; the movie offers many passing laughs, but it never reaches a comedic crescendo.