Your Highness Trailer Starring James Franco, Danny McBride, Natalie Portman, and Zooey Deschanel
Your Highness Trailer: Medieval Madness
Ready for raunch in another century? The red-band trailer for Your Highness has landed, and it is quite dirty, and quite medieval. James Franco plays Fabious, a knight who must rescue his fiancée (Zooey Deschanel) when she's kidnapped by a villainous sorcerer (Justin Theroux). Unfortunately, Fabious has to bring his brother Thadeous, played by Eastbound and Down's Danny McBride, a prince more prone to laziness than gallantry. Natalie Portman also stars as Isabel, a tough girl who accompanies the men on their quest.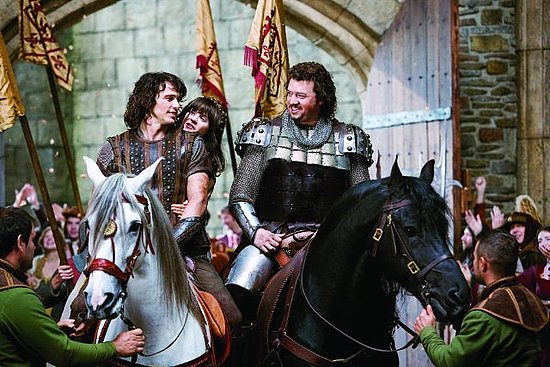 The trailer is like every teenage boy's fantasy come true: Portman strips down amid dialogue that will make your hair curl if you're not down with foul language (and this is just a preview). It's brought to you by David Gordon Green, who's responsible for Pineapple Express, so if you loved that movie, this may be the follow-up you've been waiting for (and if so, check out this gallery of photos from the film).
Check out the trailer (again: warning, it's the red-band version) when you read more.