Zach Braff Interview For Oz the Great and Powerful
Oz the Great and Powerful Set Visit: Zach Braff on Playing a Flying Monkey
Like many characters in Oz the Great and Powerful, Zach Braff plays two roles: a magician's assistant named Frank and — once we get to Oz — an animated flying monkey named Finley. When I visited the set of the film last year, Braff talked about what it was like playing a different kind of flying monkey than what we're used to seeing and why spending time on the gorgeous set was a dream come true for him as a filmmaker.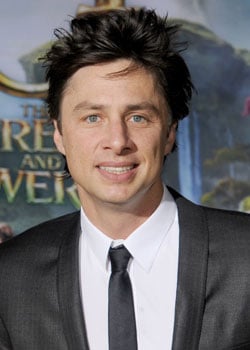 Can you clue us in a little just to the personality of your two characters? Are you the doormat character?
Zach Braff: "Doormat" is a good way to put it. As Frank, he [Oz] is the magician and I'm his magician's assistant, and I want acceptance by him, because I look up to him and he is very dismissive and condescending to me and makes it clear he has no interest in being my friend; he just wants a helper. Then we are forced to go on this journey together, and Finley is assigned to sort of look out over Oz by Rachel Weisz's character, so begrudgingly we go on this quest together, and little by little he [Oz] can't help but be charmed by this little flying monkey.
And as the monkey, you speak?
ZB: Yes, but not right away. . . . For a fair part of it he thinks I'm mute, and when push comes to shove, I have to speak and we become friends. . . . We have a story arc where he is actually able to learn from me and trust me and, in the end, be my friend and give me something that I really wanted in a human incarnation, which was friendship and his acceptance. So it's done really, really well, and it's really cool.
Can you talk about your first scenes in the movie that take place in Kansas?
ZB: It was a really, really fun way to start the movie. I was a human being, which was fun. I had period clothes like James, and I had like period sideburns and my hair is sort of slicked over and we are doing the beginning of a tornado, so they have these giant wind machines going and hundreds of extras running around in mayhem. It's hackneyed to keep saying the word "surreal," but it's just so bizarre. There you are, and there's a wind storm and there are people in turn-of-the-century circus costumes running by you, and those tumbleweeds flying, and Sam yelling on a megaphone, and eventually James's character gets into this hot air balloon and they have the basket flying across the stage, and it was a really, really fun thing to be a part of.
To see what Braff had to say about signing on and being a film geek, just
.
How did you get involved with the project?
ZB: When I read it, I wanted to be a part of it. I thought it was so cool and I'm a big fan of Sam's, and I had never been involved in anything giant like this, so I thought that would be a great, fun experience both as an actor and a filmmaker to witness filmmaking on this scale. I had never even visited a set like this, so I definitely wanted that life experience, and it just sounded like a great project.
As a film nerd, how much fun is it to be on these sets?
ZB: Well, I just had a funny moment where I was walking with Sam. . . . We are going upstairs and a guy in full munchkin costume gets off and he's like, "Hey, guys." And I'm like, "I've been away for a week; do you guys realize that we just got on an elevator and a munchkin in full costume came out?" I wander around and some people just sit, in their down time, in their trailer. I like to explore. I go to sets that they are building just because the film geek is strong in me. . . . I love being here, and it's a great group of people. Everyone is just nice. All of the cast is so sweet, and everyone gets along and it's just a good vibe. You would think since this is a giant movie that it's going to be impersonal. That's what I thought, but it really is a solid good group of people. Everyone is very sweet.
As a director yourself, what's it like watching Sam Raimi on the set of this big-budget film?
ZB: I remember when I made my movie [Garden State], the stress of a $2.5 million movie. Seeing this scale and how he's always calm. I mean maybe he's freaking out in his brain, but he is just so kind. You could ask the office PAs and they will tell you he is the nicest man. No matter who you are on this set, if you're a background person, if you're an office PA, if you're the cinematographer, he is just the kindest and sweetest man and genuinely interested in what people think. You know some people are trying to be collaborative, like "OK, what do you think?" "OK, I'm dismissing it right away." You will see him talk to Joey King, who is 12, and just completely and honestly listen to her thoughts, which is so smart, because isn't she one of the target ages of the audience? She's a very precocious and smart girl, but also she is like the audience, you know? So I really have learned so much from watching him. He really deals with it all with a lot of patience and calmness.
Would you ever want to make a film this big?
ZB:Yeah, I mean, why not? It's a fun dream to have. I look at someone like Jon Favreau, who started making comedy dialogue movies like the kind that I'm drawn to now, and now look at him. He's so talented with what he did with the Iron Man films, so I think it's possible. It isn't instantly what people think of me for, or what necessarily what I think for myself, not something I would write, but I would love to. Yes, the answer is yes, one day.
What would you say is a key to you for understanding your performance as Finley?
ZB: We serve Oz becoming a good person. Whether you want to believe that the world is all in his imagination or it's a real universe, it seems to me that he's a good man who has gotten caught up in so many things in life and lost a sense of who he is, so it's almost like all of the characters in the movie come together. It's like in the first one, the point was to teach Dorothy the importance of home and the importance of all of the other things she learned on her journey. This is a story of how all of these people, this whole universe, comes together to make a good man the great man that he could be.