Zachary Levi Interview About Chuck Season 4, Superman, and Linda Hamilton at NBC Summer TCA
Exclusive: Zachary Levi Talks Chuck, Linda Hamilton, and Season Four Spoilers!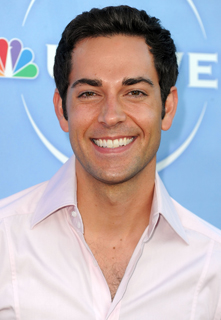 At this year's Summer TCA, I've been covering the panels for new TV shows, but I've also gotten to chat up close and personal with some of the stars. Not only did PopSugar talk to Emmys host Jimmy Fallon, but I had a few minutes with Chuck star Zachary Levi to talk about the new season (which returns this Fall instead of the Winter!) and what he thinks of Chuck's newly cast mother, Linda Hamilton!
BuzzSugar: Have you filmed with Linda yet?
Zachary Levi: I won't film with Linda for a while, because the whole point of the season is me finding her, so if I were to film with her too early, that would be a short season.
Buzz: Were you a fan of Linda's?
ZL: Huge, huge. I was beyond excited, and everyone on the cast and crew was — the fans were stoked as we hoped they would be. It's all around greatness to have Linda join the cast.
Buzz: What's the status of Chuck and Sarah's relationship this season?
ZL: Oh, we're domesticated. We're still going through the birth pangs of any relationship, what it's like to move in and be together and live together. I dropped out of working for the government and she's still working for the government, so we have that, and also just the way she's never been domesticated. She's always been on the run, either with her dad or as a spy. So there's certainly outside influences that will continue to cause a little turmoil and drama between us, but we're together That's done this year.
To read the rest of the interview, which includes some season four spoilers, just read more.
Buzz: I heard that Ellie is pregnant — is that true?
ZL: She is. That comes out in the first episode. I was actually surprised that that leaked. I didn't know how or why it did.
Buzz: Is Morgan involved a lot?
ZL: He's totally involved in the journey. He's my right hand man, he's helping me find my mom.
Buzz: I heard Nicole Richie will be back to reprise her role.
ZL: She'll be back, but I don't know when. But Olivia Munn guest stars in the first one, as does Dolph Lundgren. It all ties into our nerd/awesome/sci-fi genre world — always giving back to the fans. Then in the second episode [we have] Isaiah Mustafah, the Old Spice guy. I just filmed with him today! He's amazing, awesome, such a great dude, super down to earth, super grateful.
Buzz: Are there any truth to the Superman rumors?
ZL: No. As much as I wish that I could say yes — no, I'm not.
Buzz: Would you want to?
ZL: Of course, I'd love to play Superman.
Buzz: Which superhero would you like to play?
ZL: Pick one! I don't know, I'm a huge nerd.