Zero Hour TV Show TCA Interviews
Anthony Edwards on His Return to TV: Zero Hour "Will Challenge" You
Anthony Edwards is coming back to the small screen next month in Zero Hour, where he plays a man who works for a magazine that disproves conspiracies — until his wife (Jacinda Barrett) is kidnapped and he's swept into a tangled web of real conspiracies. Edwards came to TCA today along with his castmates and showrunners to talk about how complicated the story is and why he chose this project to make his TV return.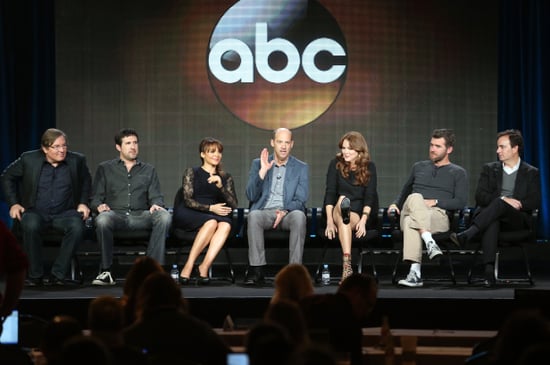 Edwards shared his reason for coming back to TV with Zero Hour, saying that when "ER was done I felt like I had really accomplished something . . . it took a while to recover from that." He asserted that if he was going to come back to TV, "it would have to be something as exciting to me as that," and when his longtime friend and Zero Hour executive producer Lorenzo di Bonaventura sent him the script, he couldn't put it down.
There are a lot of mysteries introduced in the pilot, and show creator Paul T. Scheuring said we won't have to wait around for answers. He said Zero Hour's format will follow "the 24 model, where you reset every year." Scheuring added that the Nazi conspiracy introduced in the pilot will be resolved after 13 episodes, but Edwards's character and his colleagues at the magazine "will apply that to the next thing." Edwards added that the story is complicated ("good complicated," Scheuring interjected), and "will challenge people because they're not laying it out simply."
Even though she's kidnapped in the pilot, Barrett wants you to know that she's not just the show's damsel in distress. After the first episode, her clock shop owner character Laila "gets to do more than you would expect based on the pilot," Barrett promised, adding that Laila is a "very surprising, very exciting character" and we'll get to see a lot of her, like in an episode that's devoted to her origin story.