Zooey Deschanel Interview About New Girl
Zooey Deschanel on Why New Girl Fits Her Like the Perfect Dress
New Girl, which premieres this week on Fox, stars Zooey Deschanel as a quirky girl who moves in with a group of guys after discovering her boyfriend has cheated on her. The actress recently spoke with reporters over the phone about making the transition from film to a full-time gig on TV, as well as what we can expect from future episodes of the show. The She & Him frontwoman also clued us in on whether she will continue to croon on the show and how her character, Jess, will move on from her broken heart.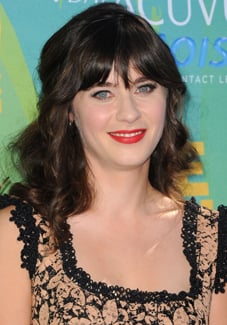 When did you decide to do comedy?
Zooey Deschanel: I always liked doing comedies when I would do plays in school always. I would always play the comedic roles. I guess that's kind of how it started. But I always think of myself as a comedic actress. I guess later I found that I could do drama as well, but I really started out thinking that I was more of a comedic actress. That's what I really love to do, so I'm super happy and excited that I get to do funny stuff every week on the show.
Is any part of Jess's personality based on yours?
ZD: I think it was sort of an actor-writer kismet situation. I know it wasn't written for me initially but it was sort of a perfect fit. You know, you go to a store and you see a dress and it just looks like it was made for you, but it wasn't? That's sort of like what it was like. And now that I am on the show, it is written for me and it's wonderful to have all these great writers writing stuff for me.
To find out what else Zooey had to say, just keep reading.
What has the adjustment to working on a TV show been like for you?
ZD: I really have, I think, adjusted well because I love being busy and I love having a lot of content and I sort of prefer to have constant stimulation. I like going to set every day and working with the same awesome people and I really like that, even though it's really long hours and it's a lot to memorize. It's really exciting and it's really fun, and really fast-moving, but I really love not waiting around and I like getting everything done quickly. There's something really exhilarating about it. I'm really enjoying that and I'm also really enjoying developing a working relationship with a group of people. There's always a little sort of Summer camp sadness to doing a movie. You know, you're having a really good time, it ends, and then there's a certain amount of, I think, melancholy to that. And I like that doing a TV show you have the potential for this to go on, and that potential is a really nice thing.
Will we hear more of Jess's singing in future episodes?
ZD: I felt like Jess's singing comes out of pure self expression. I just didn't want her to be like Maria Callas or Beyoncé. I didn't want her to be a really great singer. I thought whatever manner she tried to sing in should match her mood at the time, and she's not really singing out of showing off her vocal chops as much as trying to express something she can't express and to express a certain awkwardness. She sings a lot — that's one of her sort of character quirks, so you'll definitely hear a lot more weird, random singing.
In the pilot episode Jess is pretty distraught by her breakup. How fast do things turn around for her?
ZD: She's definitely distraught in the pilot, and the pilot's a lot about the breakup. There is some stuff about the breakup. But, finding her way in the future is more of the focus and less the getting over the breakup. It's more, the totally used to being a single woman and finding her way in that world, that is more the sort of territory that we cover in the episodes to follow the pilot.
How did you end up getting cast on this show? Was starring in a TV show something you were looking for or did they approach you with this role specifically?
ZD: No, I wasn't looking for a TV show. I was sort of developing a show last year for HBO that was a little bit in development limbo. I was also thinking about maybe doing an arc on a TV show or something, just looking into it, because I'd been touring with my band all last year and had really taken a lot of time off working as an actress. I just happened to read this script. I was so blown away by how perfect it was for me and how funny it was, and sweet, and smart. I just fell in love with this project. I guess I hadn't seriously considered any television shows before, but this was just too great to pass up. But, yes, they offered me the part. So, they sent it to me and I said I liked it. They offered it to me and took a chance that I would be able to do it. They took a chance on me.
What's your favorite thing about Jess?
ZD: I really love that she's totally herself, even though she's awkward at times and kind of nerdy at times. She's not afraid of being herself, whether it comes out as being a little bit naive or something else, or just a really strong sense of self. She's totally herself. I think that's really nice to see in female characters, because a lot of times female characters are just reacting to the men. Especially in comedies, I think a lot of time the female characters are there to provide a balance for guys. And, I really don't feel that's true with this character. I really feel like she's equal to all the guys. I really, really love that. She's a real true modern woman.
What can you tell us about Winston, who is replacing Coach as a character?
ZD: Winston is Nick's friend from childhood who has been playing basketball overseas in Latvia for two years. He had been living in the apartment and then moved out with subletting to Coach. So, that's the plot. But, basically, he's a guy who is figuring himself out, too, because he's been away chasing his dream. It didn't really work out. He's back. He's trying to find a job. He is a guy who's really great at everything, but his dream didn't come true. He wants to win all the time. So, that's his little thing, is that he wants to win all the time. He's really good at everything, but he doesn't always win. He can't quite understand it. May I say Lamorne Morris, who plays Winston, is a really wonderful actor, is really, really funny. We're very lucky to have him.
Jess has been described by the network as adorkable. Is Zooey?
ZD: I don't know. That's sort of like an outside in description. I don't really talk to people when they say stuff about themselves. I can be like, well, I'm the type of person who blah, blah, blah, blah, blah. I wouldn't trust myself. I don't know. Let's say this: There's a lot of Jess that is very much like me. I feel like I understand her very well. I feel like she is very much like I was when I was 13. I was not the coolest kid in my class. I feel like that inner dork is a wonderful thing to have. And, on behalf of middle schoolers all around, I like to represent. So, yes, I don't know. I definitely have a part of myself that is a lot like Jess. So, I'll leave it at that. But, I don't know if I'd describe myself as particularly adorkable. I don't know.