Zooey Deschanel Interview For New Girl Season Two
New Girl's Zooey Deschanel Says Jess and Nick Are "Not Getting Together Anytime Soon"
New Girl fans rooting for Jess and Nick to act on their chemistry might not want to hold their breaths. Zooey Deschanel recently hopped on the phone with a few reporters, chatting about her famous onscreen parents debuting in the Thanksgiving episode, the possibility of Joseph Gordon-Levitt guest-starring, and more details about the upcoming second season of the show — which premieres tonight!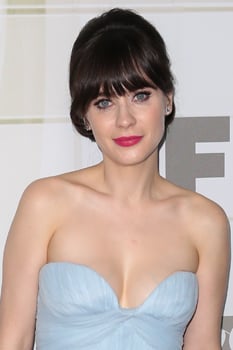 The writers have said a lot there's a worry about getting Nick and Jess together too soon. Do you think that that's a problem?
Zooey Deschanel: There's no danger of that happening. They're not getting together anytime soon. They're not ready for each other, and nobody is going to push them together. Nick and Jess have a great chemistry, and I work really well with Jake Johnson. It's nice, the sort of love-hate-but-love relationship they have. They're not going to throw them together or anything soon. They might tease it out.
Do you think Jess will take any romantic detours with her other roommates before she gets together with Nick?
ZD: I'm going to say no.
Can you tell us a little bit about Rob Reiner and Jamie Lee Curtis playing your parents?
ZD: I'm really excited. I heard at the beginning of the season that we had talked about maybe having Jess's parents come in last year, but it didn't happen. Then, this year, before even the season started, we talked about the fact that they were going to introduce Jess's parents in the Thanksgiving episode. So, we talked about a bunch of people, and these were just beyond my wildest dreams. They're people that I think would be just so perfect. I can't wait to start shooting with them.
Get more scoop on season two when you read more.
How much is Jess's loss of a job going to be a part of the season?
ZD: It definitely affects her life pretty deeply, because this is something she's wanted to do her entire life and considered teaching to be her calling. So, it definitely is a blow to her. But, I like how Jess is open to new things, and although she's upset about it, she throws herself into trying to find a new job and is pretty positive about things, which is a quality I like in the character.
Jess's quirkiness seemed to mellow out from the beginning of the first season to the end. Was that something that you encouraged, or was it just a natural evolution?
ZD: It's a natural evolution, but it was two things. One, at the beginning of last year, and I always said this, "She's not going to always be in the same heightened state that she is in the pilot, because in that situation she's just gone through a crisis." The other thing is I'm watching every week and seeing what's working. I'm using my own sensibilities to inform how I play the character. So, if I think something seems like too much, the next time we do something like that, I'm going to pull it back a little bit. I think all of us are doing that.
Your friend Mindy Kaling is now starring in her own show, The Mindy Project. How would you feel about a crossover between shows?
ZD: I think that would be really fun, actually. That's a good idea.
You have a lot of amazing guest stars coming up in season two. Do you think your friend Joseph Gordon-Levitt will ever come on?
ZD: I hadn't thought about that. He's kind of like a movie star. I don't know if he would do it.