Zooey Deschanel Talks About New Girl at Summer TCA
Zooey Deschanel Talks About Her Singing, Attractively Dorky Character on New Girl
Zooey Deschanel is making the leap from movies to TV with her new Fox series, New Girl, and the actress chatted at the TCA today about her sing-happy character, Jess. Her costars Jake Johnson, Max Greenfield, Lamorne Morris, and Hannah Simone (who play her roommates and BFF, respectively) also attended, along with showrunners. Check out what Deschanel and her colleagues had to say about Jess's wacky behavior and how much the cast enjoys each other.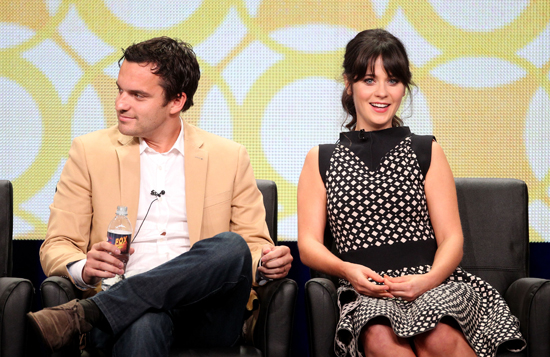 Deschanel's character, Jess, was described as "an attractive dork" by the producers, with series creator Liz Meriwether saying that she wanted to create someone who was "out there . . . a different female character." In Deschanel, Meriwether thinks they found "the perfect match of character and actress," saying she wasn't sure they could have done the show without the actress, though the part wasn't written for her. "I'd like to think it was," though, Deschanel added.
Jess is a character prone to burst into song, which is lucky since Deschanel is also a musician. The singing is "part of how she expresses herself," and Deschanel thinks the singing moments are well-peppered in, depending on her mood or the moment, especially when something is awkward. You'll definitely hear her singing every week, though — Deschanel wrote and recorded the show's theme song.
There has been some cast reshuffling, since Damon Wayans Jr. was originally in the pilot as Jess's third roommate. Wayans, of course, had to be recast since his ABC series, Happy Endings, was renewed for a second season, but his replacement, Morris, won't be playing the exact same character. Wayans's exit will be explained by saying that the character moved out, which the producers think is typical of roommates in their 20s. Morris's character, Winston, will be a former basketball player who's making a new start like Jess, and he has a lot of fans in the cast and crew. Deschanel called him "amazing — you don't know him yet, he's really awesome, we love him."
To see some photos from the panel and find out more about New Girl and how the show will impact Deschanel's film career, just
.
Jess's other male roommates are played by Johnson and Greenfield, and Meriwether characterized their interaction by saying that "they give her some tough love, but there's also some flirting." Greenfield's character, Schmidt, whose behavior warrants a "douche jar," was described as "a douche bag who can't help being a douche bag" by Meriwether. In real life, Greenfield doesn't seem to have that reputation, and Johnson insisted "we've all become buddies," but he reserved the most compliments for his leading lady. "Zooey's the best," he said, and added that "it's easy to act with Zooey because she's good and she's nice."
Deschanel was asked whether she feels like she's separating herself from her film career by appearing on this series, and she didn't seem to be too worried about missing out on starring in films; "the opportunity was appealing because the material is so great," and she said that when she had read the script she was laughing out loud and didn't know if she had ever seen a part that was "as charming and exciting" as Jess. Since her sister, Emily Deschanel, has been on Bones on Fox for seven years, Deschanel said that the thought of doing the series for a long time "is actually really exciting to me. I'm psyched."