Zuzanna Szadkowski Interview About Dorota, Gossip Girl, and Chuck and Blair's Relationship
Gossip Girl's Zuzanna Szadkowski Talks Dorota, Chuck and Blair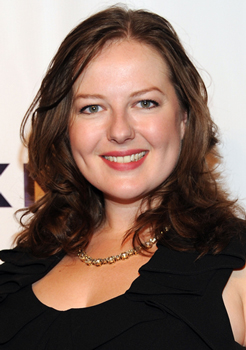 On Gossip Girl, all the attention is usually focused on Chuck and Blair or Serena and her many male suitors, but there's one background player who tends to steal their scenes: Blair's devoted maid, Dorota. I recently chatted with Zuzanna Szadkowski about her role on the show, whether she wants Chuck and Blair to be together, and this week's special holiday episode.
BuzzSugar: When will we see more of Dorota's new home life?
Zuzanna Szadkowski: This Thanksgiving episode we get to meet baby Ana for the first time, so you'll get a real chance to see what a precious little lamb she is. So we'll get to see Dorota with her baby in action, and hopefully we'll get to see more of that in the future. It's a whole new life for Dorota now with the baby and the husband; hopefully we'll get to see the details.
Buzz: Were you excited that Dorota got such a big storyline last season?
ZS: Oh yeah! It was like a crazy dream come true, I had to pinch myself the whole time when I had the wedding and the baby. I never expected any of that for Dorota, and to have that huge storyline was really, really exciting for me.
Buzz: What else is coming up in this week's holiday episode?
ZS: Thanksgiving is really important in the Waldorf home, and seeing that it's her first Thanksgiving with baby Ana, she's really going to try to hold on tight to make sure that Ana gets a good taste of what's important on this particular holiday.
To find out what else Szadkowski had to say, including her take on Chuck/Blair and Serena's confusing love life, just read more.
Buzz: Do you think Dorota wants Chuck and Blair together?
ZS: Dorota is a very, very romantic person and she's super passionate about making sure that Blair is happy. I think she really believes in Chuck and Blair and believes that somehow they'll find each other in the end. She's a supporting character in more ways than one, and her most important function is to support Blair every step of the way. So whatever Blair needs today, Dorota will be there to help her.
Buzz: As a fan, do you think Chuck and Blair belong together?
ZS: As a fan of the show, I really like Chuck and Blair together and it's so true to the nature of their relationship that there's an ebb and flow, that they come crashing together and then get pulled apart. To me it makes a lot of sense, and I think it's really exciting and as fan of the show. This whole season I've been riveted. I think the storylines are really cool and I think that watching Blair navigate her future is a lot of what this season is about, so I'm really into it.
Buzz: Do you ever get jealous that you don't get to wear the kind of costumes the other girls wear?
ZS: I do to some degree! I witness some of the most incredible shoes and accessories and outfits bags being on that set; it's like a fantasy world. And definitely Dorota has sensible shoes and is not usually party to that. The couple times that I get to step out and put on a dress, even my outerwear is really cute — like I have a cute cape that I wear sometimes — wherever Dorota can kind of come out of uniform a little bit, you can definitely see the influence of Blair, and there's a little more fabulousness than you would expect on the average maid. I get a small taste, so I'm not too despondent.
Buzz: Do you ever want Dorota to interfere more?
ZS: I think she interferes a lot in her own way. She'll be there to do Blair's bidding, but she usually has a point of view; depending on what Blair wants to hear, sometimes that will eat into Blair's subconscious. I think Dorota has the power to make her opinion known, one way or the other.
Buzz: Who would you pick for Serena? Nate, Dan, or maybe nobody?
ZS: I don't know! Definitely from Dorota's point of view, I think what's going on with Serena is pretty confusing! It's harder to keep track of Miss Serena's life than Miss Blair's. I don't know who she should pick of those two; as a fan, I think maybe there's somebody existing we haven't met yet.
Buzz: Who do you hang out with on set?
ZS: On set I spend a lot of time with Leighton because we have a lot of scenes together, and she's so funny; I think she's one of the coolest people to work with, [and] that I have ever worked with. Basically everyone on set makes me feel welcome and I'm able to connect with them in one way or another. It's really fun, it's really familial, and easygoing, and there's a lot of laughs.
Buzz: Dorota has her own passionate fan base; what's your reaction to that?
ZS: I feel really blessed that there are fans who are supporting Dorota and who love her; I'm on Twitter and I get a lot of support. Gossip Girl has the best fans in general, and the fact that there are Dorota fans is really exciting for me. Basically for me it's a thrill, and I know that this character this show has created, people can identify with her a little bit. She's a little bit different than the other characters on the Upper East Side; you kind of have a different perspective with her. And also I think she's really energetic and compassionate and enthusiastic and she has some great one-liners. I'm glad that fans love her as much as I do.
Buzz: Have you ever thought that Dorota might be Gossip Girl?
ZS: People ask me that all the time; I don't know who Gossip Girl is, but I certainly think that would be really complicated. Dorota definitely has Blair's back and a lot of times, Gossip Girl doesn't. This season Gossip Girl herself has even taken a step up — now she has this live streaming video, so it's even more complicated and exciting to figure out: who is that and what's going on with her? That's definitely a big mystery I don't have an answer for.
Buzz: Are people surprised when they meet you that you don't have Dorota's thick accent?
ZS: Oh yeah. That's usually the first thing, if I meet someone on the street. They're blown away by the accent-less-ness. It really throws people off, so I always apologize ahead of time! I think sometimes too, I don't look that much like Dorota in regular life, and I definitely don't wear an apron, and I definitely don't wear a bun too often, so people usually think I'm pretty different.
Buzz: Do you have a dream guest star?
ZS: This is probably stupid, but I love Kathy Griffin. She could come on the show and her and Dorota could mop, and make jokes, and roll their eyes at some of the other characters together.