The Danish Girl's Alicia Vikander Calls Her Award Season Buzz "Extremely Humbling"
Eddie Redmayne is earning a lot of praise for his performance in The Danish Girl, but just as impressive is the woman by his side: Alicia Vikander. The Swedish actress portrays Lili Elbe's wife, Gerda, in the film, and Vikander is extraordinary. If you look closely, you'll find that she's actually all over the screen this year, appearing in The Man From U.N.C.L.E., Ex Machina, and Burnt. While she's been acting for years, Vikander has had one hell of a year, and it's likely she'll be a household name by the time she turns up in 2016's Jason Bourne installment. I got the chance to chat with her about her role in The Danish Girl, and while she's not certain that she'll be walking the red carpets during award season, I sure am.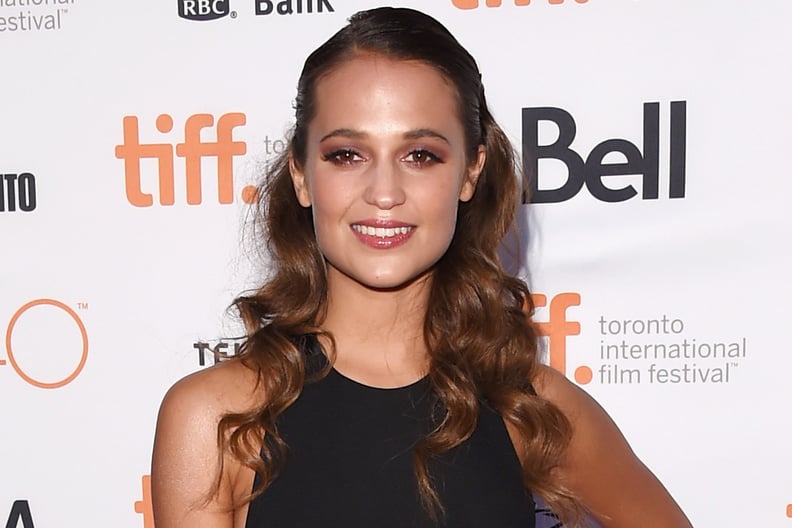 POPSUGAR: How did you walk the line between the real Gerda and the version of Gerda that is in the book on which the movie is based?
Alicia Vikander: I think both me and Eddie — and everyone involved — really took on a good job trying to adapt the book. But then to be able to go back and actually dig in, to try to find as much information about these two people, that was the real treasure for us. I love the art and all the photographs that we found. It was a direct axis to see those very ahead-of-their-time women that both Lili and Gerda were.
We tried to read as much as we could, but because it's a hundred years back, you realize that there's quite a lot of ambiguity in some of the information. We don't have any record of people who knew them, but you can meet people who've gone through a similar thing in life.
We got an enormous help from wonderfully generous people from the transgender community. Maybe more from me playing Gerda, I was introduced to people who wanted to open up with their personal stories and experiences from friends or loved ones or family members or someone who has gone through this. That was very much an eye-opener for me. Even though all those stories are all very different journeys and experiences, I felt like they all wanted to share with me that feeling of — like Gerda — wanting to be support for the person that you love more than anything. They were happy to see that Gerda was involved in this film and this story because sometimes it's tough — people forgot that they were in a transition as much as their loved one.
PS: As much as it is a heavy movie, there is such a fun rapport between you and Eddie. What was it like shooting on set?
AV: Eddie is down-to-earth, funny, and always honest. Even though we work long hours and it is a very tough subject and it's a lot of very emotional big scenes, he always brings such energy to set and such humor. I had met him a few times: we have a few common friends actually.
Before we met for the reading, we presented an award at the BAFTAs a few months earlier. I remember the common friends that we had were, like, "Oh you're going to present with Eddie. He's going to be the sweetest thing; he's the coolest guy." I remember that we had quite a fast connection there because we were both so nervous. Being actors, we can't learn [what to do] when it comes to us walking up to the stage. So we had a bit of an icebreaker there, I think. It was really enjoyable. He just always pushed me to do my very, very best. I always felt like I had to step up and give him that. But he's extremely generous, and we had a lot of fun.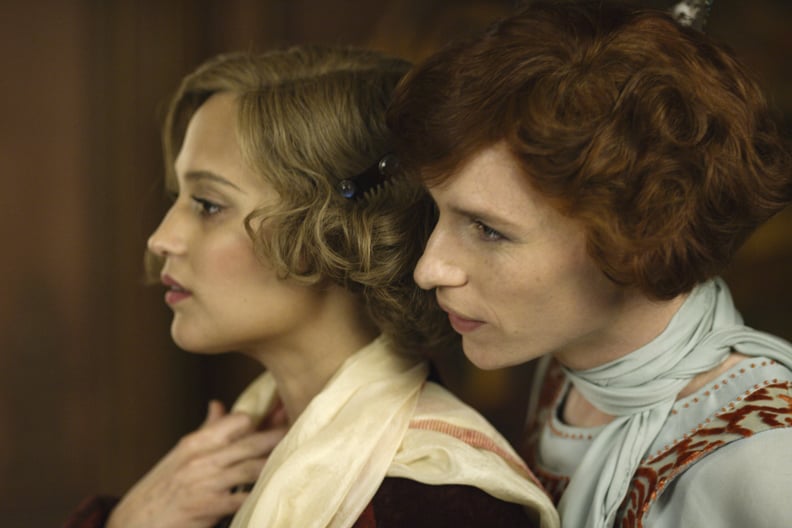 PS: You two could be doing the award season circuit together this year; how does it feel to have this award buzz around the movie and your performance?
AV: It's extremely humbling. I think being involved in any of these conversations is quite surreal. We've had some wonderful screenings. We went to Venice and Toronto. It was a very warm reception. It was nerve-racking, but it was a very warm opening. That meant a lot. Any kind of buzz that, in the end, will make people aware of the film, I think it's a very big love story and important to tell. Any kind of buzz that gets audiences to the cinema when it's being released, that would be a wonderful thing.
PS: Out of everyone in Hollywood, who would you be the most starstruck to meet in person?
AV: I wanted to meet Michael Haneke. He was one of my favorite directors in my mid-teens. So I was looking for him when I was [at award shows for A Royal Affair] in 2012. But now, Mark Ruffalo. I think he's an incredible actor. If Marion Cotillard is there, she's always a lot of fun and is one of the most incredible actresses. It always blows my mind when I see her on the screen. I was just walking around with my director, holding his hand and giggling because I felt like this was a onetime event in my life and I was trying to gather as much memories to tell my grandchildren. I don't even know if I'm going to be there! But I'm for sure going to see it on television like I've done every single year that I can remember.
PS: It seems like you're kind of an old pro at awards season! What's your least favorite part about having to do that whole tour?
AV: Oh, I am so not! Coming with a foreign film, I was just the lucky girl who was invited to join. I felt like I was just peeking out from the curtain almost when I was there the last time. That was pretty amazing. With a small, indie film like that, we always talked about if we could reach a few thousand famous people to go see that film, so it was quite a journey when we ended united all there.