How 1 Line in an Early Episode of Grey's Anatomy Predicted the Infamous Plane Crash
Of all the terrible, horrible, no good, very bad things that the characters in Grey's Anatomy have endured, perhaps none have been as traumatic as the plane crash in season eight. The devastating accident goes down (literally) in "Flight," claiming the lives of Lexie Grey and Mark Sloan, as well as seriously maiming Arizona Robbins and Derek Shepherd. Everyone is scarred — both literally and figuratively — following the crash, and when Arizona ends up having part of her leg amputated, she's never the same. To make a bad situation even worse (you should be used to that by now, Shondaland fans), a throwaway line from Arizona in early episode of Grey's Anatomy seems to have foreshadowed the whole thing.
Way back in season five's "Sympathy For the Devil," Arizona had just been hired at Seattle Grace after aging pediatric surgeon Jordan Kenley died from a heart attack in the lap of a young patient. Her first case is a little boy named Jackson, who is in desperate need of a new liver and intestine, so she takes off with Alex Karev on a jet to go collect the organs from a different hospital. "I wish we could get organs delivered instead of having to go pick them up, you know?" Arizona says to Karev midflight. "I hate flying. I always feel much closer to death flying than in the OR, don't you?"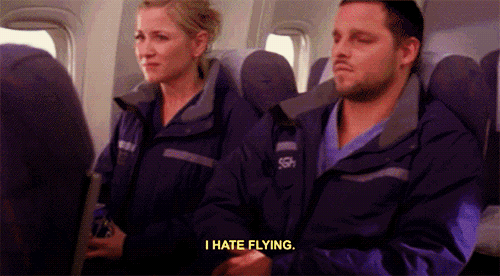 What makes this connection even weirder is that Karev was originally supposed to be on the deadly flight in season eight instead of Arizona. After she hears that he's taking a fellowship somewhere other than Seattle Grace, she pulls his spot on the trip to Boise, ID, where the doctors are flying to help with a difficult medical case, and he is spared that fate. Was this something the Grey's Anatomy writers did on purpose? We're betting no, but just like the eerie foreshadowing of Derek's death, it's a creepy (and heartbreaking) coincidence.