Bebe Rexha on Connecting Female Artists and Advocating For Change: "It's Invigorating"
When it comes to advocating for gender equality in the music industry, Bebe Rexha is one of the kingpins for change. Not because others are just starting to speak more openly about representation in media, but because it's right, and it matters. Whether she's calling out predatory music producers or championing the celebration of female expression in songs, the 29-year-old "Last Hurrah" singer just wants all artists to have a fair shot at making it big — and if that means taking a bat to the patriarchy, then so be it.
One of the ways Rexha is making efforts for the cause is by teaming up with Bumble for its Empowered by Bumble Bizz program. The initiative will connect her, Kacey Musgraves, and Hayley Kiyoko each with an up-and-coming female artist who will then get to perform at a music festival in 2020. This holds meaningful value, as women continue to be underrepresented in the festival scene; in 2018, Pitchfork reported that women make up only 19 percent of the average lineup. Rexha is hoping to push for progress by encouraging her mentee, whom she'll choose from a pool of submissions.
"It's fun to work with new creatives because I remember all the people who have given me chances," Rexha told POPSUGAR over the phone on July 31. "Those people inspire you and give you the push to believe in yourself, which is the most important thing."
More than anything, Rexha wants to motivate her mentee to keep working toward her dreams, no matter what. "It's not going to be an easy journey, but it's not about being the most talented," she said. "It's about being the most persistent, the most driven, and being able to bounce back. You have to be resilient."
Rexha's partnership with Bumble should hardly come as a surprise, considering her previous endeavors to promote equality. In 2018, she started a pre-Grammys Women in Harmony luncheon for female artists to gather in unity and talk about their experiences in the industry. The idea came to her while she was in the studio with another female creative and felt power in their combined energy.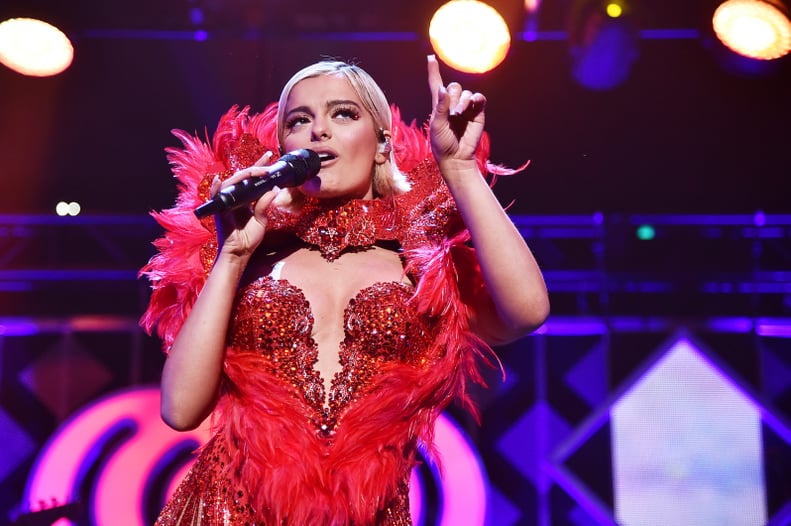 The first brunch she hosted at Cecconi's restaurant in West Hollywood brought out around 40 attendees, including Charli XCX, JoJo, Sevyn Streeter, and Avril Lavigne. At the second annual get-together held at LA's Sunset Tower Hotel in February 2019, there were around 100 guests, including Brandi Carlile, Ashlee Simpson, Madison Beer, Nicole Scherzinger, and Sabrina Carpenter.
"There's an unspoken thing — a sense of competitiveness — that women have in the industry because there are more men in the business," Rexha said. "But if we stick together, we can create more room at the table, collaborate, and have more success together. It's invigorating." She is already planning next year's event and has a few artists in mind who she's hoping will perform (but that's top-secret information for now).
"Women are becoming more empowered, standing up for what they believe in, and supporting each other."
With continued support and a sedulous spirit, Rexha wants to restructure the foundation of music media to be more inclusive and less disparaging for women. "There's a stigma against women that they're very emotional; they're divas. And guys are bosses. But when girls are bosses, they're 'b*tches,'" she said. "Those stereotypes need to be broken." Thankfully, she sees the tides starting to turn. "Women are becoming more empowered, standing up for what they believe in, and supporting each other," she added. "You definitely feel it — not only in the music business, [but] overall."
And according to Rexha, gender equality goes beyond what you see on the surface. Representation among people working behind the scenes is just as important. "I'd love to see more female executives who are presidents of record labels, more women starting record labels, more female producers and engineers, and more women in positions of power," she said. "That's why I really want to start my own label and publishing company to help newer artists and songwriters. And that will happen at the right time."