A 10-Song Introduction to the Infectious Power of Lizzo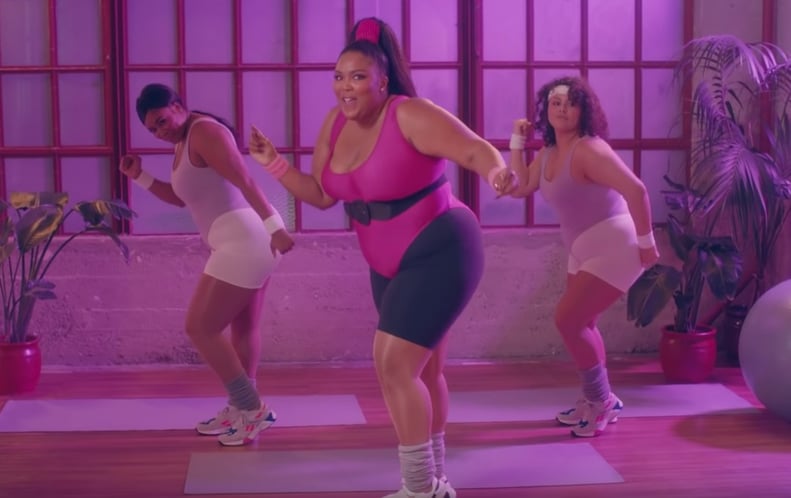 Like everyone else who has a brain and two functioning ears, I've decided to dedicate my life to spreading the gospel of Lizzo.
The 30-year-old rapper, singer, and talented flautist — if playing flute and twerking on stage isn't instantly iconic, I don't know what is — dropped her debut album, Lizzobangers, in 2013, and she's been pumping out bop after bop ever since. Although it's long overdue (in my not so humble opinion), Lizzo is finally getting the mainstream shine she deserves, from flawless appearances on The Ellen DeGeneres Show and The Tonight Show to seeing her latest single, "Juice," chart on Billboard's Hot R&B.
Like many others, a lot of what appeals to me about Lizzo, other than her infectious beats, is her inclusive, empowering message. But in an age when feminism and self-acceptance are often hollowed out by big brands in order to sell everything from body wash to pink hats with the help of a cheeky hashtag, Lizzo continues to prove that her message is authentic. She lives what she raps; she puts immense thought into her lyrics, ensuring that they're not empowering for empowerment's sake.
For instance, in her 2017 track "Truth Hurts," she sings, "I will never ever, ever be your side chick," but that wasn't the original lyric. During Allison P. Davis's recent (and fantastic) profile of Lizzo in The Cut, the musician notes that the original lyric was "I could never ever, ever be a side chick," but she decided to tweak it to be more inclusive.
"B*tch, what about side chicks! I don't want to exclude them! I don't want to make them feel bad. I think that's why this feels brand new. I'm trying to be inclusive," she explains. "Could this song ["Like a Girl," her new track that's about throwing dollars at strippers "like a girl"] be in a Dove commercial? Yes, but it won't. They aren't thinking about everybody. . . . The old heads aren't ready for that."
While "the old heads" might not be ready for Lizzo's brand of confidence just yet, there's nothing standing in the way of falling in love with her yourself (if you haven't already). Check out her most essential songs ahead before her next album, Cuz I Love You, drops in April.
01
When You're Looking For the Confidence to Do . . . Well . . . Anything: "Good as Hell"
Like a lot of people, this was actually the first Lizzo song I ever had the pleasure of hearing (on the Barbershop: The Next Cut soundtrack, of all places), and it's still my favorite track of hers to date. It's upbeat, catchy as f*ck, and the ultimate feel-good jam. I'm not exaggerating when I say that it's physically impossible for me not to do a little shimmy when this song comes on (much to the dismay of my coworkers, boyfriend, parents, people in the grocery store, the guy on the treadmill next to me, my cat . . .).
02
If You Made "Going to Soul Cycle More" Your New Year's Resolution: "Fitness"
I would argue that all of Lizzo's songs are motivating in some way or another — to get rid of the people who don't value you, to be the baddest b*tch you possibly can — but this is an especially great track for working out, as you can tell from its title. "Independent, athletic / I been sweating, doing calisthenics," she sings. "I've been lifting heavy metal / See this ass? Ain't no rental." Doesn't that make you want to go for a run? Or at least put on cute yoga pants and pretend you did?
03
When You're Feeling Dehydrated: "Water Me"
This song is so damn catchy. (Any time I listen to it, I go in knowing full well it'll be stuck in my head for at least the next two days.) In it, Lizzo sings about learning to be her own inspiration after realizing other people will let you down.
"'Water Me' is all about feeling neglected, feeling undernourished in a relationship, literally needing to drink more water, needing to focus on myself because it's armor," she told the NY Daily News in 2017. "We gotta build this armor because the world right now is a battlefield."
04
When You Need to Explain to Your Tinder Hook-Up That You're Not Looking For Anything Serious: "Boys"
In Lizzo's world, women are actively encouraged to be just as promiscuous as men, with no judgment whatsoever. (As it should be.) I mean, how can you read the following lyrics and not feel a boost of confidence on your way out the door to meet up with someone?
"I like big boys, itty-bitty boys
Mississippi boys, inner-city boys
I like the pretty boys with the bow tie
Get your nails did, let it blow dry
I like a big beard, I like a clean face
I don't discriminate, come and get a taste
From the playboys to the gay boys
Go and slay, boys, you my fave boys."
05
When You're Feeling Disrespected: "Truth Hurts"
Confession: I'm still shaking from the first time I heard her rap the line "I just took a DNA test, turns out I'm 100 percent that b*tch" in this 2017 song. I don't really see what else there is to say about it, honestly, because that should prove to you how perfect it is.
06
When You're Feeling Particularly Unapologetic: "Scuse Me"
The Minneapolis-based rapper wears a crown in the religion-themed video for "Scuse Me," where she makes it clear she won't be suffering any fools anytime soon.
"Look up in the mirror, oh my God, it's me
So much Prada on me, I'm a Pradagy
I'ma do my thing, no apologies."
07
Your "Walking Home From the Bar in 6-Inch Heels" Anthem: "Phone"
On her album Coconut Oil, Lizzo takes a break from her more emotional, deeper meditations on self-care and empowerment to gift us with a straight-up earworm: "Phone." It was created with the help of producer Jesse Shatkin (Sia's "Chandelier") and writer Evan Bogart (Beyoncé's "Halo"), and it focuses on the simple memory of the time she couldn't find her phone, which led to a bar fight in Minneapolis. The result is a playful, energetic ode to a wild night out, the creation of which she called "one of my proudest musical moments with people I love and respect" in Rolling Stone.
08
When You're in Need of a Spa Day: "Worship"
You might recognize this song from its appearance in Oprah's recent batch of ads for Weight Watchers, which is trying to rebrand itself as WW (Wellness Works). The move to allow the weight-loss company to use her track, despite Oprah's cosign, caused a controversy with some of Lizzo's followers, but her thoughtful, empathetic response to the situation is yet another reason her fanbase just keeps getting stronger.
09

When You're Going Through It: "Humanize"
"Humanize" is off of Lizzo's 2016 album, Big GRRRL Small World and is one of her most subdued yet beautiful songs to date. The pared-back (and somehow still trippy?!) visuals in her music video don't hurt, either.
10
For Legitimately Any Situation: "Juice"
I don't think Lizzo gets nearly enough credit for all of her stunning music videos. She's not only giving us beats but also A+ visuals?! What more could a fan ask for? "Juice" is the quintessential example of this and was directed by her longtime collaborator Quinn Wilson. (Wilson also directed the videos for "Boys," "Fitness," "Truth Hurts," "Water Me," and more.) "Juice" sees Lizzo decked out in head-to-toe '80s gear, doing everything from rocking an aerobics class to hocking stuff on QVC. Feel free to watch it a billion times in a row (at least) above.