Dwayne Johnson Squares Up With the Justice Society in the New "Black Adam" Trailer
Dwayne Johnson gives a whole new meaning to superheroes in DC's "Black Adam." On July 23, the actor told a crowd at this year's Comic-Con conference that "the DC Universe will never be the same again." It may sound like hyperbole, but Johnson's antihero character truly does have the chance to change the DC cinematic universe if the film's latest trailer is any indication — which is thanks in large part to "Black Adam" introducing a new team of heroes: the Justice Society of America.
Fans get a closer look at the team in the new trailer, released on Sept. 8, as they go head to head with Johnson's Black Adam, but the clip also marks the return of Viola Davis as ruthless government operator Amanda Waller, who fans will recognize from the Suicide Squad films. Per the trailer, Amanda has joined forces with the Justice Society to take down Black Adam, but as Johnson's character says, he "kneels before no one."
Johnson's highly anticipated antihero film will finally make its debut this fall. For years, development for the movie was left in limbo, while Johnson voiced interest in the notorious DC comics character over a decade ago before he was cast in 2014 to play the antagonist in New Line Cinema's "Shazam!" movie. Now he leads his own DC film as Black Adam, where he redefines what it means to be a hero.
"It's always cliché to say that someone was born to play a role, but in this case, it's true."
In November 2019, Johnson broke the news that the long-awaited film featuring him as the classic DC antihero would release on Dec. 22, 2021. "As a kid, Superman was the hero I always wanted to be. But, a few years into my fantasy, I realized that Superman was the hero, I could never be," he wrote in an Instagram post. ". . . Now, years later as a man, with the same DNA I had as a kid - my superhero dreams have come true. I'm honored to join the iconic #DCUniverse and it's a true pleasure to become, BLACK ADAM."
According to director Jaume Collet-Serra, Johnson tackling the role of Black Adam was almost fate. "It's always cliché to say that someone was born to play a role, but in this case, it's true," he told Entertainment Weekly. "The movie happened because of him. He's the energy and the push that got this movie made. Even if it took him a long time to fulfill this dream of his, I think that it's been worth the wait."
Following Johnson's initial release-date announcement, the movie was pushed to July 29, 2022, before DC issued a new October premiere date. Production on the film took a backseat for a while due to the pandemic. But in August 2020, during DC Fandome — the virtual weekend convention for all things DC — a visibly excited Johnson revealed more information about his film, including animated concept drawings and the featured cast of characters.
Not only are we getting the star in all his spandex-clad glory as Black Adam, but for the first time ever, fans will also officially meet DC's Justice Society in a live-action movie — this includes Hawkman (Aldis Hodge), Doctor Fate (Pierce Brosnan), Cyclone (Quintessa Swindell), and Atom Smasher (Noah Centineo).
Keep reading ahead for everything we know about "Black Adam" and brace yourself for the film's exciting fall premiere.
— Additional reporting by Sabienna Bowman.
04
"Black Adam" Comic-Con Trailer
05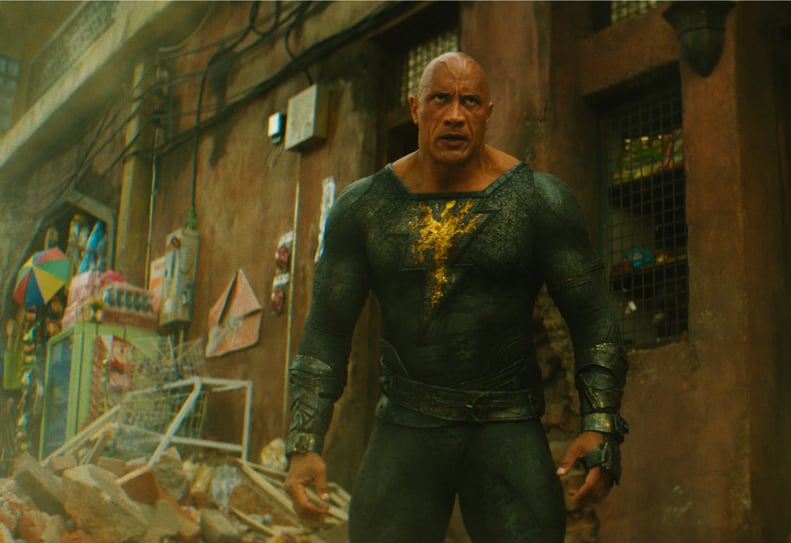 "Black Adam" Plot
Although Black Adam is traditionally considered a villain in the DC Comics and regularly pits himself against Shazam as his nemesis, Johnson's rendition sees him as a troubled antihero who follows his own rules.
"Superheroes have to exhibit a little bit of restraint in taking care of the bad guys," the actor said during the August 2020 DC FanDome panel for "Black Adam," Entertainment Tonight reported. "[Black Adam] does not practice restraint. That combination makes him explosive, very dangerous, and very likable, at least to me."
"Black Adam" will be a partial origin story, beginning 5,000 years in the past when Johnson's Teth Adam first receives his godlike powers before ultimately being imprisoned after using them to create chaos and devastation. It will then jump to today's time, where he will attempt to regain his powers while facing off against the Justice Society of America.
06
"Black Adam" Cast
Johnson stars as the titular character alongside Noah Centineo as Atom Smasher, Aldis Hodge as Hawkman, Pierce Brosnan as Doctor Fate, and Quintessa Swindell as Cyclone. Marwan Kenzari, James Cusati-Moyer, Bodhi Sabongui, Mo Amer, and Uli Latukefu also star in the film.
07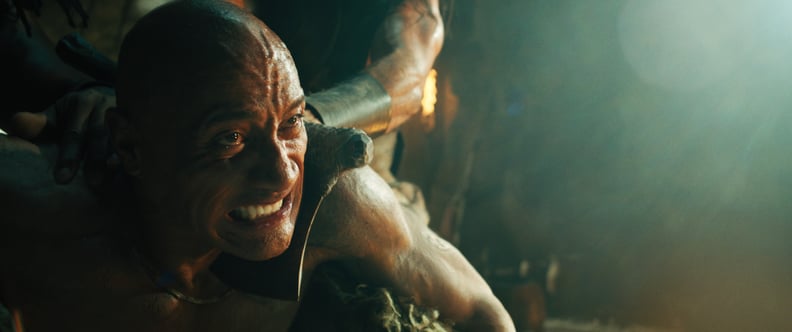 "Black Adam" Release Date
"Black Adam" finally hits theaters on Oct. 21.
08
Will Superman Be in "Black Adam"?
Henry Cavill's Clark Kent was rumored to be making a cameo in the film, per a a report from CB, but nothing has been confirmed as of yet. However, in a December 2021 interview with Total Film, via GamesRadar, Johnson seemed confident that his Black Adam and the Man of Steel (whoever portrays him) could face off someday.
"We can do anything if we keep the audience first," he said. "So to me, there's a battle that's going to go down one day, between Black Adam and Superman. I don't know who that Superman is going to be, and I don't know who's going to play him. That's OK. I don't need to know right now. But I'm confident in knowing that [laughs]. And that's based out of what fans want. We worked backwards from there."
09
Will the Shazam! Family Be in "Black Adam"?
Johnson's Black Adam was meant to appear alongside the other comic-book supervillains in the 2019 "Shazam!" film, but the studio ultimately decided to give him his own movie. Since the character is originally the predecessor of Captain Marvel — aka Shazam — who goes dark, we can theorize that the film may set up a big clash between Johnson's Adam and Zachary Levi's Billy Batson in the "Shazam!" sequel, which is set to hit theaters in December.
As of now, Djimon Hounsou's the Wizard is missing from the cast of "Black Adam." That, plus the inclusion of superheroes yet to be seen in the DC film universe, suggests "Black Adam" might have less connection to "Shazam!" than originally thought.
10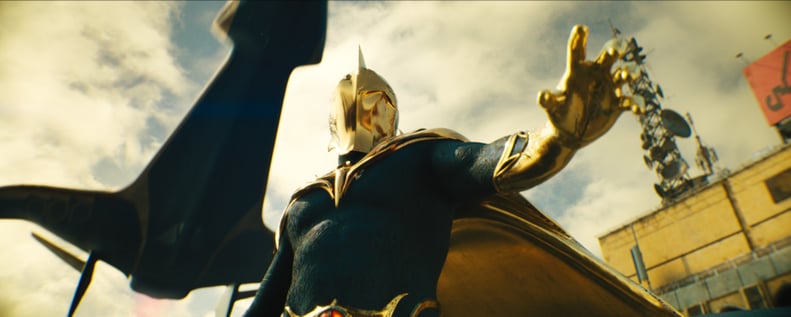 "Black Adam" First-Look Photos