Cole Sprouse on the Natural Chemistry With His Five Feet Apart Costars: "We Found a Rhythm"
Cole Sprouse has quite literally been acting his whole life. Sprouse and his twin brother, Dylan, first got into the business when they were only 8 months old, and they haven't really slowed down since. While the 26-year-old has had a wide range of roles over the years, including the 1999 comedy Big Daddy, Friends, and the Disney Channel's The Suite Life of Zack and Cody, his work continues to mature with him as he gets older. After taking a hiatus from acting to go to college from 2011-2015, Sprouse made his big return to TV when he scored the role of the moody Archie Comics character Jughead Jones on Riverdale in 2017. Now, nearly three years later, Sprouse is heading back to the big screen in the upcoming movie adaptation of Five Feet Apart.
The film, which is directed by Jane the Virgin's Justin Baldoni, follows two cystic fibrosis patients named Stella (Haley Lu Richardson) and Will (Sprouse) who fall in love against all odds. Despite the rule that cystic fibrosis patients should be kept at least six feet apart to decrease the risk of cross-infection, the pair decide to take back that extra foot since the genetic disorder has already taken so much from them. While the movie writes as a love letter — both through the characters' story and to the CF community — it's also a simple reminder to appreciate the little things in life.
Ahead of the film's release, I had a chance to talk with Sprouse about his return to the big screen, bringing the character of Will to life, and Five Feet Apart's "very interpretative" ending.
POPSUGAR: You've been on Riverdale for the past three seasons, but Five Feet Apart is really your first big film role since you've started acting again. What about the film appealed to you so much that you chose it as your first big return to the screen?
Cole Sprouse: It wasn't really that conscious of a process or a choice. I'm a workaholic, so I like to continue to work, and I enjoyed the script. And when I met with [director] Justin [Baldoni], I realized that he was well-versed in the nature of cystic fibrosis enough that the passion was in place for him to really take care of it and not do a disservice to the CF community with the finished product, which was one of my biggest concerns. It fell into place like many of these productions often do. The choice was made, and we got to set and did the best that we could. It wasn't really so much like, "Yeah, this is the movie I'm going to return with." It was just the nature of the kind of happenstance that takes place in all of those production cycles.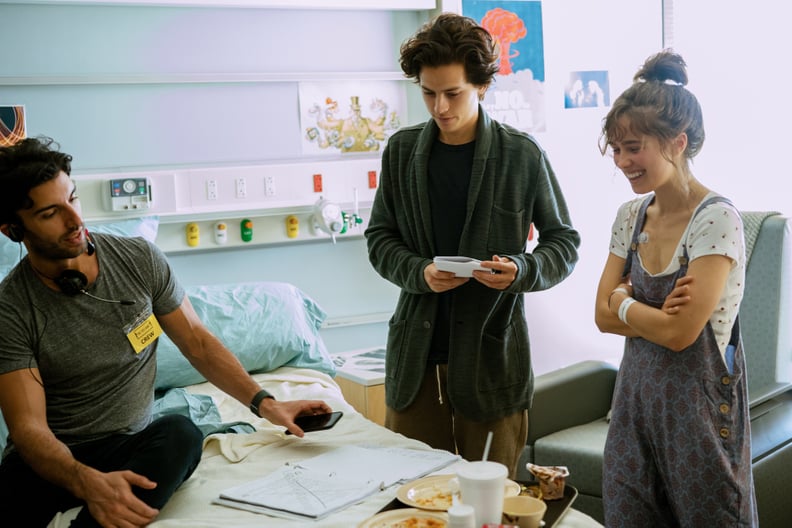 PS: As you mentioned, portraying an illness on screen, especially one that affects so many people around the world, must have been a little intimidating. Did you do research beforehand or talk with any patients who have cystic fibrosis?
CS: Of course. Haley, Moisés Arias [who plays a fellow CF patient, Poe], and I had done extensive research. Even when we were on set, we were guided by medical professionals and patients with cystic fibrosis and made sure that the way we approached all treatments and the way we approached the psychology and every aspect of the emotional and physical process was as accurate as possible.
PS: There's a real feeling of family between Will, Stella, and Poe in the film. The three of you come off as genuine friends. Was it as fun working with them off screen as it seems on screen?
CS: Yeah, of course. The cast connection is kind of the one thing in the production process that you can't really curate, that sort of chemistry. Moisés and I have been friends for years, so that was a little bit different. But in terms of Haley and Moisés and I all getting together, it was sort of a roll of the dice. We just happened to form close bonds and all of us were super compatible. And I think that chemistry really reads.
PS: While you already knew Moisés from your Disney Channel days, this was your first introduction to Haley. Since the two of you had such emotional scenes together, did the two of you do anything before filming to get to know each other and get comfortable with one another?
CS: We just became friends and hung out. One of the greatest things about traveling to a different city and filming is that the only people you really know are the people that you work with. So it allows you to go out with them and talk it over. We found a rhythm with how one another approached certain scenes and emotional discourse to make sure that we were able to assist each other in getting to those places. And thankfully, Justin came from an acting background as well and had the foresight to know to allow us the preparation and the time to get into these certain scenes.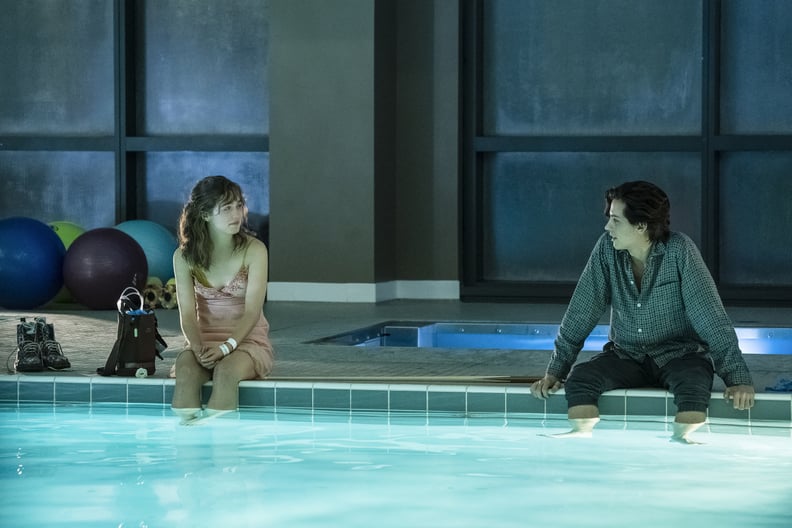 PS: Was there one scene that was particularly difficult for you to film?
CS: I think in terms of difficulty, technical difficulty, there were two things. There was the big pond sequence. And the technical difficulty behind that was that it was a sweltering New Orleans Summer day, we were inside a sound stage for that, which was also sweltering, and we were in full Winter clothes. So I think that required the most physical acting in terms of our preparation. The other one was the pool sequence, which was the culmination of six weeks of preproduction and a full day dedicated to that filming. And also, an extensive nutritional regimen to get into the physicality of cystic fibrosis.
PS: On a lighter note, you didn't sing on Riverdale for the musical episode last season, but I was pleasantly surprised to hear you sing in this movie. Were you nervous about filming that?
CS: No. Not so much. I mean, it's funny, I guess a lot of things were said about me after the last musical episode on Riverdale where they assumed that I had taken a hard stance against singing. But I really don't. If it makes sense for the character and the psychology of the character, then it works. You'll be pleasantly surprised to know that in this upcoming musical episode, I do sing. Which was a much different experience. But I think for Will and Stella, it really made sense.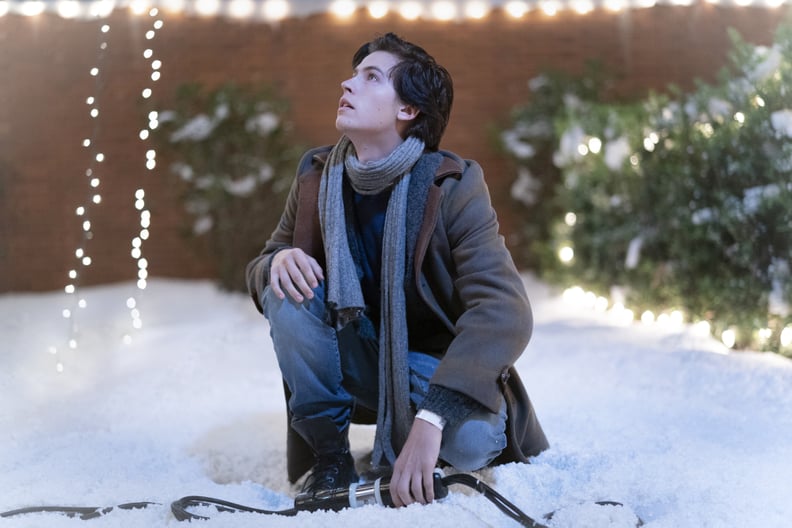 PS: The film's ending differs from the book's ending quite a bit. Was that always the way the script was written?
"It suits the hope that we wanted to give across for both Will and Stella while simultaneously acknowledging the mortality of cystic fibrosis in a respectful way."
CS: No. We filmed multiple endings, actually. I think we filmed about three or four. And, again, as an actor after we film, we have to sort of wipe our heads clean and just accept and put our trust into the postproduction cycle. It seems like they landed on a very interpretative, open ending for the movie, and I think that really suits the film. It suits the hope that we wanted to give across for both Will and Stella while simultaneously acknowledging the mortality of cystic fibrosis in a respectful way. So it's going to be interesting seeing what the audience assumed happened to those two characters.
PS: You've been acting since you were very young, and you've had many different roles over the years. What kind of project would you like to take on next?
CS: For me, it's a little more general. I like to play roles that are grounded and realistic and sort of bound within characters that are emotionally damaged. That suits the way that I approach the acting process. It's something that I resonate with. But really, I much prefer just being a working actor, and I realize the nature of this industry is oftentimes you take what you can get. And I think as long as the director and the production cycle allows me to pour myself completely and wholly into the preparation, I'm willing to sort of take it as it comes.
PS: What has been the biggest lesson you've learned about acting?
CS: The biggest is that every medium is so different. Film is so different from television. A 30-minute sitcom is so different than hour-long drama. And film, whether it's a comedy or whether it's a romance drama, is completely different. Every production is different, and the tool set that you have to build for yourself has to be reflective enough to put you in that right space.