Who Were DaBaby's Background Singers at the 2021 Grammys?
DaBaby's Background Singers Underlined His Performance's Themes of Racial Injustice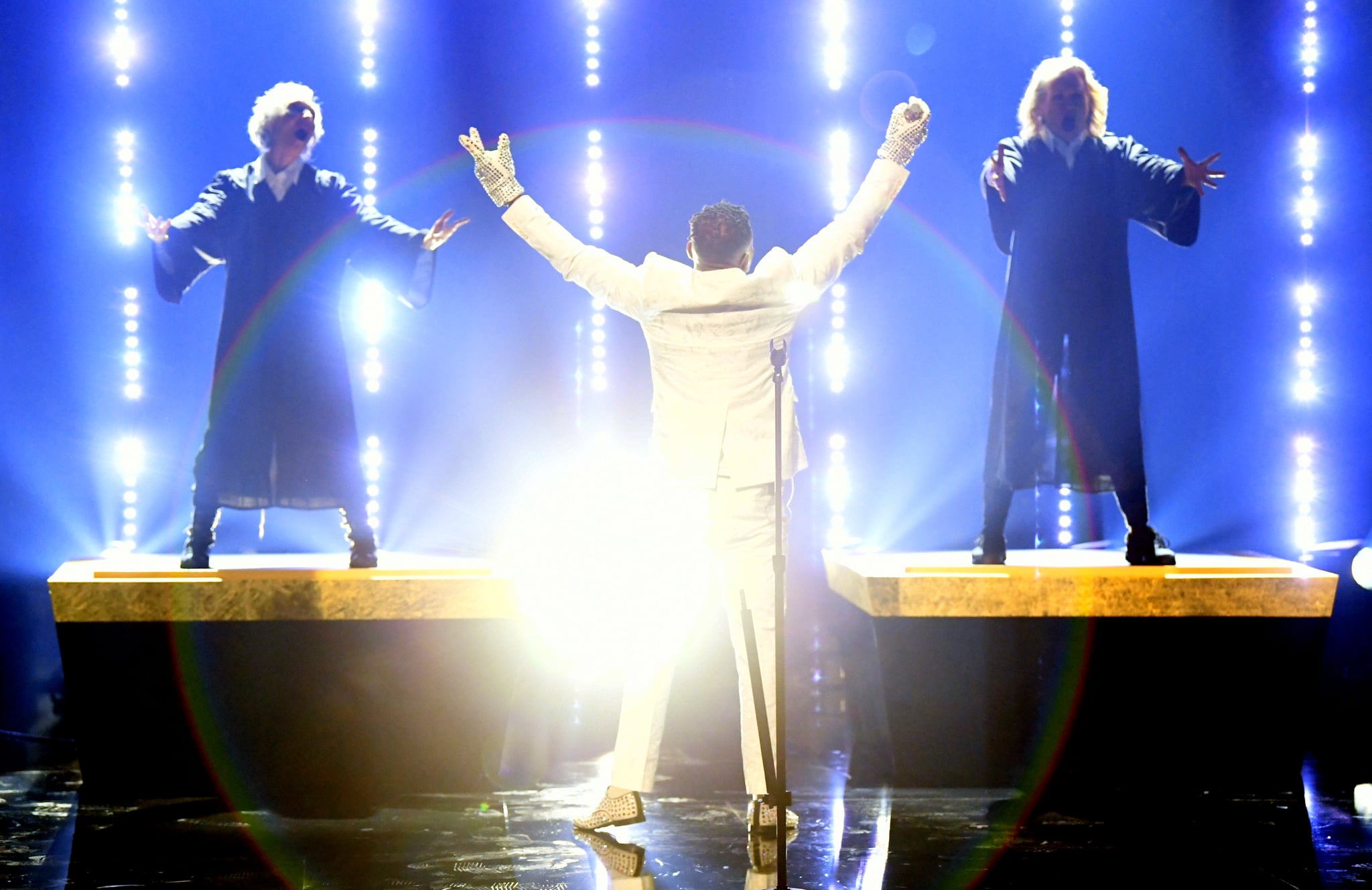 DaBaby took to the Grammys stage with Roddy Ricch and Anthony Hamilton for a unique performance of their smash hit "Rockstar," but it wasn't just these stars who drew attention. The backup singers made a big statement too, standing out for how unusual they were, but they were deliberately styled to make a powerful point.
DaBaby's backup singers were all older, gray-haired, white people wearing the black robes worn by judges or even Supreme Court justices; they seemed to symbolize the justice system itself, particularly as an institution dominated by older white people and often biased against anyone else. This particular choice is closely tied to "Rockstar"'s history as a protest song, especially in the wake of 2020's Black Lives Matter protests and ongoing protests against racial injustice. DaBaby's song, which, in its initial version, deals with his own encounter with the criminal system, has gone through a couple of versions that shift the focus to racism in the American justice system and how it's often anything but just, especially for Black people. Near the end of the performance, he performed a new verse, specially written for the Grammys and to continue to highlight these issues:
"Rollin in that Lamborghini like I'm Batman / Something they ain't used to seeing from every Black man / Tryin' to bring me down / Eat up the allegations like I'm Pac-Man / You should see me now / Don't know which whip to drive when I leave the house / When I leave the house my skin don't look the same / My skin don't look the same so I get singled out / Right now I'm performing at the Grammys / I'll probably get profiled before leavin' out / Don't be in denial like we all even now / 'Cause if you're in the projects or a mansion / You're still a Black man when you leave the house / Them's the facts."
It's similar to last summer, when he dropped "Rockstar (Black Lives Matter Remix)." The remix opened with an additional new verse lamenting the injustices faced by Black people — especially, in this case, Black men — at the hands of police:
"Oh, there they go / Biasedly pushin' negative narratives, I'm ready, though / Cops wanna pull me over, embarrass me / Abusin' power, you never knew me, thought I was arrogant / As a juvenile, police pulled their guns like they scared of me," part of the verse went. Another segment included the lines, "Now we all fed up and n****s comin' back for everything / Rockstars, n***a, just watch the news, they burnin' cop cars, n***a / Kill another n***a, break the law, then call us outlaws, n***a / What happened? Want us to keep it peaceful."
It's clear, between these two updated verses and the inclusion of white "judges" as backup singers, that DaBaby is taking this opportunity to make a strong point about injustice and racism. Sure, it's a little funny to see a bunch of judges bopping along at the Grammys, but the context makes it much more harrowing than humorous.