Outlander's Executive Producer on the Tragic Repercussions of Brianna's Rape: "It's Horrific"
Warning: Spoilers for the "Wilmington" episode of Outlander, below.
It is no secret that over the years, Outlander has featured several instances of sexual violence against various characters, which is a sensitive subject for any television show to tackle. The latest episode, titled "Wilmington," broached the subject once again with one of the main characters, something that is sure to cause some backlash from viewers who might deem it an unnecessary plot point.
In "Wilmington," following a sweet night with Roger (Richard Rankin) — which starts out with a beautiful handfasting ceremony and consummation of their relationship — things end with Brianna (Sophie Skelton) in tears after learning Roger knew about her parents' obituary and purposely didn't tell her. She then walks dejectedly back to the pub where she and Lizzie (Caitlin O'Ryan) are staying.
Upon reaching the pub, Brianna spies the villainous Stephen Bonnet (Ed Speleers) gambling with her mother's silver wedding ring, which he stole when his men attacked Claire (Caitriona), Jamie (Sam Heughan) and their group on the barge to River Run. Brianna offers to buy it from Bonnet, but he instead wants sexual favors for it. She refuses to comply, and so he rapes her, later giving her the ring as "payment" because he's "an honest man" for a pirate. Bloodied and clearly traumatized, Bree takes the ring and walks away, stunned.
It's a stomach-turning scene, but one that executive producer Maril Davis says is very necessary to the ensuing plotlines of the show, which must follow the books as closely as they can.
"If you're a book fan, you know that. I don't want to spoil it for anyone who [hasn't read the books], but [the rape] would have been hard to keep out," Davis tells us.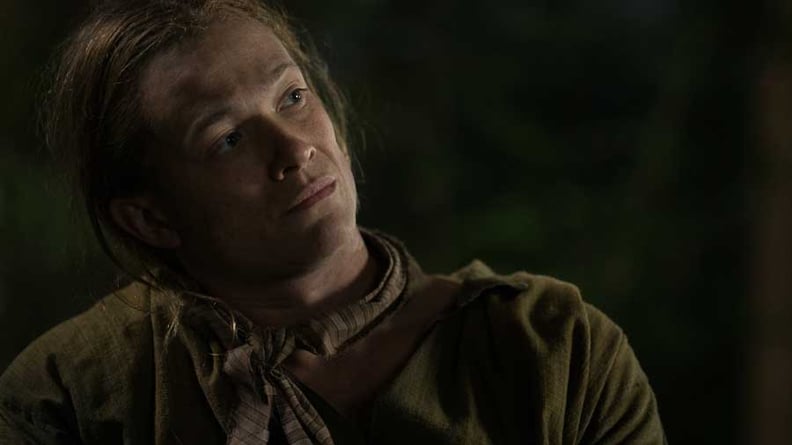 While the producers and writers did feel that Brianna's rape was necessary to include, they of course wanted to approach it as sensitively as possible, and not make a spectacle out of the attack. They eventually decided that while they should definitely start in the room with Brianna and Bonnet, they wanted to shift the camera to shots of the men in the pub who could hear the attack and did nothing to help her, as a commentary on the time period.
"We approach every violent sexual encounter in different ways and try to be as sensitive as possible. Certainly in this one, we always knew in talking to the director and in prepping this episode, we wanted to start in the room with Brianna," says Davis, adding that they then wanted to show "how tragic it was that this poor girl has come from a different time and what a brutal introduction into this time — the fact that no one raised a hand or did anything to help her and the tragedy of that and how horrible it was for her."
"The tragedy of that still has repercussions on the victim, whether you see it or not."
We did have to ask Davis if she thought Outlander would perhaps receive the same criticism as Game of Thrones when it kept the rape of Sansa Stark (Sophie Turner) largely off-screen and instead focused on Theon Greyjoy's (Alfie Allen) reaction to witnessing the attack. Davis says that they certainly might receive that criticism, but offers that the difference is that Game of Thrones made it about one specific character, rather than Outlander showing characters that the audience doesn't know and using that as more a commentary on the time than on the men's particular feelings. She also says that the repercussions in Brianna's life are integral to the story, and they will be felt whether the show chooses to put the rape on screen or not.
"I think no matter what you do, if someone is raped, it's horrific," Davis concludes. "Whether or not you see it or don't see it [on screen], it still happens. The tragedy of that still has repercussions on the victim, whether you see it or not."