Dolly Parton Shared an Update on the 9 to 5 Sequel, and It's Enough to Drive Us Crazy
After months of speculation, the 9 to 5 sequel is moving on up. During a talk at the Grammy Museum on Feb. 4 in anticipation of her forthcoming tribute at the award show, Dolly Parton offered an update on the follow-up movie, written by Rashida Jones and the original film's screenwriter Pat Resnick. According to HelloGiggles, Parton will begin filming the sequel with Jane Fonda and Lily Tomlin later this year.
Parton also shared some details about the premise, which will find Judy Bernly, Violet Newstead, and Doralee Rhodes working in separate successful jobs across the country. "They came up with the idea of these three girls still working at Consolidated, the company that we worked at years ago. They still have the same problems: the harassment and not getting paid properly, so these girls say, 'Whatever happened to these three women that made so many great changes?'" Parton said. "So they find us, and we're now three important women in our own businesses in different parts of the country."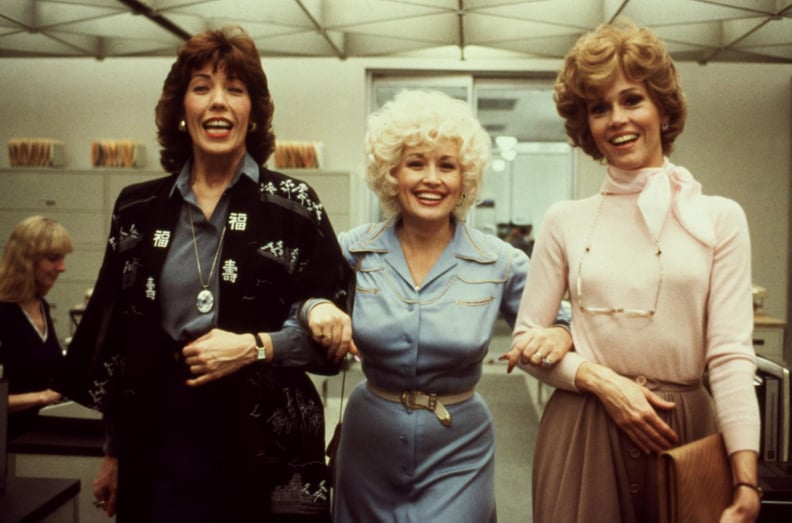 Invariably, the passage of time also presents new opportunities for the story, which Parton acknowledged. "It's a very interesting thought, how the hell are three old bags like you going to do a sequel for 9 to 5?" she said. "We're gonna call it Ninety-Five."
Parton had previously talked about the sequel in an interview with The Hollywood Reporter in Dec. 2018. At the time, she said she would be receiving the first script in a few days, and the story would maintain a lighthearted tone while still tackling existing issues of workplace harassment. Unfortunately, that theme has continued to resonate, and since its 1980 release, 9 to 5 spawned a (less successful) series in the mid-'80s, as well as a 2009 Broadway musical. "I'm very proud that 9 to 5 just keeps paying off," Parton said. "It is the song and the movie that just will not die!"