Yes, Ed and Lorraine Warren Will Finally Appear in an Annabelle Movie — but With a Fun Twist
Just when you thought you'd seen the last of The Conjuring universe's greatest villain, a whole new chapter has unfolded. Annabelle Comes Home will give us our third hand-wringing installment with the possessed doll that started it all. This time around, though, the story will set itself apart from its predecessor in a pretty exciting way. Annabelle and Annabelle: Creation launched us into the past with chilling prequels that explained how the hateful doll came to be. In Annabelle Comes Home, we're going back to the Warren household.
In December 2018, I had the pleasure of visiting Annabelle Comes Home's LA set just as production on the film was coming to a close. During my visit, I got a full rundown of the story. The film actually begins with the exact same opening scene we saw way back in The Conjuring in 2013: Ed and Lorraine Warren go to pick up the Annabelle doll from some troubled nurses who came to have her in their possession. That's right — this is technically the first time the Warrens will appear in an Annabelle film!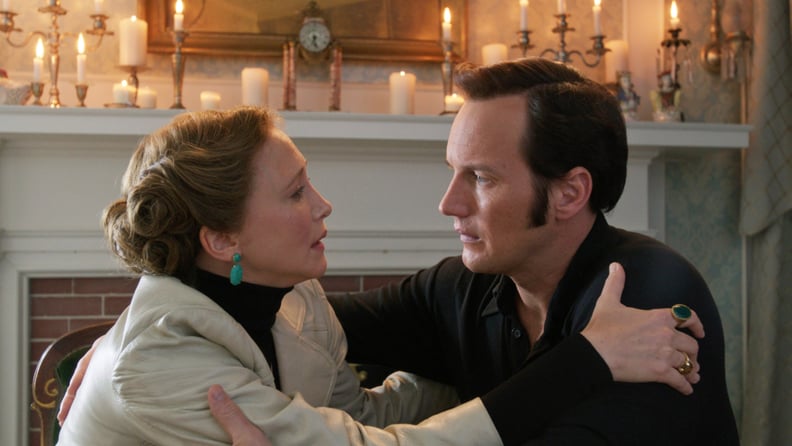 During my visit, I learned that Patrick Wilson and Vera Farmiga will have pretty significant roles in the film, though they won't be the main focus of the story. We're to "think of them more as special guest stars." That's because they essentially leave their daughter alone with a babysitter so they can have a night out, and terror ensues from there. I also learned that this film takes place between The Conjuring and The Conjuring 2, meaning Ed and Lorraine are likely still reeling from everything they've seen in the Perron household. And yet, Lorraine hasn't quite been rattled in the way she is after her encounter with Valak in The Conjuting 2!
In spite of the fact that the Warrens will appear more as support in the new film, it'll still be exciting to see them on screen again. After all, they haven't really appeared since 2016 (if you don't count that very small cameo at the end of The Nun). It'll be a whole new world, and we can't wait to see what kinds of scares the team has dreamed up this time.