How Emily Blunt Held On to a Gritty Role When Hollywood Wanted a Man Instead
Emily Blunt almost didn't get a role in Sicario, a dark and dramatic new thriller from director Denis Villeneuve that debuted Tuesday at the Cannes Film Festival. The script, written by actor-turned-screenwriter Taylor Sheridan, calls for the main character to be played by a woman, but various parties involved in getting the production up and running urged Villeneuve to change the part to that of a man. Villeneuve refused, and Emily, happily, joined the cast.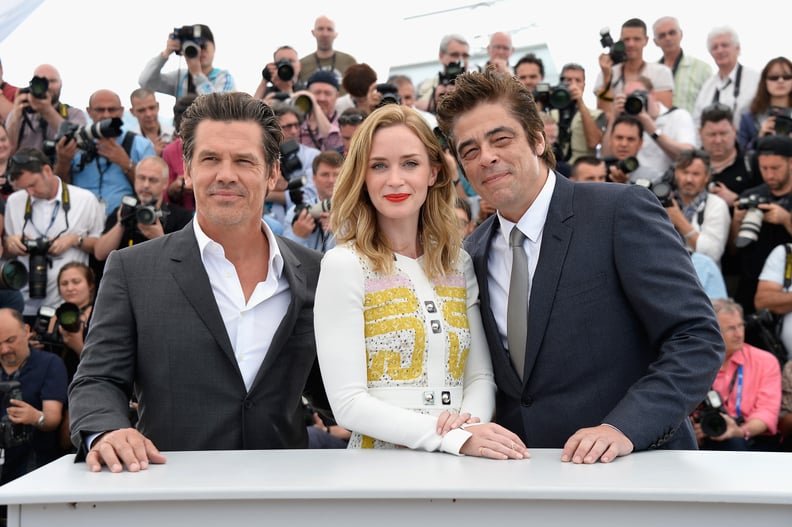 Emily's character is, though, surrounded entirely by men throughout the film. It's a situation with which Emily could empathize. "It's something I've become quite used to, because it happens a lot in film that there aren't a lot of chicks around," she said at a Tuesday morning press conference. "But for such a dark film, it was a very happy set."
Dark, indeed. Emily's character in the movie, a law enforcement official in Arizona, leads a raid on a drug cartel's stash house that is so successful she catches the eye of a CIA agent, played by Josh Brolin, and is asked to participate in a cross-border operation. Emily's performance is quite good, as is Josh's, but they're both outshone somewhat by Benicio del Toro, whose portrayal of an enigmatic agent with ties to Colombian drugs is excellent.
"I found this character quite damaged and vulnerable — she's struggling in this realm of being a female cop," Emily said of her character. "She's trying to maintain face for most of it. I wasn't really thinking about adjusting it to make it more masculine. I think that she's just definitely trying to survive in a predominately male-driven profession."
Before reporting to set, Emily contacted real-life female FBI agents to find out about their work. What she discovered was a surprise. "The FBI agents I spoke to, they sound like me. They sound like normal girls, and they go home, and they watch Gosford Park and Downton Abbey, and they're girls you definitely want to have a beer with." Those discussions, Emily said, led her to create a performance that was realistic and still feminine.
The topic of women's acceptance in the world is a timely one at Cannes, since just this week, ladies were denied entry to a red carpet premiere of the film Carol because they were wearing flats. Emily has no patience for this. "Everyone should wear flats, to be honest. We shouldn't wear high heels," she said. "That's just my point of view — I love Converse sneakers." She added, "It's very disappointing."