Zac Efron Morphs Into Ted Bundy in the Trailer For Extremely Wicked, Shockingly Evil and Vile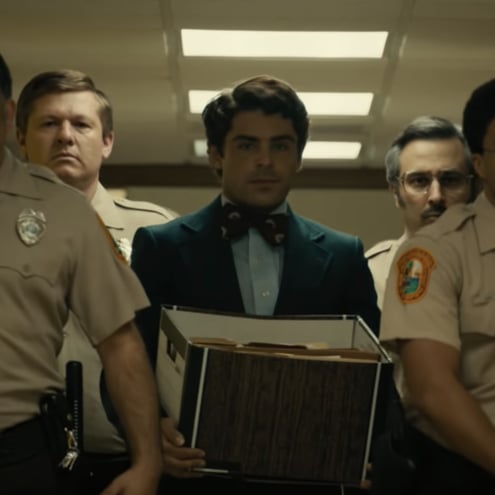 Zac Efron is officially leaving his wholesome High School Musical past behind him with his latest role, which sees him morphing from Hollywood heartthrob into notorious serial killer Ted Bundy.
The first trailer for the film — Joe Berlinger's Extremely Wicked, Shockingly Evil and Vile — dropped on Jan. 25 in tandem with the movie's screening for critics at the Sundance Film Festival, shortly after Netflix released its stomach-turning doc on Bundy. Just a couple months later, the second — and much more haunting — trailer was released, and it highlights the psychotic crack in Bundy's deceivingly composed image.
The film focuses on Bundy's trial for his heinous crimes, as well as how he came across to the public, as opposed to centering on gory footage of him murdering his many victims (one trailer does feature Efron menacingly swinging a crowbar, though, for what it's worth).
Interestingly, the film will mostly be told from the perspective of Les Misérables actress Lily Collins, who plays Elizabeth Kloepfer, Bundy's longtime girlfriend, who ended up being the one who turned him into police after spending months denying that her partner could possibly be a killer. On March 28, Sky Cinema released an entire scene in which Kloepfer questions Bundy about his involvement in a case.
Kloepfer's rosy opinion of Bundy will no doubt help make audiences realize just how charming and disarming Bundy could be in person. There will also be the appearance of Bundy's ex-wife, Carole Ann Boone (played by Pirates of the Caribbean: Dead Men Tell No Tales's Kaya Scodelario), who says in the trailer, "The media convicted Ted before he's had his day in court."
Well, this is definitely going to be interesting. Watch the trailers ahead before it hits theaters in 2019.