14 Ways The Crown Gets the Royals Wrong
Ambitiously lavish and costing a rumored $130 million to make, new Netflix drama The Crown has won fans around the world since the first 10 episodes dropped on Nov. 4 (including the Queen herself!). The jewels are painstaking replicas of the real thing, the filming locations include 10 stately homes around the UK, and there are over 20,000 costumes worn. But how much of what we see on screen is fact and how much benefits from a little sprinkling of showbiz fiction? The production has been scrupulously researched and much of what is depicted is true to life, but as with any great retelling, it also benefits from a little dramatic embellishment.
In the opening scenes, we see King George VI coughing up blood into the toilet, but given the series opens in 1947 and the king wasn't diagnosed with lung cancer until four years later, it's unlikely he was exhibiting symptoms at this point. However, the king was in poor health for much of his later reign, so this is an effective device to depict that.
At Princess Elizabeth's wedding, assorted floral displays are positioned around Westminster Abbey, whereas in real life, there were only two floral displays used — one either side of the altar — because of postwar austerity.
Princess Elizabeth is portrayed as being very nervous on her wedding day, stumbling over her vows and needing to be prompted. However, a real-life letter from the king to his daughter afterward reads, "You were so calm and composed during the service, and said your words with such conviction."
Princess Elizabeth's and Prince Philip's wedding was attended by his mother, but although she is depicted in the show wearing a nun's habit, that is not how she attended in real life. She did wear her habit to the queen's coronation, however.
Cine-camera footage marking the one-year anniversary of Princess Elizabeth's and Prince Philip's wedding is captioned, "Twelve months later, eight months pregnant," when in reality, the princess celebrated her first wedding anniversary with a six-day-old Prince Charles.
When King George had his lung removed, his anxious family is shown all gathered in the room next door, when in reality it was just his wife who was present. Queen Mary was at Marlborough House and visited afterward, Princess Elizabeth and Prince Philip were at Clarence House and came in the evening, and Prince Charles and Princess Anne were in Scotland.
When the king knows he is dying and calls for his daughter Elizabeth to sit with him as he works, she asks what paperwork is sent over by the government. However, it seems unlikely that at the age of 25 she wouldn't already know this. This is, after all, a young woman who has always been conscientious and aware and on her 21st birthday gave a speech where she showed a deep understanding of her future role.
There is no record of Prince Philip making insensitive remarks to the Kenyan dignitaries he meets on his first royal tour. It's likely this is used as a way of portraying how he has become known over the years for making diplomatic faux pas.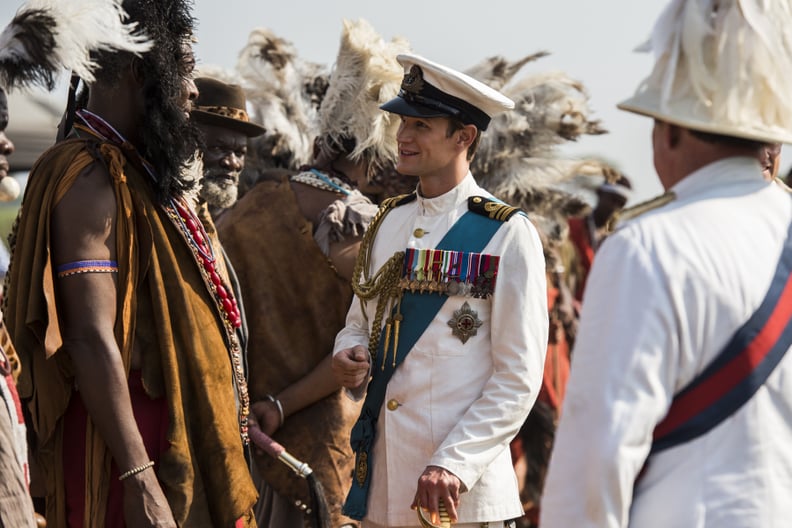 In the wake of the king's death, Princess Margaret's married lover, Peter Townsend, is cautioned by his senior about the affair, saying that everyone is talking about them. However, it was reported in the royal biography Snowdon that at that time, the affair was not common knowledge.
A dramatic moment in the show comes courtesy of a letter written by Queen Mary to her granddaughter the new queen, advising her of her role and responsibilities. In real life, however, there was no such letter. Queen Mary did have a close relationship with her granddaughter though and had always taken a great interest in her royal development.
When Prime Minister Winston Churchill advises the new queen to move from Clarence House to Buckingham Palace and retain the surname Windsor instead of her husband's Mountbatten, she resists. Later she seeks the counsel of her uncle the Duke of Windsor and changes her mind on both issues. The general consensus is that the queen is not likely to have sought his advice in this way.
In the episode featuring the great fog, we're drawn into the intriguing relationship between Winston Churchill and his secretary, Venetia Scott, but in real life Venetia didn't exist. It's likely the government scenes could have come across as a little flat, and so a fictitious character was brought in to add more emotional depth to this part of the story.
The great fog didn't create as much of a panic as was depicted either, because Londoners were used to thick fogs. A doctor who was alive at the time recently said, "there was no sense of drama or emergency." The impact on mortality was only realized afterward, and there is no record it caused conflict between Churchill and the queen.
One of the biggest plot points that has been refuted is Prince Philip's reticence to kneel before the queen at her coronation, as there is no record of it happening. Philip did struggle with his own life taking a back seat, but he came from royalty himself and understood how is worked as a concept, so it seems unlikely that he would have had a problem with this.