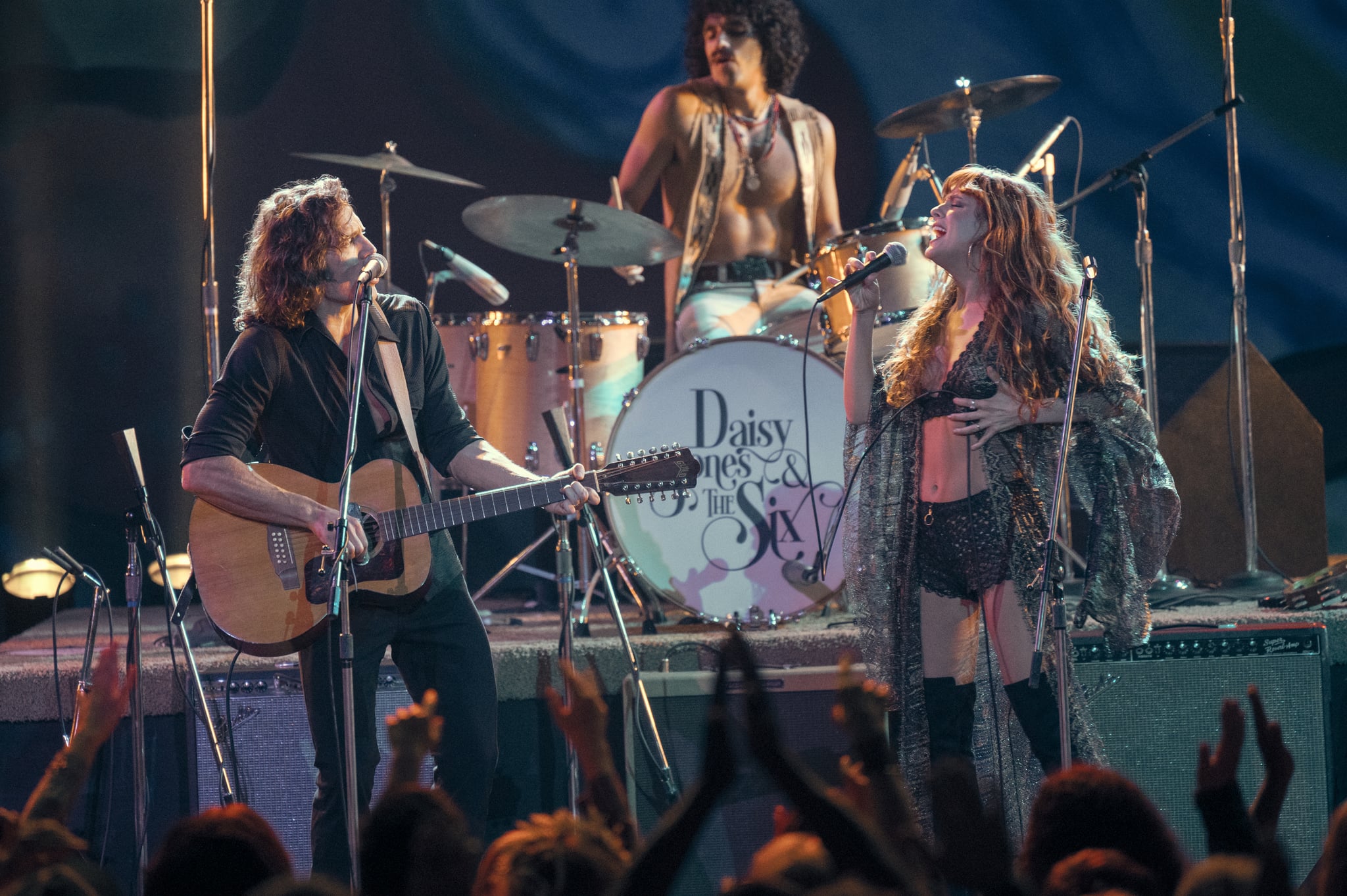 Image Source: Amazon Studios [1]
When it comes to songwriters penning brutal songs about the exes that broke their hearts, their former lovers' punishment is usually limited to hearing the breakup track played incessantly on the radio (like Jake Gyllenhaal and Taylor Swift's "All to Well" [2]). However, in Amazon Prime Video's "Daisy Jones & The Six," a TV adaptation of the Taylor Jenkins Reid book of the same name, Daisy Jones and Billy Dunne [3] — the kindred spirits and warring lead singers of the fictional title band — have an intense, forbidden chemistry that's only heightened by the fact that they write their most brutal lyrics about each other and force the other to sing them on tour in front of thousands of fans.

Reid made no secret of the fact that her book about the rise and fall of a 1970s rock band was partly based on Fleetwood Mac [4]. The iconic band was defined not only by its catalog of timeless hits, but also by its history of interpersonal conflicts, a constantly rotating lineup of members, and affairs within the band — none more notable than the one between its lead singers, Stevie Nicks and Lindsay Buckingham.
According to Nicks's 2013 interview on Oprah's "Master Class," [5] the pair were a romantic couple and a struggling musical duo called Buckingham Nicks when they were recruited to join Fleetwood Mac, an established British rock band struggling to break through in the US, in 1974. While joining the band would be their best career decision ever, Fleetwood Mac's meteoric rise to global fame spelled doom for their romantic relationship. Nicks broke up with Buckingham in 1976, but committed to sticking it out as part of the band, a decision that would inspire some of their biggest, most enduring breakup songs on their 1977 album, "Rumours."
Even decades later, their fiery stage chemistry has fans on TikTok [6] (and, seemingly, Reid) wondering what was, what could have been, and what — if anything — still remains between the exes all these decades later.
@ceceeeej [7]

I think about this daily as I obsess over this masterpiece #fyp [8] #foryou [9] #daisyjonesandthesix [10] #daisyjones [11] #fleetwoodmac [12] #stevienicks [13] #silversprings [14] #thedance [15] #lindsaybuckingham [16] #vinyl [17] #retro [18] #rockandroll [19] #witch [20] #witchy [21] #spell [22]

♬ original sound - Jimmy [23]
Is "Daisy Jones & The Six" Connected to Fleetwood Mac's "Silver Springs"?
In the wake of "Daisy Jones & The Six" airing in March 2023, Nicks and Buckingham's passionate 1997 performance of the Nicks-penned song "Silver Springs" (plus the song's intriguing backstory) is picking up steam on TikTok.
In an electrifying clip from the 1997 performance, Nicks turns to Buckingham in the song's final climactic moments and sings its most emotional and vengeful lyrics looking directly at Buckingham. "I'll follow you down 'til the sound of my voice will haunt you. You'll never get away from the sound of the woman that loves you," she exclaims. She even steps closer and closer to him as she wails the words, "Never get away!" over and over again, which fans have likened to a curse.
But Buckingham doesn't shy away from Nicks's pointed delivery, instead meeting her eyes and singing the words right back to her in a moment of passion that has "Daisy Jones & the Six" fans pointing to it as one of the Fleetwood Mac performances that must have served as inspiration for Daisy and Billy's love story.
Although Reid has not explicitly stated that "Silver Springs" inspired Daisy and Billy's stage chemistry, it's hard to ignore the parallels. Read on to learn all there is to know about "Silver Springs," the breakup song about Buckingham that may have inspired Daisy and Billy's doomed love story in "Daisy Jones & The Six."
The History of "Silver Springs"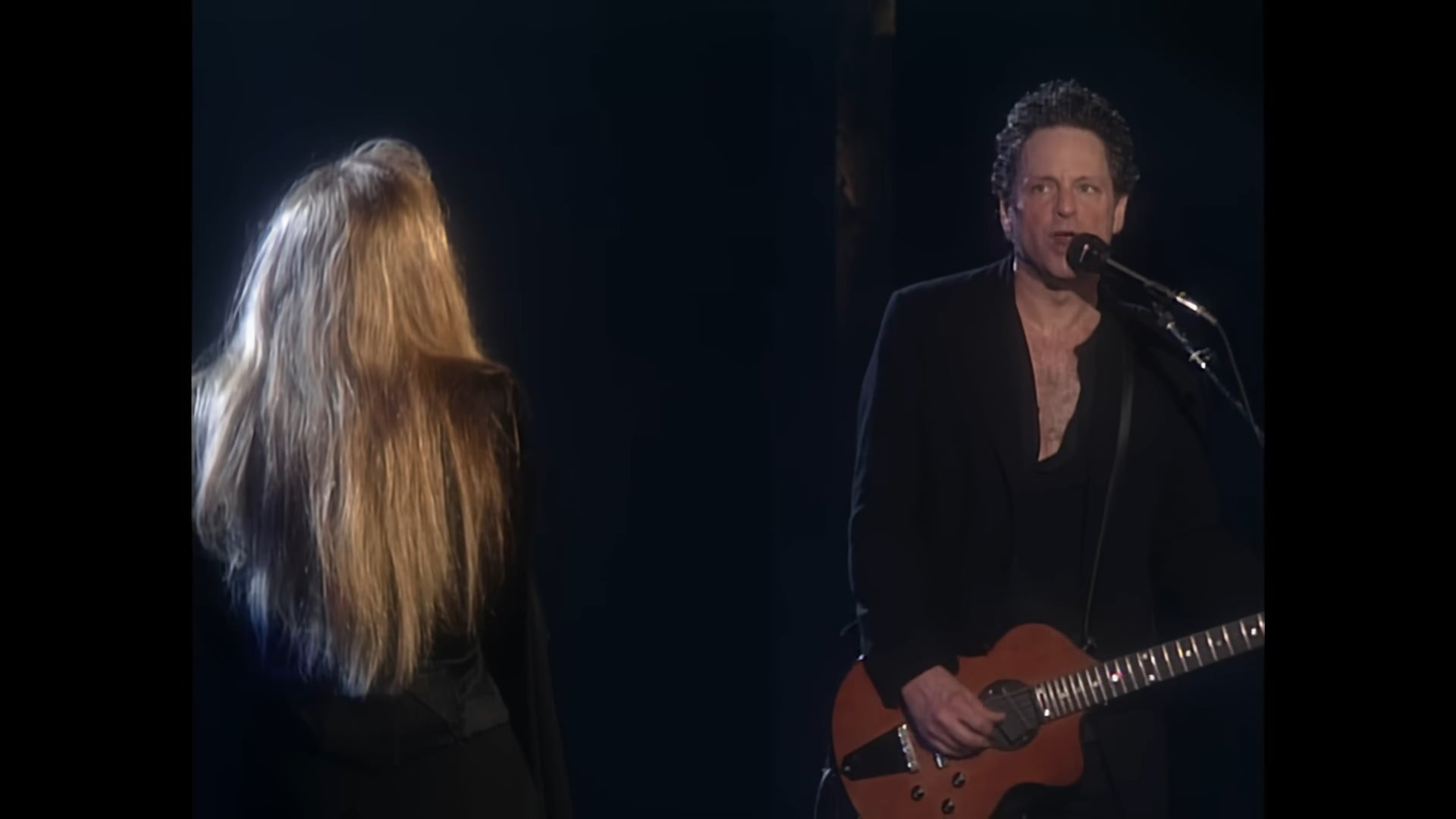 Image Source: YouTube user Fleetwood Mac [24]
With scathing lyrics like "Packing up, shacking up is all you want to do," Fleetwood Mac's "Rumours" track "Go Your Own Way" [25] was Buckingham's musical take on his and Nicks's breakup. Nicks wrote "Silver Springs" as her side of the story, so imagine her discontent when — according to Rolling Stone [26] — the band's leader, Mick Fleetwood, told her the song wouldn't make the album because it was too slow and long (there were no 30-song albums in the age of vinyl). Instead, the song was released as a B-side along with "Go Your Own Way," performed a couple of times at the band's concerts throughout the late '70s, and then slipped out of their lineup, only to be remembered by the band's most ardent fans.
Adding insult to injury, when Nicks asked Fleetwood if she could have "Silver Springs" back to include on her 1991 solo greatest hits album, "Timespace," she was met with resistance. "It didn't occur to me that they wouldn't let me have it back," Nicks told the BBC in 1991 (via Rolling Stone). "I said to [Fleetwood's] manager, 'You find Mick, and you tell him that if I don't have those tapes by Monday, I am no longer a member of Fleetwood Mac.'" Ultimately, Fleetwood refused, instead, including the song on Fleetwood Mac's 1992 anniversary album, "25 Years - The Chain" (all this despite having left the song on the cutting room floor 20 years earlier). True to her word, Nicks quit the band.
Five years later, however, Nicks and Buckingham would reunite alongside the rest of Fleetwood Mac's most successful lineup — which included Fleetwood, Christine McVie, and John McVie — for their 1997 live album recording, "The Dance." While both Nicks and Buckingham had long moved on from their relationship from 20 years earlier (Buckingham was dating his would-be wife and mother of his two daughters, Kristen Messner, at the time), the once-lovers would still go on to perform the most affecting and enduring rendition of "Silver Springs" at the concert.
"I wanted people to stand back and really watch and understand what [the relationship with Lindsey] was," Nicks told Arizona Republic about the performance (via Rolling Stone). "'Silver Springs' always ends up in that place for me because she's always very committed to what those words are about, and I remember what they were about then," Buckingham told Rolling Stone at the time. "Now it's all irony, you know, but there is no way you can't get drawn into the end of that song."
Nicks admitted the sparks fans see flying in that performance are real. "When we're [onstage] there singing songs to each other, we probably say more to each other than we ever would in real life," Nicks told Rolling Stone.
It's that irresistible chemistry — the kind that's only allowed to live and thrive through their music — that makes Daisy and Billy's love story in "Daisy Jones & The Six" so alluring. What makes Nicks and Buckingham's performance of "Silver Springs" even more affecting — like in the moment she interjects "Was I just a fool?" and "Give me just a chance!" passionately throughout the song's final chorus — is that, in their case, the chemistry is actually real. Unlike the closure fans get in "Daisy Jones & The Six," however, chances are, the extent of what fans know about what remains between Nicks and Buckingham will forever be limited to the fleeting moments of passion they showed us on stage.
Check out the full "Silver Springs" performance from Fleetwood Mac's "The Dance" performance below and then read the song's lyrics to understand their full impact.
Fleetwood Mac's "Silver Springs" Lyrics
VERSE 1
You could be my silver spring
Blue-green colors flashin'
I would be your only dream
Your shinin' autumn ocean crashin'
And did you say she was pretty?
And did you say that she loves you?
Baby, I don't want to know
VERSE 2
I'll begin not to love you
Turn around, see me runnin'
I'll say I loved you years ago
Tell myself, you never loved me, no
And did says she was pretty?
And did you say that she loves you?
Baby, I don't want to know
PRE-CHORUS
And then you tell me was it worth it?
Really, I don't want to know
CHORUS
Time cast a spell on you, but you won't forget me
I know I could have loved you, but you would not let me
[Lindsey Buckingham guitar solo]
Time cast a spell on you, but you won't forget me
I know I could have loved you, but you would not let me
I'll follow you down 'til the sound of my voice will haunt you
You'll never get away from the sound of the woman that loves you
I'll follow you down 'til the sound of my voice will haunt you (Was I just a fool?)
You'll never get away from the sound of the woman that loves you (Was I just a fool?)
I'll follow you down 'til the sound of my voice will haunt you (Give me just a chance)
You'll never get away from the sound of the woman that loves you (Never get away x3)
OUTRO
You could be my silver spring
My blue-green colors flashing