Outlander: The Tragic Reason Behind Frank's Unexpected Season 4 Cameo
Warning: Spoilers for Outlander season four below!
The latest Outlander episode, titled "Down the Rabbit Hole," sees the return of a couple of familiar faces in Tobias Menzies's Frank and Nell Hudson's Laoghaire, which may have come as a bit of a surprise — even to book readers, in Frank's case. But executive producer Maril Davis tells POPSUGAR that doing a Frank episode was on their minds from very early on in plotting out season four, even though he doesn't really appear in Diana Gabaldon's Drums of Autumn.
In the episode, the main thrust of the action is that Brianna (Sophie Skelton) travels through the stones to 1760s Scotland. But this is juxtaposed with flashbacks to her final months with her father, Frank (Menzies), which the writers' room thought was an important thing to include in Brianna's journey.
"We decided fairly early on that part of the story would involve Frank because in talking about Brianna's journey and her going back, the fact that she's never met her birth father and was raised by another man for the first 20 years of her life and that's the only father she's ever known . . . how torn she would feel, as a character?" says Davis, adding that Brianna is wrestling with feelings of guilt over her perceived betrayal of the man who raised her.
"'This is my father and the only father I've ever known and now I'm going to go meet my other father, and how will I love them both? And would Frank have approved?' And all the stuff going through her head," Davis explains. "It was such an interesting way to show her journey and her struggle."
The writers also loved the idea of bringing Frank's last days to life, since viewers and book readers don't really know much about the night of the accident that took his life.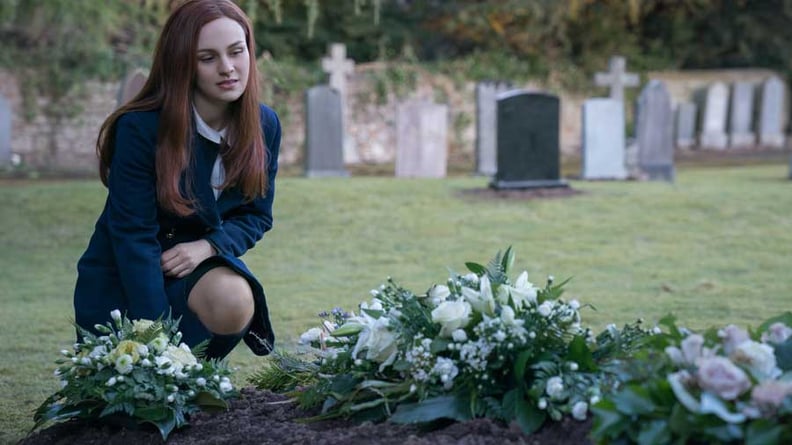 "Once he and Claire had that fight and he walked out that door, we don't know what happened to him," says Davis. "We obviously never saw the car crash. But we love the idea of tracing back and finding out that Frank asked Brianna to go to Cambridge with him and that they had a conversation right before he died. For Brianna, that torment of 'if I had only said something different in that car that night, would he still be here?' That guilt she carries with her is so interesting and important."
While the writers had Frank's storyline for this episode planned out far in advance, the same cannot be said for the Laoghaire storyline in Scotland. Davis told us that they originally planned to have Brianna meet her Aunt Jenny, played by Laura Donnelly, like she does in the book. Unfortunately, they couldn't work out the schedule with Donnelly, but as they worked out the alternative storyline featuring Laoghaire, they realized that Laoghaire actually makes a perfect parallel story for Frank.
"What tragic figures Laoghaire and Frank are, to love people that never loved them back and to really be tormented."
"It's interesting, the parallels between Laoghaire's story and Frank's story. The fact that Laoghaire and Frank both loved Jamie and Claire, and Jamie and Claire both left them, then came back into their lives and then left them again — what tragic figures Laoghaire and Frank are, to love people that never loved them back and to really be tormented," says Davis. "You're never going to feel that sorry for Laoghaire and Frank, obviously you're pulling for Jamie and Claire, but [Laoghaire and Frank] been so affected by these two people in their lives and the trajectory of their lives have been completely changed by them."
It makes a lot of sense from a storytelling standpoint, and Davis says they like it when they can surprise even longtime book readers. When POPSUGAR remarks that it'd be fun if they could find a way for Menzies to return every season, Davis laughs and says that they're "thrilled" if they surprised viewers with Frank's return because they were worried news had leaked from the day he filmed. She also agrees that it'd be great if Menzies returned because he's a "lovely man" and "a wonderful actor."