What Elisabeth Moss Has to Say About June's Journey in Season 3 of The Handmaid's Tale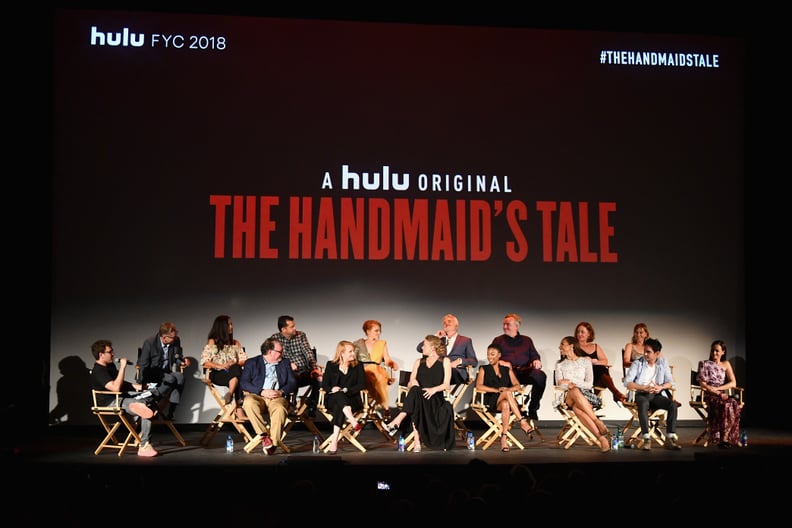 Emma McIntyre/Getty Images for Hulu
Emma McIntyre/Getty Images for Hulu
In case you've been living under a rock — and not pelting them — The Handmaid's Tale has been terrorizing viewers for two epic seasons. Each week, we watch with the slightest of hopes, knowing that with every small win is a bigger impending doom. Yet we keep the faith that a reckoning is upon Gilead.
Oh, and there is a reckoning, all right. Here's your official warning: if you haven't watched the season two finale of The Handmaid's Tale, it's time to stop reading . . . unless you like spoilers, in which case, be our guest. But seriously — turn back now if you don't want to know how this season ends.
Monday night, POPSUGAR joined the cast and crew, celebrities like Chrissy Teigen, John Legend, and Kylie Jenner, and a theater full of fans to experience the finale and then discuss the season. Moderated by Jon Lovett of Lovett or Leave It, the cast touched on what it's like experiencing a world like Gilead day in and day out, that epic Aunt Lydia scene, and hopes for season three.
Seriously — big spoilers for The Handmaid's Tale season two finale below!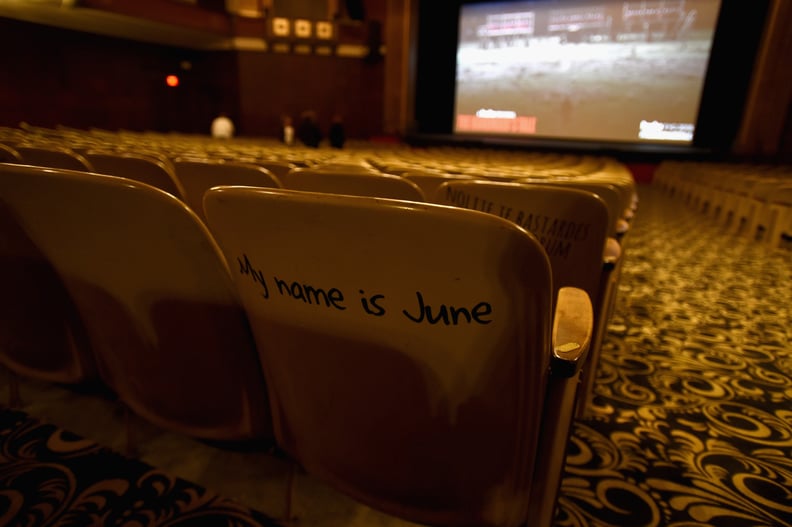 Executive producer Bruce Miller introduced the episode, saying the show is about Gilead, a place where there's "violence, misogyny, and where kids are separated from their parents." The irony wasn't lost on the audience; he implored everyone at the Wilshire Ebell Theatre to raise money and vote so that the country doesn't end up resembling the one in the series.
In the episode, June (Elisabeth Moss) gets into a violent altercation with Commander Waterford (Joseph Fiennes). After learning that Eden's own father is the one who turned her into the authorities, ultimately resulting in her death, June talks back to Fred, which earns her a punch to the face. This isn't surprising, but June returning the favor is. But that's not even remotely the most shocking part of the episode. Instead, that honor goes to the finale's final sequence. "The Word" ends with June escaping — again! — with baby Holly, thanks to a network of Marthas. However, at the last moment, she decides to stay behind so she can attempt to rescue Hannah. All of this in addition to giving birth alone the episode prior. So, how is Elisabeth Moss holding up? "It's fun. It's what I love to do," she said. She emphasized that she doesn't do it alone but instead "does it together" with the cast and crew.
Madeline Brewer's Janine has a few great comedic moments in this episode, and she is still as positive as ever. When asked how her character continues through dire, seemingly hopeless circumstances, Brewer insisted that it's similar to how anyone responds to what's happening in the world. "Everyone watches the news and digests it differently. On certain days, Gilead is not all just sadness and horror," said Brewer. "Janine looks for the good in everything or else it will destroy her."
During the season, Serena has an opportunity to leave Gilead, but she refuses to take it. It's not entirely surprising, but given we've seen a more human, modern version of Serena lately, especially during her interactions with June, it's confusing. "It's a can of worms. Serena has faith in what she's given up for the greater good," actress Yvonne Strahovski explained. "She's also too manipulative to take it immediately, without plotting and thinking it through."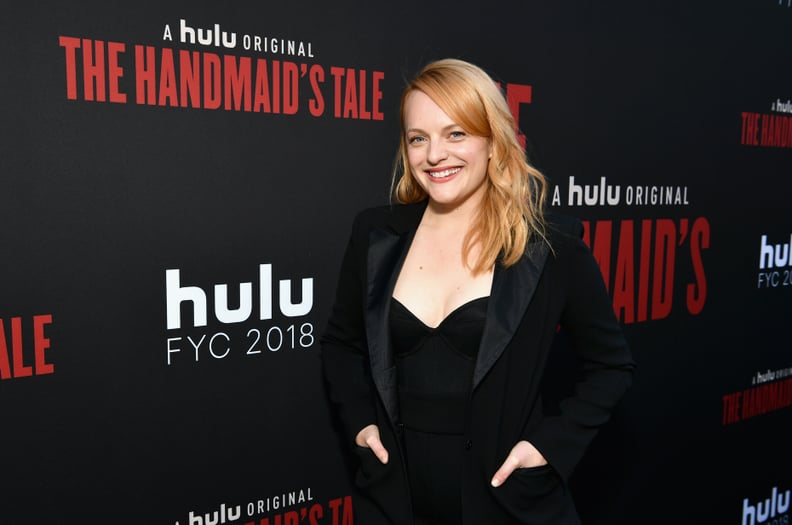 As for Emily (Alexis Bledel)? She has been stewing all season — she's pissed, and rightfully so. We've seen her kill a woman at the Colonies, brutalize her dead commander after he suffers a heart attack while raping her, and struggle to find a footing in her uncertain new home with Commander Lawrence (Bradley Whitford), whose unconventional (for Gilead) ways have us wondering if he's going to end up a hero or destroy her at any moment. A man at his level does not offer us much hope, but good news: he voluntarily gets himself into "deep sh*t" by helping her escape with June. Before Emily sees the light at the end of the tunnel, she sees cutlery . . . and stabs Aunt Lydia (Ann Dowd) in the back with a kitchen knife and beats her down the stairs, reaching her breaking point. When asked about the most cathartic scene of the season, Bledel said it became "very clear where Emily's rage comes from. She has no outlet. You can't inflict trauma on someone and expect it to fizzle away."
"I hope she's going to go back and f*ck some sh*t up."
With several crowd-pleasing and heart-wrenching moments throughout the episode, fans have a lot of hope to move forward with. But here's what we don't know: Is Aunt Lydia still alive after all that? What happens now that June has voluntarily sent baby Holly off with Emily to Canada? And do they actually escape? What repercussions will Commander Lawrence experience, if any, and how deep has he infiltrated into the resistance? How will June rescue Hannah, and what consequences will she face upon her return? Will she end up back at the Waterford's? How does Serena move forward in her marriage with Fred, if at all? Does Fred make Nick pay for his actions? WHAT ABOUT RITA?!?
"Next season is about fighting back," said Miller. The finale gave us a taste of the kick these women have inside them, and it seems inevitable we'll see more retaliation in season three. From June punching Fred to Rita conspiring to help June escape, Serena standing up for the amendment against the tyrannical Gilead laws, and, of course, Emily's fuse being blown, the women have had it. But with some critics and viewers saying the show pushes it with depictions of violence and that some of the content hits too close to home, Miller objects that it's not overly gratuitous, explaining further that, for instance, it wouldn't have been as effective if the handmaids had just been talking the next day about almost being hanged. "This stuff is happening all over the world. Just because you don't see it doesn't mean it didn't happen."
As for her hopes for June next season? "I hope she's going to go back and f*ck some sh*t up," said Moss. "It's time. She's had enough. I've have enough. We've all had enough."