You Should Sit Down Before Looking at the Harry Potter Studio Tour's Halloween Decor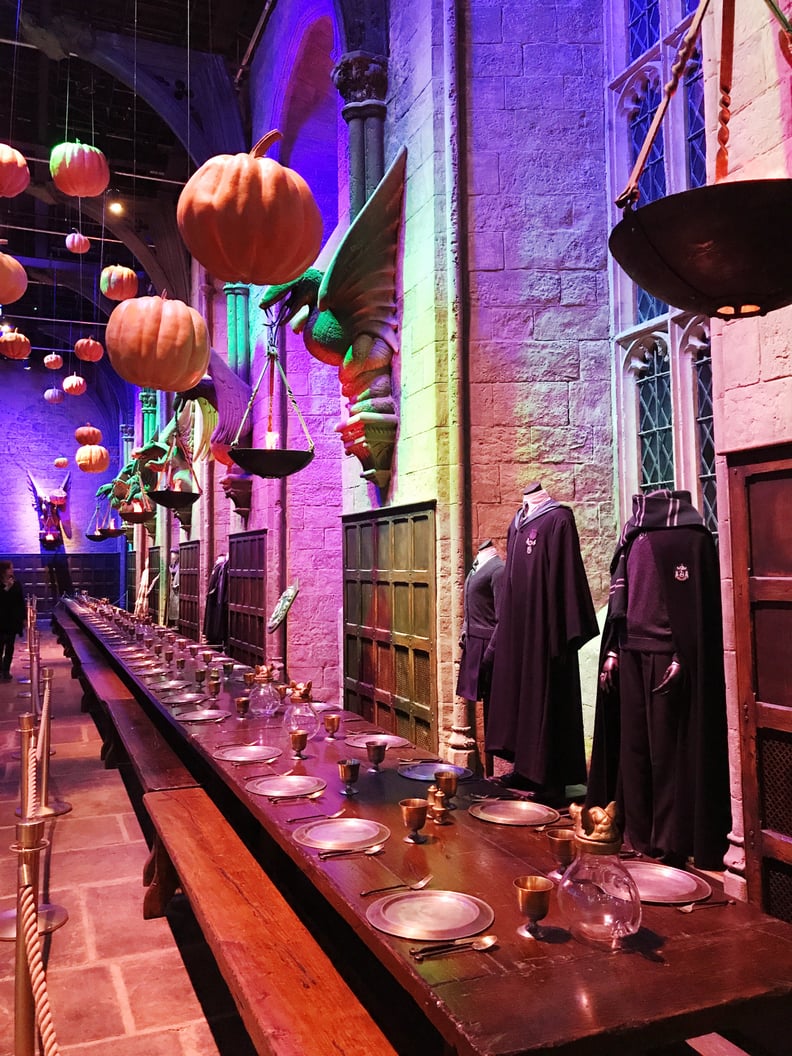 POPSUGAR Photography | Quinn Keaney
Of all the items on diehard Harry Potter fans' bucket lists, getting the chance to walk through London's Harry Potter Studio Tour is up there next to drinking butterbeer IRL and joining Emma Watson and Daniel Radcliffe's group chat. Although the latter is likely impossible, it's easy to score tickets to the magical tour (if you can afford a ticket across the pond, that is). If it's something that you're in the process of planning, we have just one recommendation for you: go in October or November.
The brilliant minds behind the studio tour's decorations have incorporated a "Dark Arts"-theme in honor of Halloween, lasting between Oct. 1 to Nov. 12. In addition to spectacularly creepy appearances from masked Death Eaters (who lurk around nearly every corner of the tour's eerie Forbidden Forest section, and will give you at least 50 heart attacks), there are also over 100 floating pumpkins hovering in the iconic Great Hall set.
The pumpkins, which are reminiscent of the ones featured in Harry Potter and the Sorcerer's Stone, were designed by the film series' head propmaker, Pierre Bohanna. No two floating pumpkins are alike, but all are modeled after the ones seen in Hagrid's pumpkin patch in Harry Potter and the Prisoner of Azkaban. If you work up an appetite while taking in the wondrous decorations, the prop department has also supplied each of the long, wooden tables in the Great Hall with a festive Fall feast of red apples, pastries, juice, cauldrons brimming with lollipops, and (you guessed it) more pumpkins.
As if the studio tour wasn't amazing enough already, right? We traveled to London to check out the Dark Arts theme for ourselves, and we can assure you that Harry Potter + Halloween = pure magic.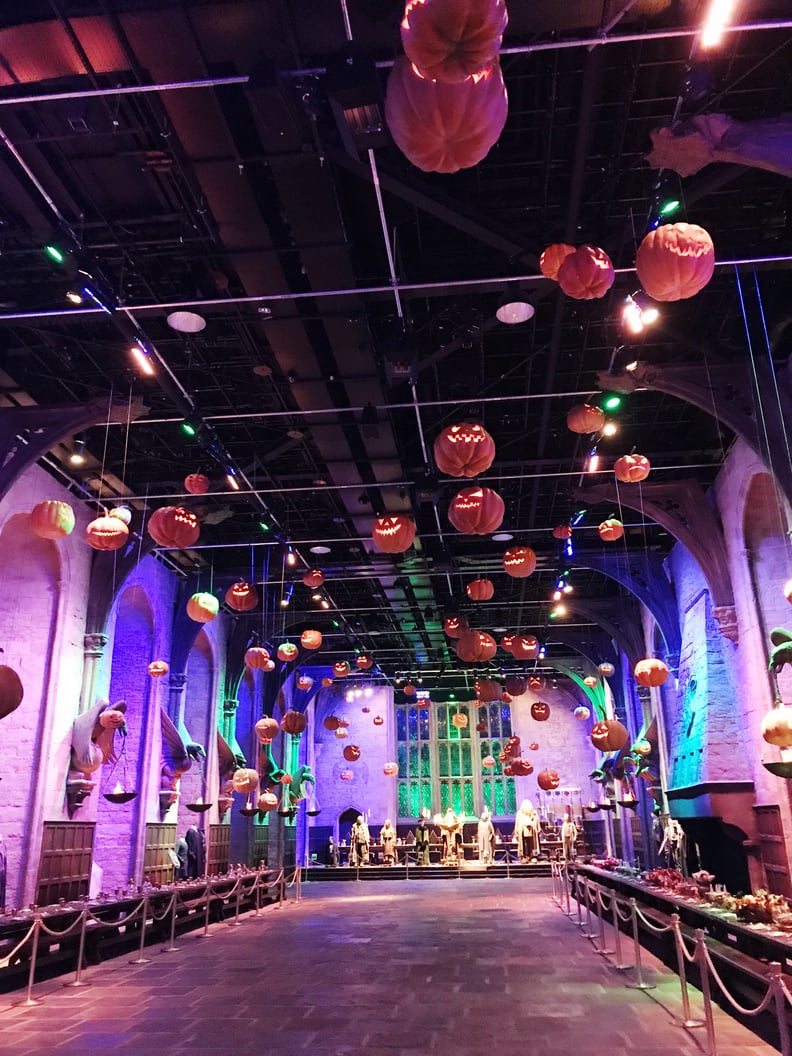 The lights within the pumpkins flickered on and off, and the ones floating over the tables dipped up and down so you could get an up-close-and-personal look.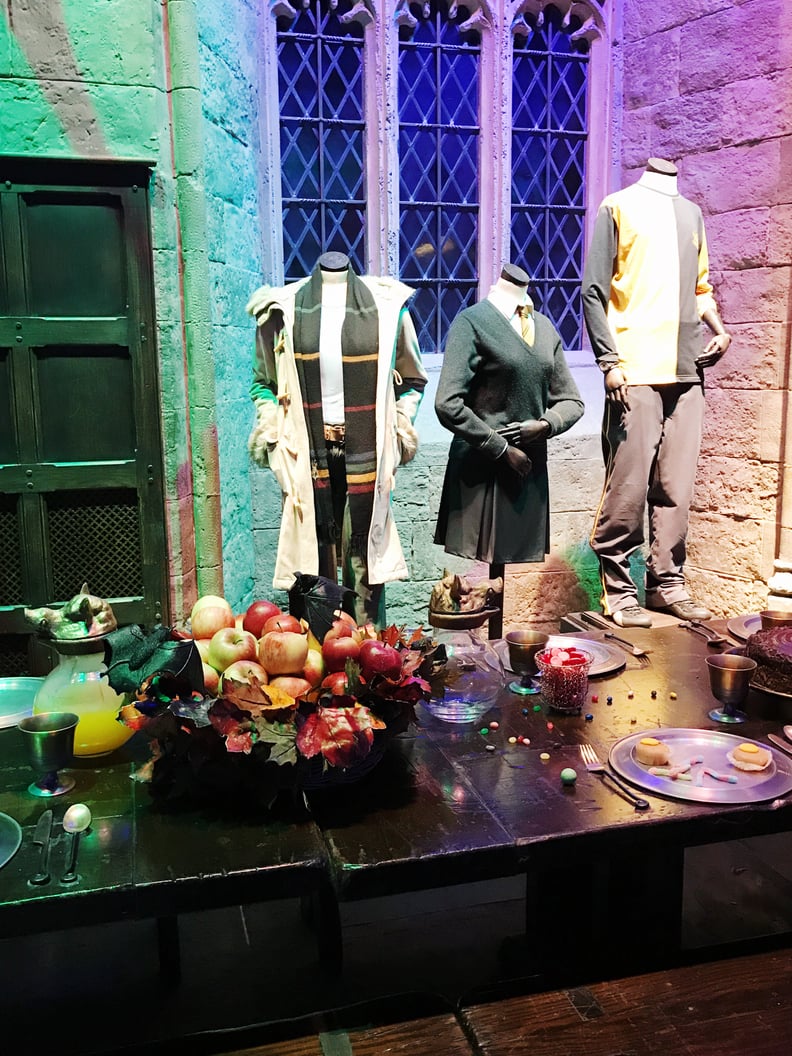 Those Hufflepuff costumes are great and all, but we can't stop wondering about that cupcake/gummy worm combination (which is genius, by the way).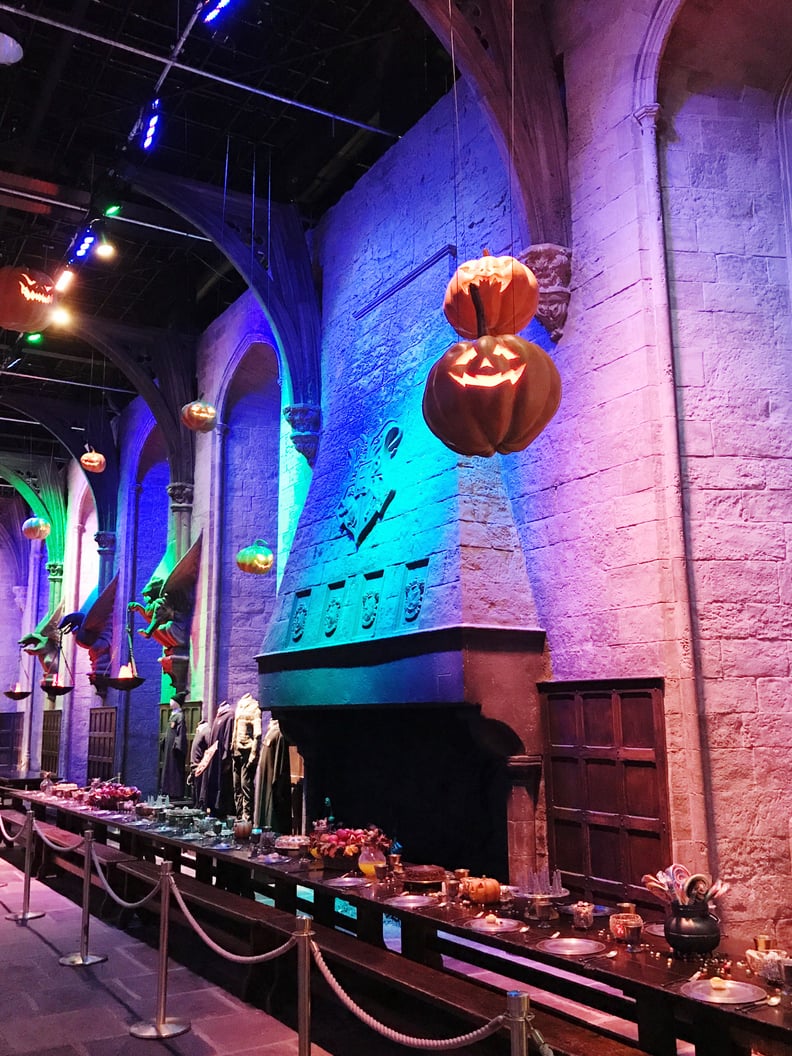 If you've been searching for Halloween party inspiration, this is about as good as it gets.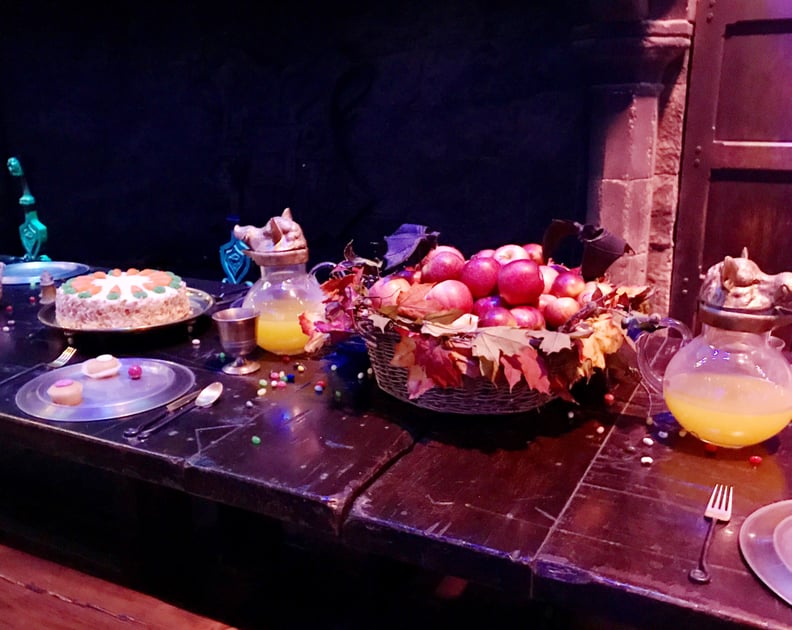 How much do you wanna bet those jugs are full of pumpkin juice?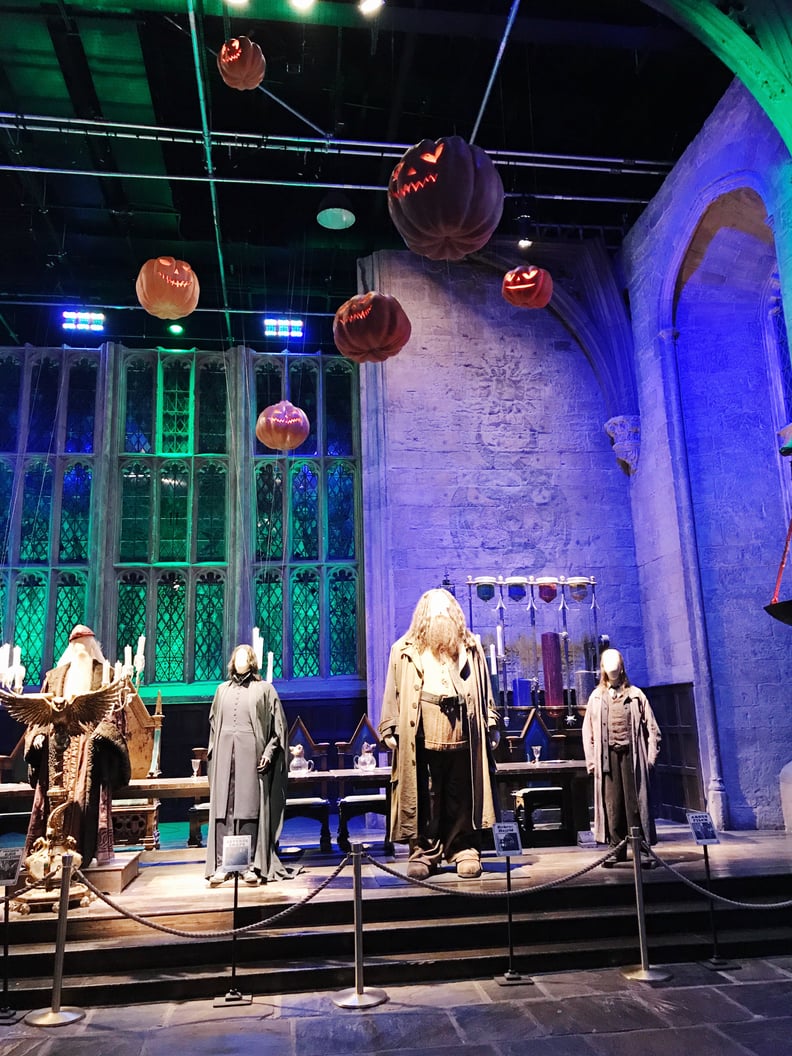 Floating, glowing pumpkins are enough to make even Filch look festive.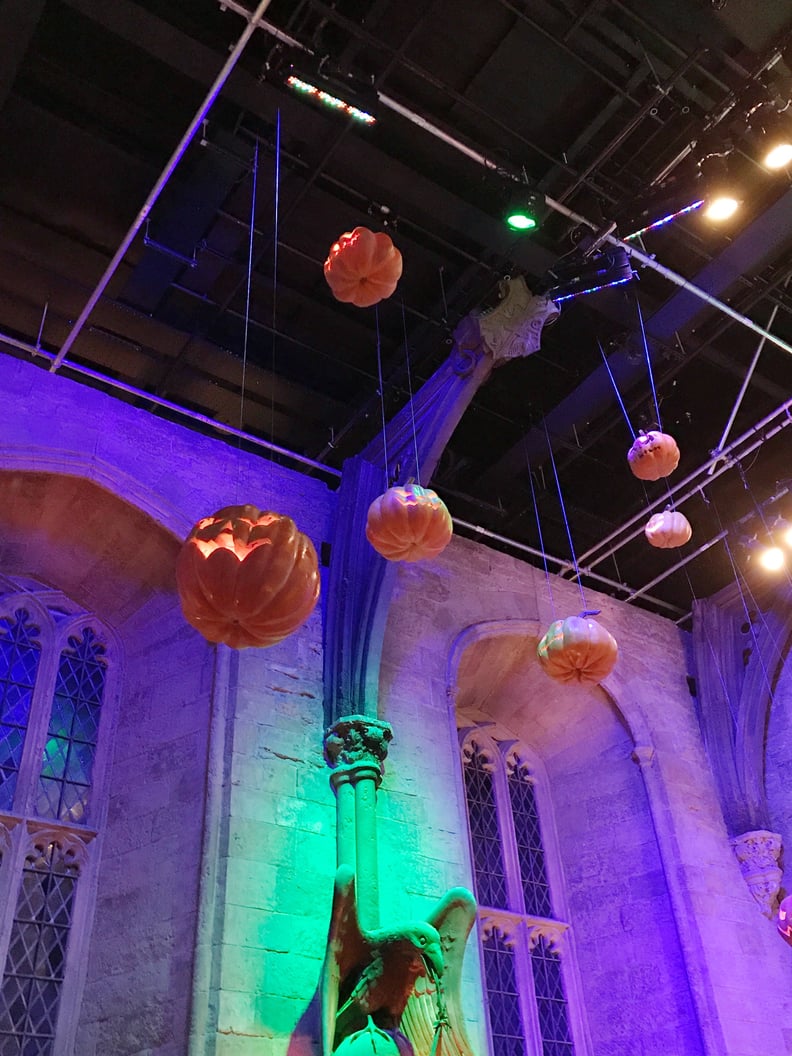 Real talk: can someone from the studio tour come and put these on our own ceiling?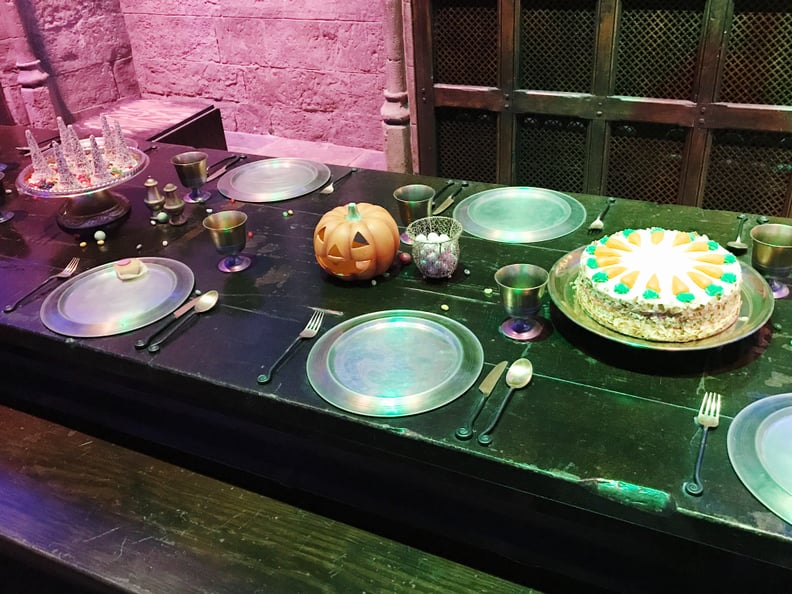 Carrot cake? Check. A bowl of candy? Check. Unicorn horns made out of sprinkles? Um, check.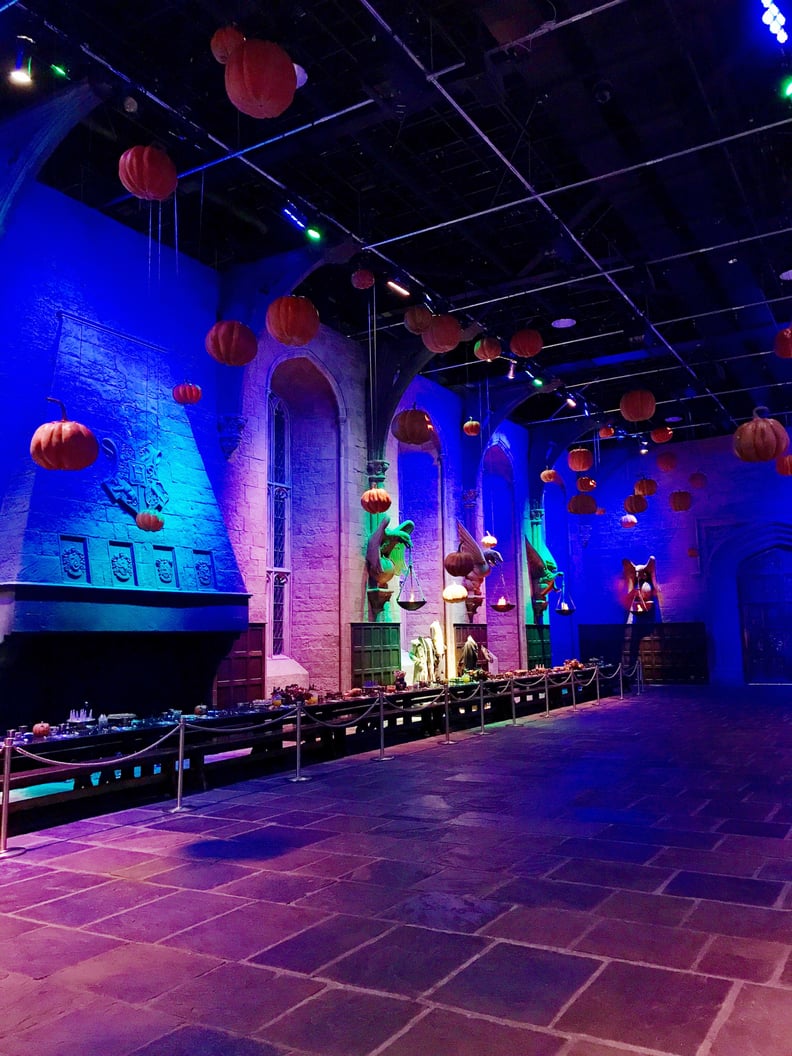 The Great Hall: perfect for wizarding duels, and also our future wedding ceremony.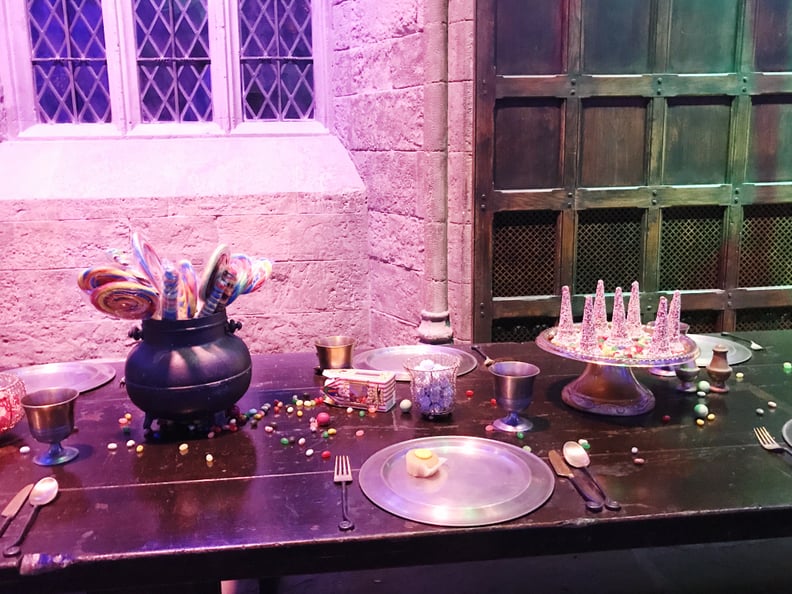 Lollipops have never looked so good.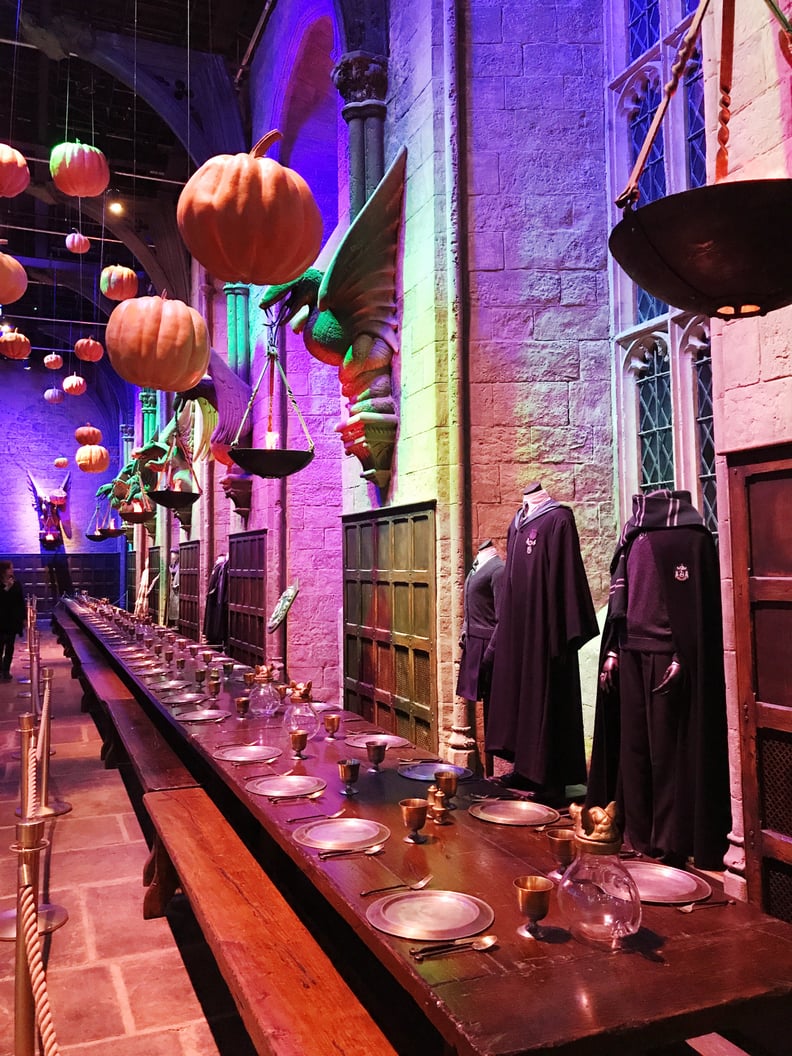 Yep, we're already planning our next trip back.