How Hayley Kiyoko Lived Her Truth and Became the "Queer Savior" of Pop
When you identify as heterosexual, love songs, movies, and TV shows often seem to speak to your experience. You see your type of love prominently displayed in mainstream art and culture; rarely do you have to question if your experience is valid or real. You never have to swap out pronouns or imagine an alternate reality where the heroine falls in love with her best friend. This is often the reality for queer people — who find accurate and empowering representation hard to come by.
In a society that thrives on portraying a certain kind of love story, it's difficult to locate spaces where girls really kiss girls for no other reason than being interested in each other. This rings especially true in the music industry, where openly LGBTQ+ artists are few and far between. Many artists shy away from labeling themselves or refuse to address their sexuality altogether, a move that could impact their careers. Hayley Kiyoko, singer-songwriter and verifiable pop star, chooses to do both.
Dubbed "Lesbian Jesus" by her fans, the singer is known for synth-heavy pop beats and catchy songs that celebrate women who like other women. These odes to female love are often accompanied by stunning visuals. Kiyoko professes her love unapologetically, whether she's following a girl down the street or making out with her at a party. Her most popular video, for "Girls Like Girls," has amassed over 90 million views on YouTube. She has a cult following on Twitter and recently hit a million followers on Instagram. In other words: Kiyoko definitely has an audience who is ready and willing to join her.
Kiyoko is a girl who likes girls, but to her fans, she's so much more. A quick scroll through her retweets on Twitter illustrates her impact — from two fans who found love at her concert to queer girls who have learned to accept themselves just by seeing her perform. The significance of Kiyoko's openness is not lost on her fans, whom she largely credits with her success. It's not lost on her, either.
As an Asian-American woman, Kiyoko is already adding her voice to an underrepresented part of the entertainment industry. In 2017, she talked about her experiences being biracial. "As an actress, for example, I'm constantly going out for Asian-American roles and 'I'm not Asian enough.' They will flat out say that," she said. "Then I'll go out for open ethnicity roles and they will go, 'You're not white enough.' It's just part of who I am and what I look like." But it's the intersections of her identity that really help her shine. Last month, Kiyoko told Vice, "To see an Asian-American in the music industry, let alone [a] queer [Asian-American woman], is very rare. A younger version of myself needed someone like Hayley."
As an extension of her openness about her pride in both her sexuality and racial identity, Kiyoko is very vocal about her experience on social media, which is a testament to her continued celebration of herself and all of the communities she belongs to. Kiyoko uses self-love and pride in her identity to inspire her fans. Through her music, she creates a safe and supportive community, one that compels her fans to support each other, too. I recently caught up with the singer to talk about her evolution as an artist in the industry and how her sexuality has impacted her journey along the way.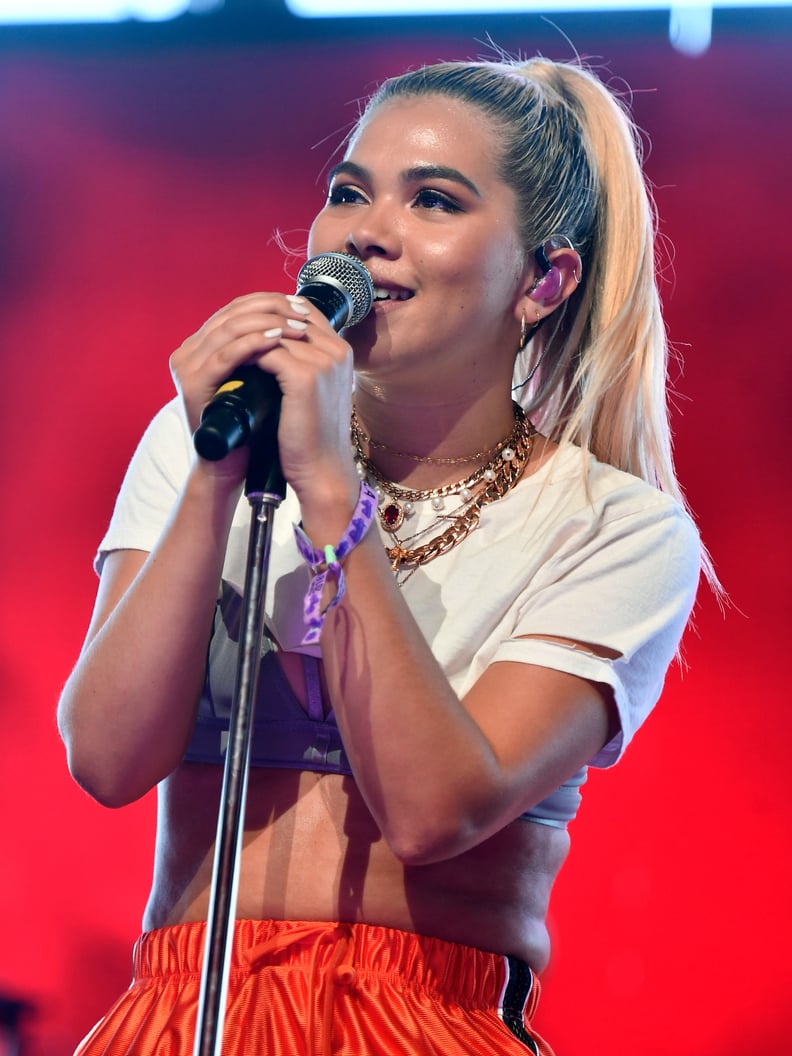 POPSUGAR: Growing up, it was rare to see openly LGBTQ+ pop stars — especially women. Did the fact that you didn't see people like you on stage influence your desire to pursue music?
Hayley Kiyoko: I wasn't like, "Oh, I don't have this; I'm going to do this." That was never a thought in my mind. I've always loved girls, and it's always been a part of who I am. I realized, as I started releasing music videos, that there wasn't [much of] that content. I think because I never had it, I never missed it. When I started creating music and telling stories, I started to realize that there was a gap that needed to be filled, and I could naturally be that. Because that's who I am.
PS: Your single "Girls Like Girls" is an unapologetic ode to women who love women — where did the inspiration for that song come from?
HK: That was just a moment of being in the recording studio. My cowriter asked me, "What's something that you're terrified to sing about?" That was the beginning of it. I opened up to her, and she was like, "Let's sing about it." I remember complaining to her about being vague with pronouns and being vague with my overall feelings. She was like, "Let's do something unapologetically you. Let's tackle it."
"You grow up wherever you are, and you're constantly looking for validation and somewhere to fit in. Everyone just wants to fit in somewhere."
PS: What was that like?
HK: It was the best process because I've always led with my heart. I like my art to speak for myself, and [I want] people to learn about me through what I put out there. It was the most ideal situation for me, to be able to share a story that's personal to me.
Directing the video, and then having it be received so positively — and also finding [out that] people like me — that was very encouraging.
You grow up wherever you are, and you only know the people you're surrounded by, and you're constantly looking for validation and somewhere to fit in. Everyone just wants to fit in somewhere. And you can get lost.
PS: What have the reactions from queer women to you and your music been like?
HK: That's been really emotional. I had an 11-year-old girl come to my concert — she'd just come out to her mom. And she felt comfortable being herself because I was myself. That was a beautiful moment. Just being able to see everyone's faces beaming with joy and pride and feeling that energy. Even if they're not out yet in their personal life, you can see them being lifted by the amount of support surrounding them. Creating that space and having that opening to become who you've always wanted to be is really exciting.
PS: Did you have a difficult time coming out personally?
HK: I always knew that I liked girls since I was really young. Obviously, everyone has their own personal experience with their family, but eventually my parents were comfortable with it. It just took time. A lot of times, people think it's just a phase. There are also parents who will be accepting of other people, but as soon as it's their kid, it becomes a whole other reality check. That can be hard.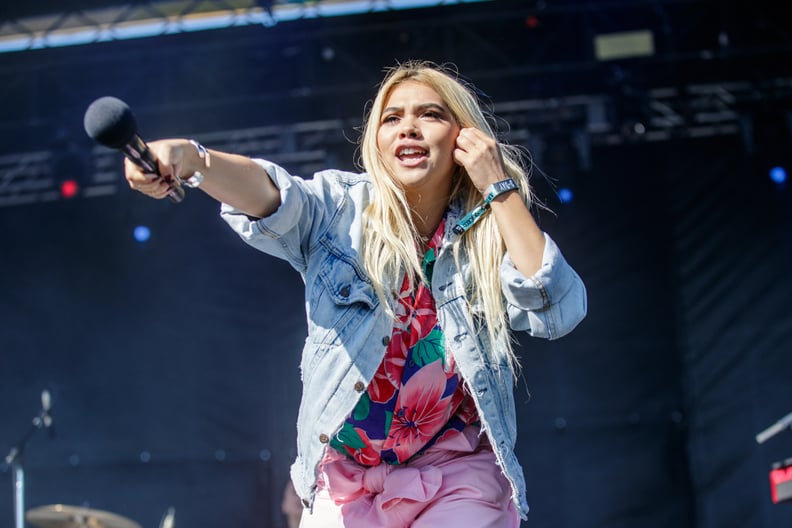 PS: Tell me more about the nickname "Lesbian Jesus." Where did it come from and how did it become so popular?
HK: I don't know who the culprit is, but it just spread like wildfire. Now I have my face photoshopped on candles. It's sweet. Obviously, I don't want to disrespect anyone, but I do feel that it's the highest honor, and I'm grateful for such an empowering nickname.
PS: What's the difference between Hayley Kiyoko "Lesbian Jesus" and Hayley who's at home watching HGTV or something?
HK: I'm the same person. I tend to be more relaxed when I'm performing and have way more energy than when I'm just chilling. I would say the only difference between the two is that I'm a little more chill.
PS: As a QWOC, it's so rare for me to hear women sing to other women — especially in a way that's sincere and doesn't invite male fetishization. How important has it been to create that space for women? How does it influence what you do?
HK: It's really important; that's why I'm doing this. There's not a lot of representation in the mainstream pop world. I want to be on the radio and sing about loving girls and have that be OK. Even if someone can't specifically connect lyrically, they can connect emotionally. For me, growing up, that's how I felt with the radio. I feel like my music is for everyone, and it can also be for specific people to have that story told. I think it's important to have that in the mainstream. I want to be riding with everyone else. Just because I'm gay, it doesn't mean I shouldn't be able to sing at the top of my lungs all over the world and be able to achieve those dreams.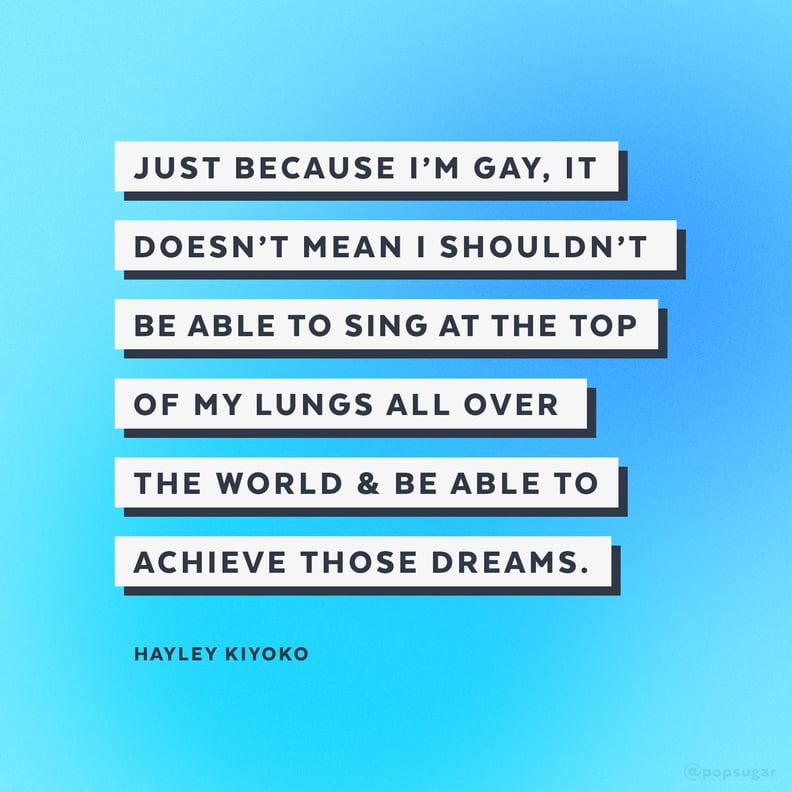 PS: What was the creative process like for your new album, Expectations?
HK: I really just went for it. Every day, every month, going in and tweaking things. Really trying to find my sound and how I feel internally. Creating that sonically. For me, nature is such a heavy influence — and beats and rhythm and storytelling. It's like, cool, how do I create a song with a heavy hip-hop or progressive beat with nature and also create a visual? And on top of that have it be catchy? So, it's really playing with what that could be.
PS: You've been dubbed the "queer savior" of pop. How does that make you feel?
HK: Honestly, I just wanted to create music. And the fact that my music is able to help people love themselves more and connect is the biggest gift in the world. The people [who] are listening to my music and my fans are the reason things are changing. I'm just a portal, and everyone else is moving us forward. I'm very thankful for all of my supporters and people who are willing to discover me and give me a chance.
PS: Is there anything you would say to pre-"Girls Like Girls" Hayley? The one who was afraid to sing to the person she wanted to sing to?
HK: I would tell myself to not be afraid, and there are thousands of people just like you. I felt really isolated, and I didn't know any people like me. I would tell myself that there are.