The Game of Thrones Series Finale Is Full of Twists and Turns — Here's What You May Have Missed
Warning: spoilers for the finale of Game of Thrones are ahead!
It's been a long journey to the final six episodes of Game of Thrones and fans have not been shy about expressing their feelings on the direction the fantasy-drama has taken in its final season. But viewers have been waiting ages to learn how it all ends, and now, we finally know. It's fair to say we're still trying to process it all. If you're reeling over the many shocks that whammy of a finale delivered, never fear! We've put together a thorough recap of everything that goes down during season eight's sixth and final episode, "The Iron Throne." It all begins right after Daenerys Targaryen burns down King's Landing . . .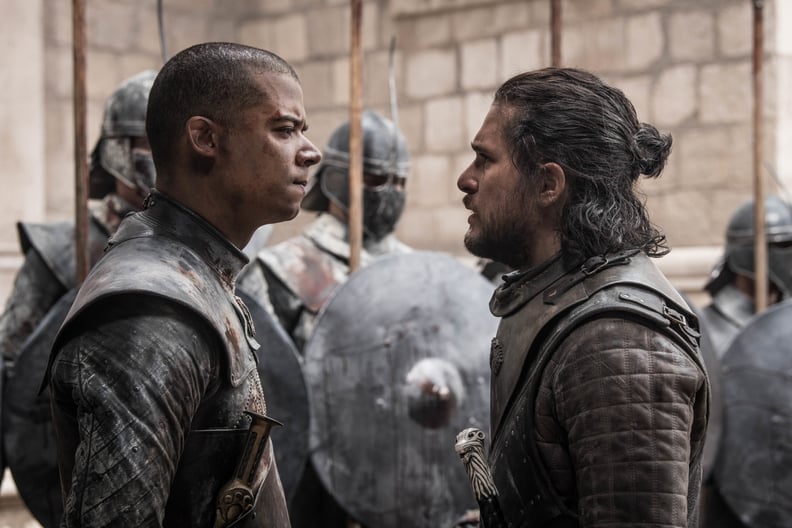 The Aftermath of the Battle of King's Landing
The episode opens as Jon, Davos, and Tyrion walk through the devastation left after Daenerys and Drogon's fiery adventure above King's Landing. As Jon and Davos walk through the rubble, the duo comes across Grey Worm and the Unsullied preparing to kill a group of unarmed Lannister soldiers. When Jon tries to stop Grey Worm from killing the men, the commander reveals that he acts on the orders of the Queen, unsettling both Jon and Davos. The two begin to realize that Daenerys no longer worries about being benevolent and the bloodshed isn't over yet. Off on his own, Tyrion unearths the bodies of Cersei and Jaime, confirming that he is the last Lannister left.
Daenerys triumphantly surveys what remains of her Dothraki and Unsullied soldiers, as fires in King's Landing continue to smoke in the distance. She walks out to greet her gathered forces with Drogon perched atop a destroyed Red Keep behind her, a show of power that lets everyone know that the Dragon Queen walks among them. Daenerys gives a speech worthy of any conqueror, glamorizing her destructive actions as her freeing the people of King's Landing from tyranny. She tells them that she means to free the rest of the world much as she has Westeros (which is a positively chilling thought), asking her army, "Will you break the wheel with me?"
Speech over, Daenerys turns to Tyrion and reveals that she knows he freed Jaime, allowing the Kingslayer to escape after her men caught him trying to sneak into King's Landing. She accuses Tyrion of committing treason, which infuriates him. He tells her that she has killed thousands of innocent people and resigns from his position as her Hand, symbolically throwing the pin she gifted him with in season six. "I freed my brother. And you slaughtered a city," he says.
Enraged, Daenerys calls to her men to take him to prison, where he will presumably wait to be executed for treason like Varys before him. As she walks away, Jon is faced with Arya, who mysteriously made her way up the keep stairs. "I know a killer when I see one," she warns her cousin.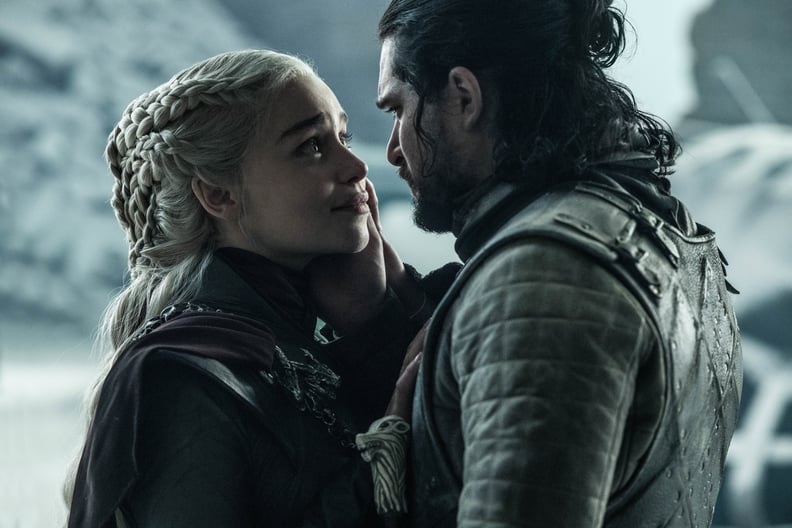 Daenerys Suffers Her Final Betrayal
Jon goes to visit Tyrion, who is awaiting his execution. The former hand to the queen warns Jon that there is no turning back with Daenerys and that she will never stop until "she rules them all." When Jon still seems reluctant to turn against the woman he calls his queen, Tyrion uses Jon's greatest fear against him: the idea that Daenerys may harm his family and friends. There's no love lost between Daenerys and Sansa, but Jon's very existence is a threat to her legitimacy and his family knows the secret of his parentage. Daenerys may kill them all to ensure that her place as queen is never in question.
Hoping to talk some sense into her (and forever trying to find the silver lining in a situation) Jon goes to see Daenerys. He finds her in the throne room of the Red Keep, all alone and standing before the Iron Throne. In a really sad way, it's a visual representation of Daenerys's current situation. She's lost pretty much everyone she loves for the throne, and now it's the only thing she has. Jon pleads with Daenerys to show mercy for the Lannister forces. He mentions seeing the Unsullied killing unarmed soldiers and tells her that she has what she wants now. Shouldn't that be enough? But Daenerys doesn't see her actions as evil — according to her, she's doing it for the people. "The world we need won't be built by the men loyal to the world we have," she tells her nephew.
Realizing that Daenerys will never stop and will only wreak havoc wherever she goes, Jon comes to a grim decision. When Daenerys begs him to be with her, pulling him into an embrace, Jon pacifies her saying, "You're my Queen, now and always." He pulls her into a kiss and, as her guard is down, kills her by stabbing her in the chest. Seemingly sensing his mother's distress as she fades away, Drogon bursts into the throne room. In his anguish, the dragon blasts the Iron Throne with fire, causing it to melt into a molten puddle. The last dragon cradles his mother with his talons and flies away, carrying her body away from the Red Keep forever.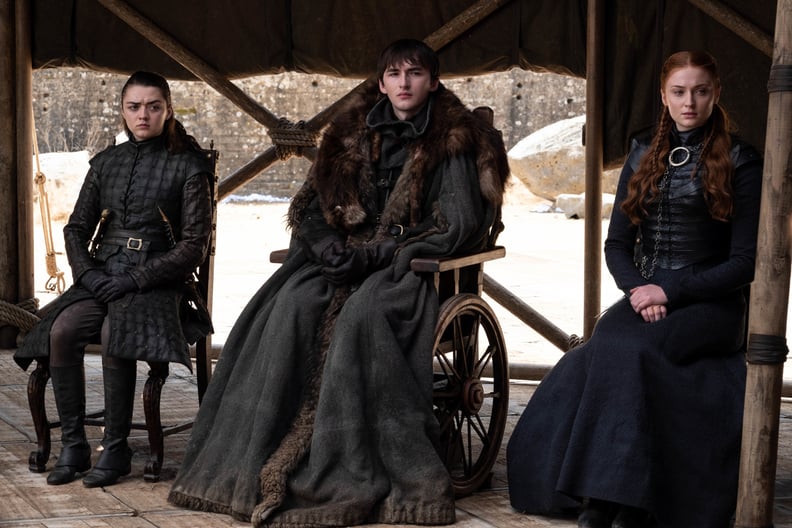 A Council Crowns a New Ruler
The episode flashes forward what seems like weeks. Jon and Tyrion are both prisoners now as Grey Worm took Jon into custody after Daenerys's death. A newly formed council holds court in the dragonpit as they decide how to deal with the vacuum of chaos that will only grow if Westeros is left leaderless. And also deal with the fact that Jon has killed Daenerys, making him a Queen- AND Kinslayer.
When Sansa tells Grey Worm to release Jon and he refuses, Tyrion (still a prisoner and tired of people's sh*t, to be honest) suggests that the council elect a ruler who will decide what happens to Jon. Sam suggests that they allow the people a voice in who will rule over them, but the lords scoff and liken it to letting their horses vote. Tyrion suggests that the council elect Bran Stark as the new king — the very same Bran Stark who said he couldn't be the Lord of Winterfell because no one would respect a leader in a wheelchair and most likely won't be able to produce any heirs, a problem that Tyrion raised about Daeanerys. But I digress!
As the council agrees to Bran's election, Sansa commands that the North remain an independent nation, never to kneel to another again. Bran agrees and Tyrion suggests that after Bran, a new leader be chosen in the dragonpit by a council made up of the heads of great Houses. Bran goes on to name Tyrion his hand and the last Lannister decrees that Jon be sent to the Wall to join the Night's Watch as punishment. Grey Worms accepts this, refusing to bend the knee to Bran, and sails forth to Naath, where he and Missandei planned to sail to before her death.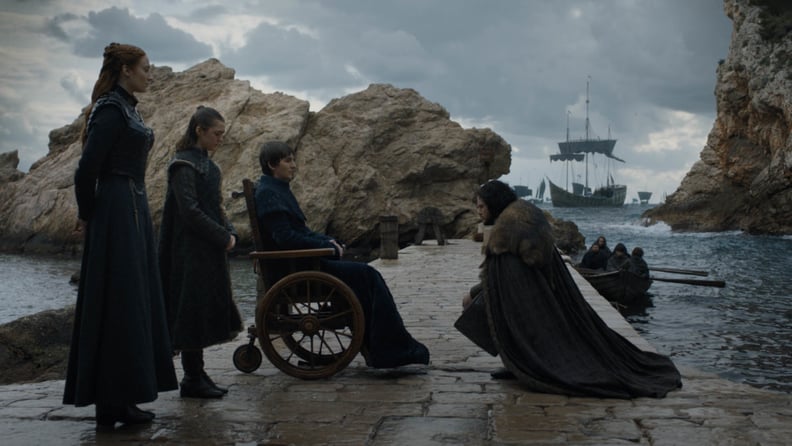 Everyone Parts Ways
Grey Worm, having been named Daenerys's Master of War before her death, takes the Unsullied and the Dothraki with him to Naath. The episode ends as our remaining heroes leave King's Landing to go about their own lives. Jon says goodbye to Sansa and Arya, the latter of whom reveals that she plans to go explore "whatever is west of Westeros," because no one else has ever been there before.
The show closes with a montage that shows Arya sailing away on a ship, Sansa ruling over Winterfell as Queen in the North (as bad b*tches do), and Jon reuniting with Ghost and Tormund, heading north with the Free Folk. Bran reigns as King Bran the Broken (such a cringeworthy name, like wow), Leader of the Six Kingdoms with Tyrion by his side as his hand. The rest of his council includes Bronn (Master of Coin), Davos (Master of Ships), Sam (Grand Maester), and Brienne (Head of the Kingsguard). The game of thrones has finally ended and the wheel, seemingly broken for good.