These Are a Few of Jacob Tremblay's Favorite Things
At just 10 years old, Jacob Tremblay is pretty much at the top of his game. He may not have earned an Oscar for his performance in Room, but he earned rave reviews and his award season was loaded with cute moments. Now, with new projects on the horizon, the whole world is ahead of him. The next release on Tremblay's slate is Shut In, a new thriller costarring Naomi Watts. In preparation for the new, scary entry on the young actor's résumé, we hopped on the phone to ask a few of our pressing, burning questions.
POPSUGAR: What's the movie about, in your own words?
Jacob Tremblay: Well, I mean, I don't want to spoil it for you, so there isn't going to be that much detail. But, it's about a woman, and her child. And, another child named Stephen, and he's in a wheelchair. And then, scary stuff happens. And then they got isolated in their house. And then, pretty scary stuff happens. And something happens to me.
PS: Something happens to you?!
JT: Uh huh. But I don't want to spoil it.
PS: Alright, I won't make you. Was it scary for you to film, though?
JT: Not that much because, I mean, you have so many adults around you! But when you watch the movie, there's no one there, and all the music is there, and it's all edited. So, it's pretty freaky.
PS: Um, are you allowed to watch it? Have you already seen it?
JT: I've already seen it, yeah. It's pretty scary.
PS: Is it?!
JT: Oh yeah.
PS: Oh. I don't know if I could handle it.
JT: You will.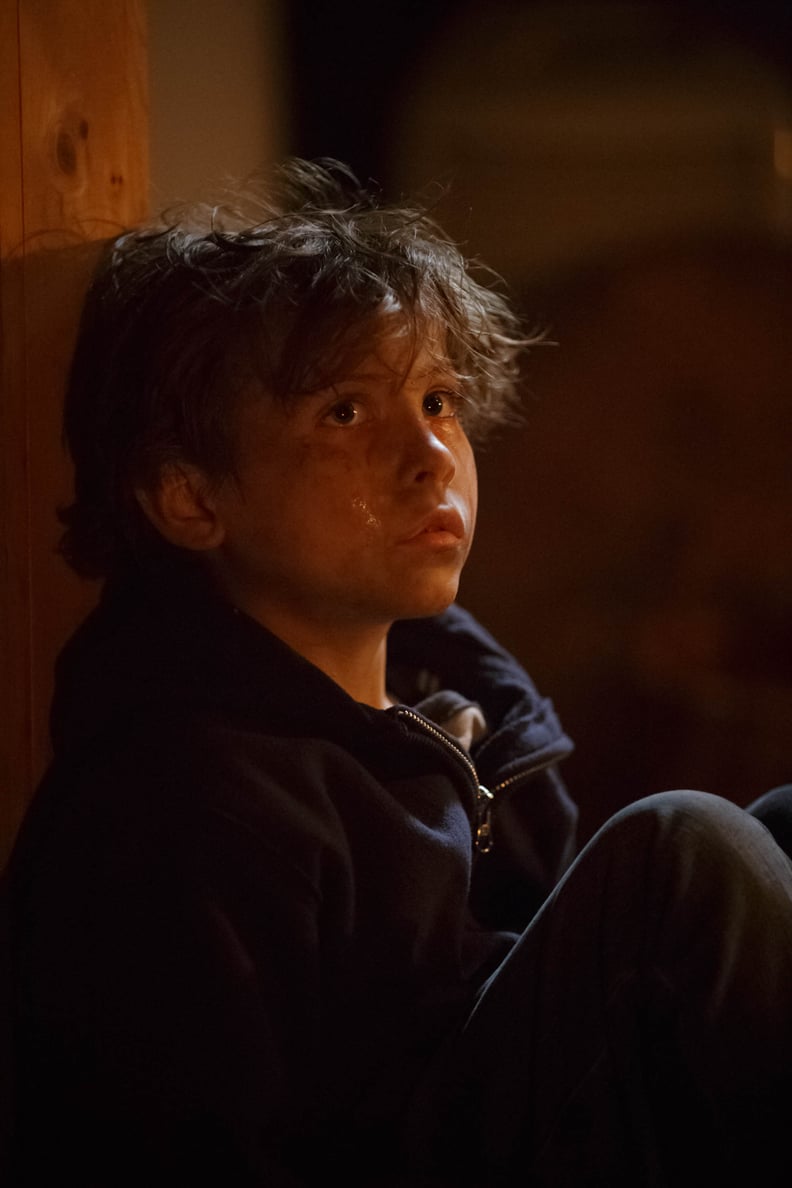 PS: What movie scared you a lot when you were younger?
JT: Hm, probably Chucky . . . because, like, I saw a picture of him, and I freaked out, and I was crying at the top of my lungs, like, "Mom, why did you show me that? I don't want to watch the movie anymore!"
PS: How did you like your costars? What was it like working with Naomi Watts?
JT: It was really cool. I was really excited to work with her, because she was in the movie King Kong. And that's my favorite movie, it's a really cool movie. So, I was really excited to meet her. She's really nice and awesome.
PS: And your other costar is Charlie Heaton! Have you watched Stranger Things?!
JT: That's, like, my favorite TV show now. And it was so cool, because I didn't even know he was in it! And then I saw it, and I was like, "Hey, I know that guy!"
PS: If you could spend the day at Disneyland with any celebrity, who would it be?
JT: You know, Disneyland is my favorite amusement park. That place is awesome. Probably Johnny Depp, or Harrison Ford . . . I mean, you already see Johnny Depp on the Pirates of the Caribbean ride. And then you also see Harrison Ford on the Indiana Jones ride, which is my favorite ride there!
PS: What's your biggest fear?
JT: Clowns. I have a clown phobia . . . and also, the fear of dark, and the fear of dolls. Basically, what I'm saying is, I'm a chicken.
PS: What's coming next for you?
JT: I have a movie coming out called Wonder. It's a really nice book. And the movie is going to be way cooler. And after that I have a movie called Book of Henry. And before all that I have a movie called Shut In. You know that.
PS: I definitely do.
Shut In hits theaters Nov. 11.