25 Times Jason Momoa Proved He's a Diehard Game of Thrones Fanboy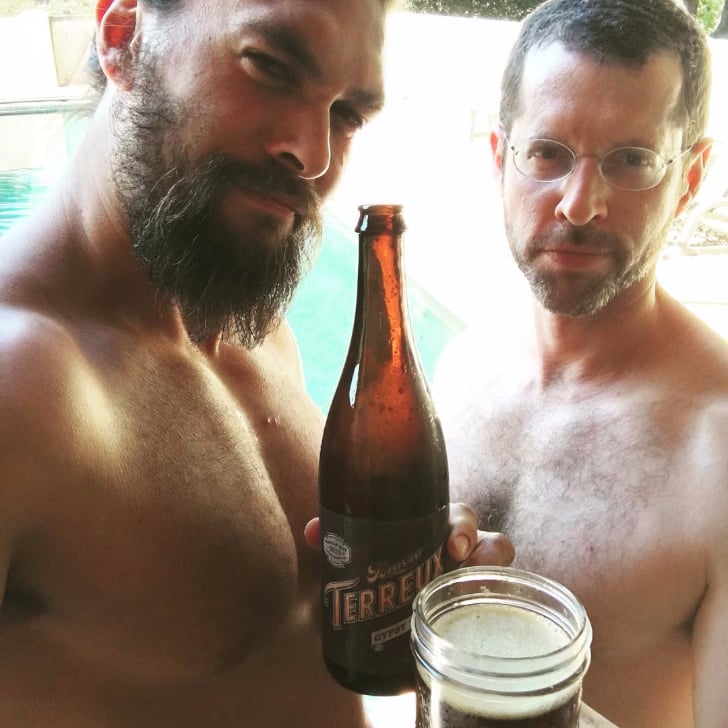 It can't be easy when an actor's character is killed off of their TV show, but Jason Momoa (who played Khal Drogo in Game of Thrones during season one) has taken it in stride. In fact, the frequently shirtless actor seems to be a bigger Game of Thrones fan than ever, regularly posting messages of support (or shock, because the show does that sometimes!) on his Instagram page. From themed feasts to cast reunions, here are 25 Instagram snaps that prove Jason Momoa is the biggest Game of Thrones fanboy out there. Now, where can we score an invite to one of his viewing parties?
01
Momoa gets jealous, enjoying it when Daenerys parts ways with on-screen flings (like Daario).
02
And he supports his on-screen wife's grand plans for conquering Westeros.
03
The self-professed "GOT junkie" has to re-watch episodes to catch all the details, and he hates when finales roll around.
04
Momoa knows that a good show calls for a proper feast.
05
He calls Drogo "the greatest role I ever played."
06
And he never stopped supporting his Khaleesi.
07
But he keeps a sense of humor about his character's fate.
"Unfortunately your mother killed me with a pillow. It's hard to explain."
08
And he celebrates the crew's many accomplishments and awards.
09
Momoa watches the show with his new Justice League costars.
10
But he makes time to meet new GoT cast members, too.
11
And he's still great friends with the Game of Thrones creators, especially Dan Weiss.
12
He dreads season finales just like the rest of us.
13
Any time Dany does something huge, Momoa always has the best reaction.
14
He even gets spooked by the White Walkers!
15
The man never misses a chance to meet up with his old GOT costars.
16
His relationship with Emilia Clarke (Daenerys) is supportive off screen, too.
17
When it comes to show collectibles, Momoa is a huge enthusiast.
18
How's his GOT humor? On point.
19
And he is up front with followers about his spoiler policy: "If you don't want a spoiler, unfollow me."
20
His Game of Thrones throwback photos are the sweetest.
21
Momoa gives credit to author George R. R. Martin, who created the entire GOT universe.
22
Halloween is the best time for him to step back into his Dothraki costume: "Drogo for life."
23
And he'll never pass up the chance to hang with his fellow fans.
24
And he finds the fanbase's sense of humor hilarious, too.
25
Don't ever change, Jason Momoa. Never change.