Joshua Bassett Discusses His Debut EP and Songwriting
With His Debut EP, Joshua Bassett Hopes "Honesty Inspires Honesty"
The journey to stardom has certainly been a roller-coaster ride for Joshua Bassett. The 20-year-old first stepped into the spotlight with his recurring role on the Disney Channel series Stuck in the Middle in 2018 but really skyrocketed to fame with his role as Ricky on Disney+'s High School Musical: The Musical: The Series in 2019. Not only did it mark his first starring role, but it also marked his first big songwriting credit as he cowrote "Just For a Moment" alongside his costar and onscreen love interest, Olivia Rodrigo. Now, Bassett is making a name for himself yet again with his debut, self-titled EP.
As I hopped into a Zoom chat with Bassett, he seemed comfortable and at ease in a pink sweatshirt as we briefly caught up on how he's been since the last time we spoke. I mentioned it's wild to think that just two years ago I was chatting with him and the rest of the HSMTMTS cast in NYC ahead of the season one premiere, and now here he is, embarking on his solo music career.
While HSMTMTS was our introduction to Bassett's singing and songwriting abilities, his love for music started in his early childhood. In fact, his own introduction to musical theater was at age 8 when he was in a community theater production of — wait for it — High School Musical. (Talk about foreshadowing!) However, he didn't really start writing and playing instruments until he was in his teens.
"When I was 14, my grandpa passed away, and my grandma gave me his old ukulele, so that was my introduction into that world," Bassett told me. "Then I got grounded, and I convinced my mom to let me get a guitar. For that month I was grounded, I just learned guitar." His interest in songwriting came about a year later when he was trying to ask a girl to homecoming. "She had turned down two guys prior, so I was like, 'If I'm going to impress this girl, I got to go big.' So I wrote a song." The experience eventually inspired him to start "throwing paint at the wall" and writing his own music.
Of course, his songs ended up being more than paint at the wall. After writing "Just For a Moment" for
HSMTMTS
season one, Bassett signed a recording contract with Warner Records in early 2020 and eventually released
his first single, "Common Sense,"
later that year. The debut single has a special meaning for Bassett as it was the first song he shared on Instagram and, therefore, his official debut as a songwriter.
When it comes to how he's evolved the most as an artist and songwriter over the past few years, Bassett said he's "gotten a little bit less afraid over time" about experimenting and trying new things. "You try to be as honest as possible and pour your heart and soul into the thing and see what happens," he explained. "That's been consistent throughout, but in terms of production and writing style, I've definitely gotten less afraid to try new things and branch out."
He noted that this same honesty applies to both his solo music and the music he writes for HSMTMTS. Following "Just For a Moment," Bassett will also be writing new music for the show's upcoming second season. "When I'm writing for the show, I'm being honest, but I'm looking at it through the lens of my character," he said. "That's the beauty of songwriting — they're universal feelings. So it's like, 'How do you take the circumstances my character is in and apply them to how I'm really feeling or how I felt in the past.' So, it's basically the same process — it's just not my circumstance when I'm writing for the show. But at the same time, there's songs that I write that aren't based in reality. Sometimes even though they're honest, in terms of experience, the context and the actual meat of the song is either made up or inspired by somebody else's story. So again, at the core of it, honesty is most important, and then the context changes around that, based off of whatever you want it to be."
"The cool thing about music is people will relate it to their own personal experience, and lately, people have been making it about other people's experience."
While Bassett wants his music to have meaning and purpose, he is aware that his recent songs have been overshadowed by speculation about his love life. Following the release of his costar Olivia Rodrigo's debut single "Drivers License," many fans theorized that the song made references to Bassett and his rumored girlfriend Sabrina Carpenter. Ultimately, with the release of his EP, Bassett hopes to shift the narrative away from the drama and allow him to tell his own story as an artist. "The cool thing about music is people will relate it to their own personal experience, and lately, people have been making it about other people's experience and assuming things and just making it their own thing," he said. "So I would hope that when people hear the EP, it's personal to them, and they feel like they can relate it to their life, or it's maybe cathartic, or therapeutic in some way to them." That being said, Bassett knows he can't control how each person will react to the EP. "People will say whatever they're going to say, man," he said. "I can't stop people — they're going to do whatever they want. So I hope people get enjoyment out of it no matter what, whether that's speculating or trying to make something more of it or whether that's just personal enjoyment. That's all I can ask for."
Bassett was originally set to release a duet with Carpenter titled "We Both Know," but following the recent drama, he has since decided to take the track off the EP. "It's the debate between, you should just do what you want to do and as long as you're not hurting anybody, you're good; but at the same time, there's ways to be sensitive to the times and recognize when something's right and when it's not," he said about the decision to remove the song. "The timing right now for that song is not quite right. So, I've got my eyes down the road, and I'm so beyond proud of that song. I'm a massive fan of Sabrina, I think the world of her, so I think people are going to really like the song, and I think eventually, it'll be good, but for right now, it's just not the time." I can attest, the song is a bop, so hopefully the rest of the world will be able to hear it one day.
"She has that 'Sabrina Carpenter persona,' but the Sabrina I know is like a marshmallow."
Though Bassett and Carpenter's duet has since been scrapped, he noted that it was "super awesome" getting to work with her professionally after looking up to her during his Disney Channel days. "I mean, she's a badass," he said about the Disney star turned pop singer. "She's so dope, but she's also the sweetest person ever. It's like she has that 'Sabrina Carpenter persona,' but the Sabrina I know is like a marshmallow. So she's really dope, and it was super awesome [to] work with her. I feel like we actually taught each other in a few ways. That was kind of cool, [to] learn from each other in the process of making that song."
He noted that having that shared experience of being a Disney star has been very helpful as he adjusts to life in the spotlight. "Yeah, we've had conversations about that," he said. "That's kind of cool to have that shared experience and whatnot. Just through different things, every now and then, I'll text her and be like, 'I don't know what to do.' And she'll be like, 'You've got this. I've been through this. You're good.'"
In place of "We Both Know," Bassett is now adding a new song to the EP titled "Telling Myself," which he described as a reflective breakup song. "You're like, 'Was that really as good as we thought it was? Maybe things weren't as good. We had a lot of problems, and things were not great.' But then at the same time, it can be the flip side of that, when you're out of a relationship and maybe you're bitter about it, so you're telling yourself that it was bad, so you can get over that person. You're like, 'Oh, this was awful,' but maybe it wasn't. So, it's all the things that you say to yourself when you get out of a relationship that you're not really sure how to feel about it."
After hearing Bassett describe his "most emotional" track to write, I noted that the stages of a breakup seems to be a common theme throughout the EP. While that wasn't entirely purposeful, he certainly agreed with the assumption. "Emotional is a funny word, because I was emotional. Just one of the emotions was anger, [and] one of the emotions [was] more so just sadness," he said. "It's interesting, [even though they were] written about different circumstances at a completely different time, 'Only a Matter of Time' is in a way a sequel to 'Lie, Lie, Lie,' because 'Lie, Lie, Lie' is the initial anger when you feel like you've been wronged. Then, 'Only a Matter of Time' is the letting go of it and just being like, 'You know what? I got to let this be and move on and forgive and just rise above.' They're both different, and at the same time, they're very similar."
"I realized recently that fear is dictating my life, and the second I realized that, my entire life has been changed."
He added that one of the lyrics he's most proud of is from "Only a Matter of Time," where he sings, 'I'm sure that you're hurting inside / But why would you make your pain mine? / You're making me pay for your crimes." "Those lyrics were really special to me, because I think that's a common thing I'm seeing, and among myself too, it's really such a common trend for people to hurt other people when they're hurting," he said. "Maybe they don't even realize that's what they're doing, but a lot of times, and that's the other side of the coin, you can't take it personally because I guarantee you somebody who's trying to make somebody else feel pain or purposely trying to hurt somebody else is either trying to feel better about themselves or is just trying to feel better in general. There's clearly something going on. So that's where you can take a step back and not take it personally. But it's also like, why would you do that? That doesn't justify it. That doesn't make it OK for people to hurt other people because they're hurting. But I think it sort of helps you [to] empathize a little bit."
Building on that sentiment, Bassett added that one of the biggest lessons he's learned this past year, both as an artist and as a person in the spotlight, is to let go of fear. "I realized recently that fear is dictating my life and the second I realized that, my entire life has been changed," he said. "A lot of times you get lost in the mind and the mind will be like, 'Oh, we need to do this, this, and this.' It's like, hold on, what's actually going on? The second you start realizing that, you realize everything stopping you in your life is fear. But in every instance, when I'm about to cut a vocal [or] I'm on TikTok or I'm avoiding something, I'm like, 'What's really going on?' It's like, 'Oh, I'm afraid that I'm going to do my best and it's going to suck. OK, now that I know I have that fear, let's let that go because that's ridiculous and now let's just do it.' That's been the big thing for me, [to] be courageous and recognize when that fear is coming up and how it is literally driving your entire life, if you let it."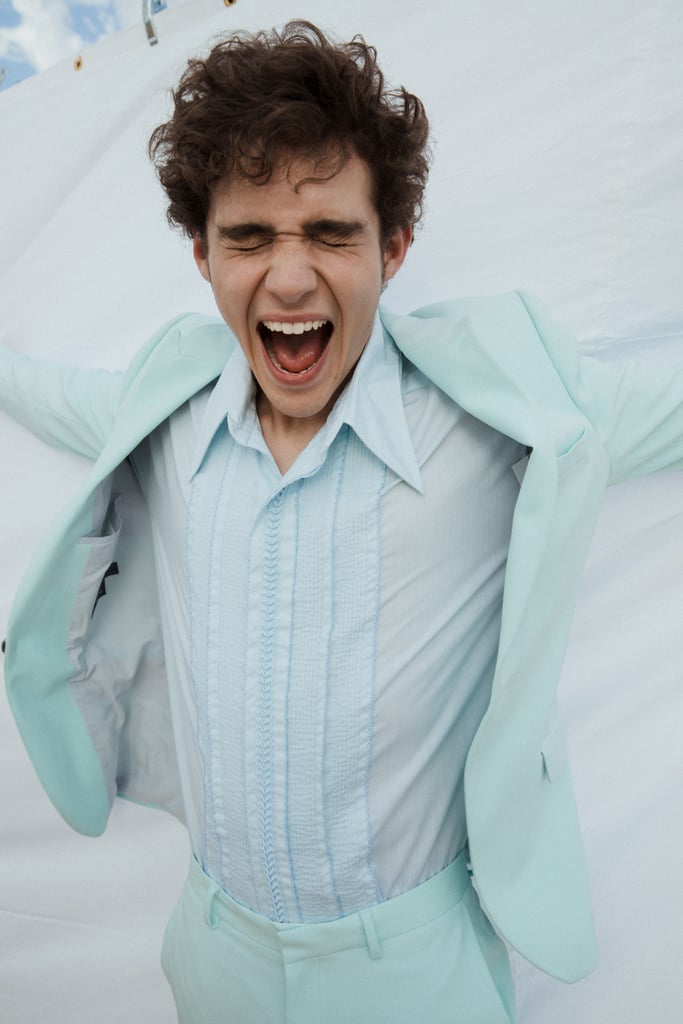 Image Source: Sarah Barlow + Stephen Schofield
At such a young age, Bassett has already accomplished so much, but he's clearly not slowing down anytime soon. Following the release of his EP, Bassett said he's "super excited for the next project," including potentially collaborating with more artists he loves like Miley Cyrus and Dua Lipa and trying new things musically. "I'm not really putting myself in a box," he said. "I'm just excited to get back to the roots and throw paint at the wall and start a fresh thing. I've been carrying these songs with me for two years, and now they're finally going to be out, so I can just move on to the next chapter, a fresh start, and I'm excited for all that's to come."

When I asked Bassett what's still left on his career bucket list, he immediately responded with a bevy of aspirations. In addition to writing and starring in a film or TV show, producing songs for other artists, and writing a book, Bassett added he'd love to go on a world tour. And he already has some artists in mind. "I would love to open for Harry Styles," he quickly responded. "I'm putting it out there — it's happening. So we can refer back to this [interview] when I open for Harry Styles. And who I want to open for me, Lizzy McAlpine is truly a gem. She is just the best. YDE is another remarkable artist who I would absolutely love to open for me at some point. I'll probably be opening for her, if I'm being honest."
As Bassett releases his EP into the world, he hopes his music inspires fans to be authentically themselves. "I can only hope that honesty inspires honesty," he said. "I think a lot of times, people aren't manipulative in their songs, but they're sort of like, 'What's going to be the catchiest?' or, 'What's going to relate to most people?' Which is ridiculous because whatever's the most personal thing to you will probably be pretty personal to other people, because it's all a universal experience. So I don't really have a specific takeaway, but I hope people will feel inspired by it. I hope that they will love it. That's really all I can ask for. And even if they don't love it, I'm proud of it, and I'm inspired by it, so that's all you can do."