The King's Man: See How It All Began in the Epic New Trailer For the Kingsman Prequel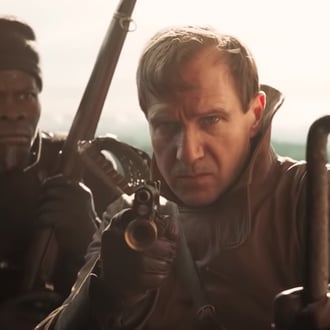 Although it doesn't look like we'll be seeing Taron Egerton or Colin Firth in the new Kingsman prequel, the new film does have a pretty kickass cast. Ralph Fiennes stars as the "Duke of Oxford," who appears to be leading the very first iteration of the secret, independent intelligence agency we now know and love, while Gemma Arterton, Aaron Taylor-Johnson, Matthew Goode, Tom Hollander, and Djimon Hounsou round out the rest of the cast.
As far as plot is concerned, we'll get to see what spurs the formation of the Kingsman: history's most infamous tyrants and criminal masterminds decide to team up to plot a war that will kill millions of people. (It's not Samuel L. Jackson creating evil cell phones or Julianne Moore putting dudes in a meat grinder, but we'll take it.) The new trailer builds on the story we were introduced to in the two teasers, which were released last summer. But while the second trailer starts with a sweeping view of a war-torn battleground, before quickly descending into a mishmash of epic fighting scenes, soundtracked with equally epic music — the third trailer jumps straight into the action.
The King's Man was originally slated to arrive in February 2020, but with the ongoing coronavirus pandemic, the release was (much like the rest of this year's blockbusters) pushed. The new trailer reveals that the film will hit cinemas in September 2020, and you can be sure this film will be a wild, action-packed ride. Check out the newest trailer above, and catch up on the earlier teasers ahead.
The King's Man Official Teaser Trailer
The King's Man Official Trailer 2
The King's Man Official Trailer 3