10 Kristen Wiig Characters to Channel For Halloween
From Saturday Night Live to the silver screen, Kristen Wiig has won over fans again and again with her hilarious, unforgettable characters. On SNL, she became known for popular personas like Gilly, Dooneese, and the Target Lady, and in 2011, she brought her signature wit to the big screen with her role as Annie in Bridesmaids. For a funny costume everyone's sure to love, take a look at all kinds of SNL Halloween costume ideas, then find out how to dress up as these hysterical Kristen Wiig characters — and get ready to paaaarty!
01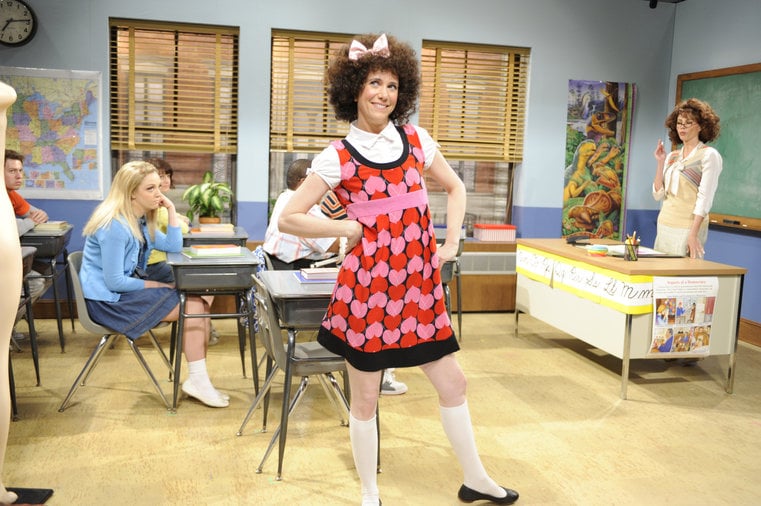 Gilly
What to wear: A collared white blouse, white knee socks, a printed dress, and a short, curly wig with a bow in it.
How to act: Dart your eyes back and forth and say "sorry" in a way that implies you totally don't mean it. Dance a little jig whenever something goes your way.
02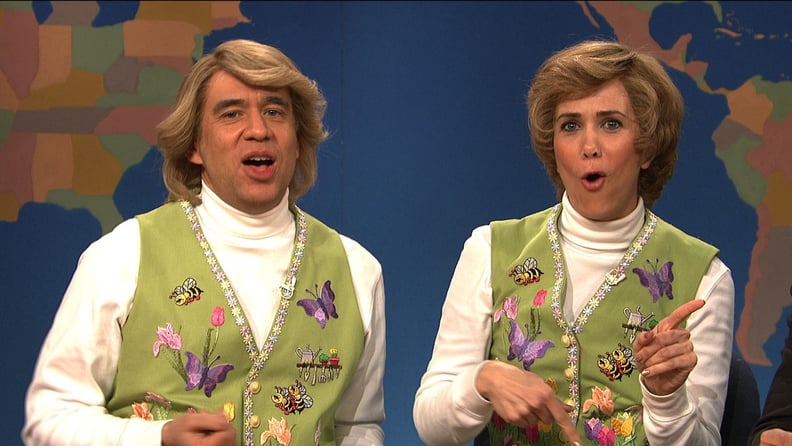 Garth and Kat
What to wear: A bright, colorful, cheesy vest with a turtleneck and a short blond wig.
How to act: Insist on performing for people, then attempt to make up songs with a friend, following their lead as they sing.
03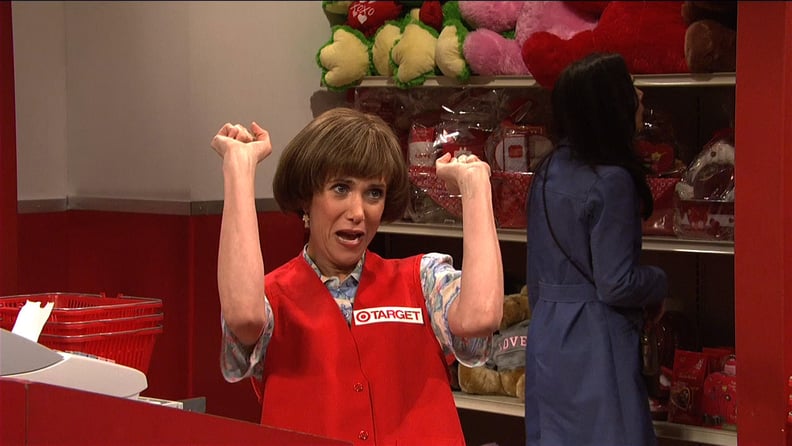 Target Lady
What to wear: A short-sleeved printed blouse, a red vest, and a short wig. Carry a Target bag for extra emphasis.
How to act: Be all about the TMI. Share too much, eavesdrop too much, and don't forget to raise your hands in the air.
04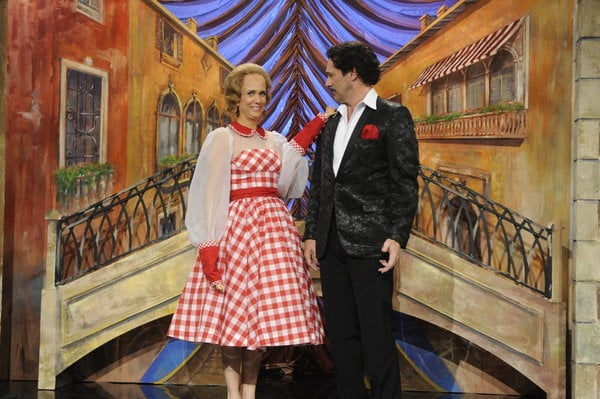 Dooneese
What to wear: A '60s-style dress with a full skirt and long sleeves and a bald cap with a blond wig pulled a little too far back. Take a doll's arm and hold it in your hand. Use as hand.
How to act: Caress people with your baby hand, and change the words to song lyrics to creepy things.
05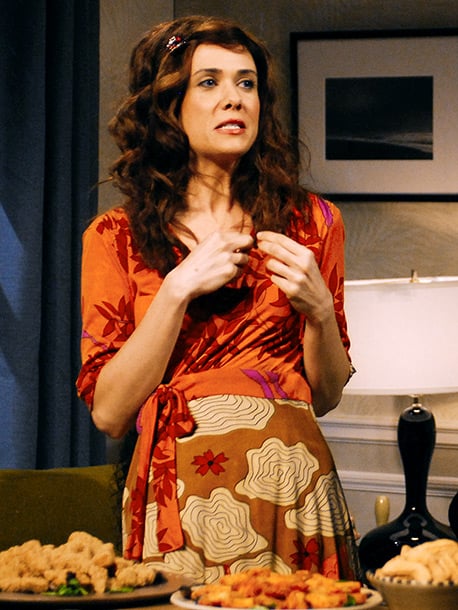 Penelope
What to wear: A printed wrap dress. Keep your hair down, and pin it to the side.
How to act: Be the queen of one-upping anything and everything people tell you, tugging at the ends of your hair as you lie, lie, lie.
06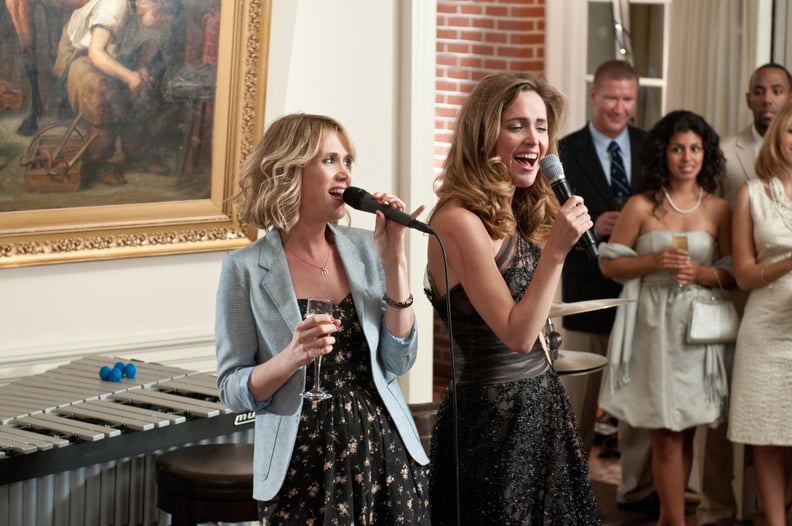 Dueling Bridesmaids
For Helen: Wear the most outrageous ball gown you can find and a brown wig. Both of you need Champagne glasses and microphones so you can interrupt each other.
For Annie: Cop Annie's signature look by wearing a sundress with a blazer. If anyone asks who you're supposed to be, reply: "I'm reaaaaady . . . to paaaaaaaaaarty!"
07
Judy Grimes
What to wear: A short curly wig with straightened bangs, plus a brown blazer with a black t-shirt.
How to act: Tell weird, random stories by speaking really, really quickly, and after everything you say, don't forget to add "just kidding."
08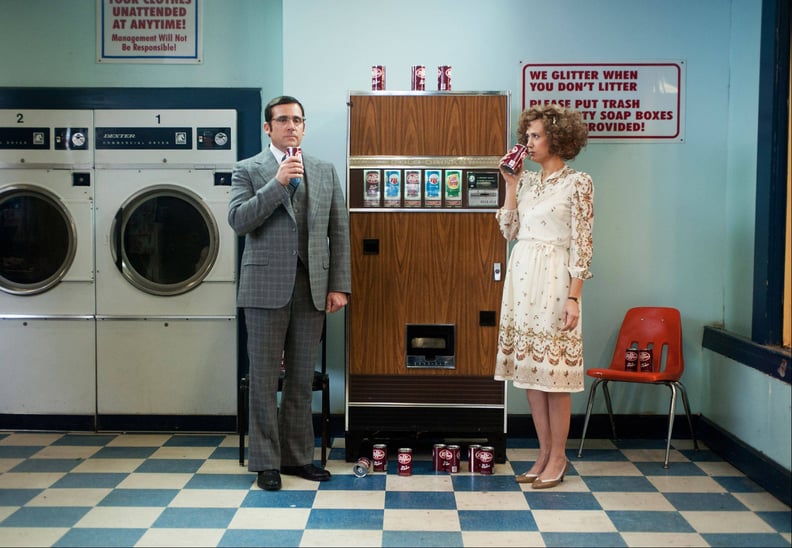 Chani Lastnamé From Anchorman 2: The Legend Continues
What to wear: A short curly wig with a plastic barrette, a long printed dress, and low, plain heels. Carry a Dr. Pepper can.
How to act: Try to make your hair look like "wet popcorn" (as Brick would say), and speak only in short, strange compliments. Bonus points if you pair up with someone dressed as Brick!
09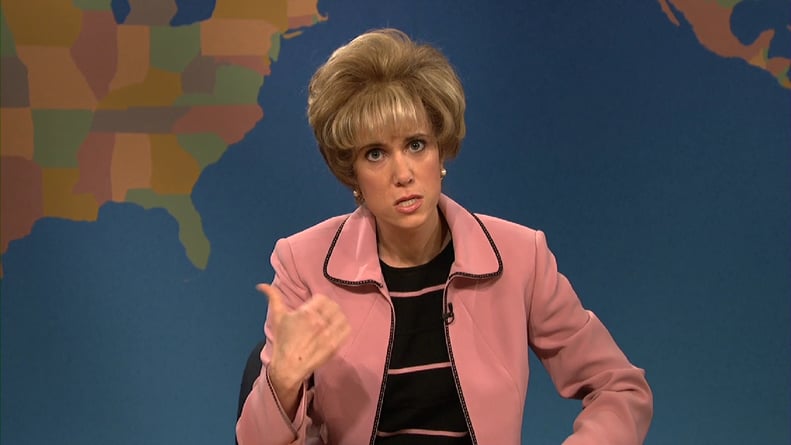 Aunt Linda
What to wear: A short blond wig, a pink jacket, and big pearl earrings.
How to act: Jut your jaw out as if you're constantly aggravated and complain about every movie you've seen recently.
10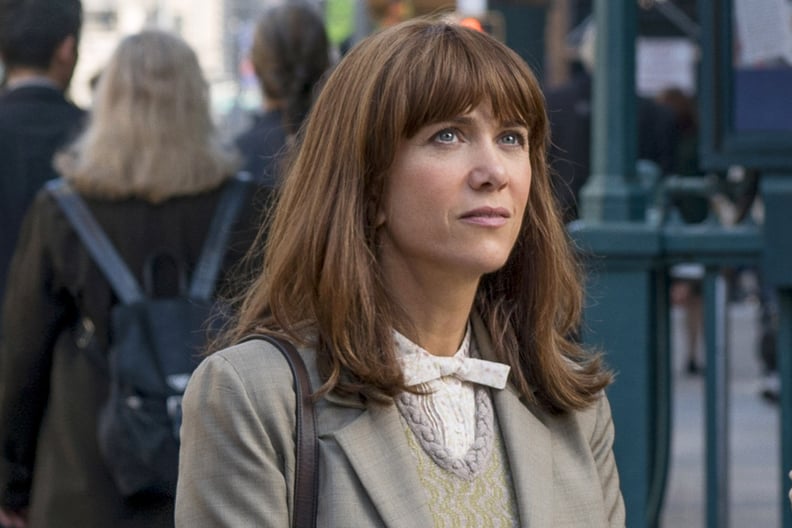 Erin Gilbert
What to wear: Match your Ghostbusters attire with a brown wig with bangs.
How to act: A little shy but definitely not afraid of ghosts.