The Badass Heroines of The Nutcracker and the Four Realms Talk Costumes, Representation, and More
The Oculus at the Westfield World Trade Center in New York City got a magical makeover from Oct. 21 to Oct. 23 when the tetrad of worlds from Disney's The Nutcracker and the Four Realms — the Land of Snowflakes, Land of Flowers, Land of Sweets, and the mysterious Fourth Realm — emerged as a maze-like adventure. Two stars of the film, Mackenzie Foy, who plays Clara, and Misty Copeland, who plays The Ballerina, gladly came along for the immersive experience.
Foy and Copeland sat down with POPSUGAR in the Land of Sweets to talk about the excitement over the upcoming movie. Before the interview began, Copeland kicked off her gorgeously embellished heels to make herself more comfortable. Rather than sitting in a row on one of the oversize candy benches, she happily plopped on the ground so that all three of us could make a circle while we talked. "It's OK, I like to be on the floor!" she assured me with a smile when I looked visibly apprehensive about a ballet icon doing an interview sitting on the ground.
"She's not afraid to be unapologetic of herself. She's not afraid to be a mechanic and be the hero, but still wear a dress and heels."
Meanwhile, Foy genially perched herself on a blue-swirled candy seat, bright-eyed and eager to answer questions. This sense of enthusiasm might have something to do with Foy's love for the very company she's been a part of through this film. "I'm a huge Disney fan, so being able to be in a Disney movie alone is just awesome," she said. But that's only one reason why the 17-year-old actress seems so excited about The Nutcracker remake. Her character and the movie's heroine, Clara, is also someone Foy came to appreciate for her bravery, kindness, and curiosity. "She's not afraid to be unapologetic of herself," Foy added. "She's not afraid to be a mechanic and be the hero, but still wear a dress and heels."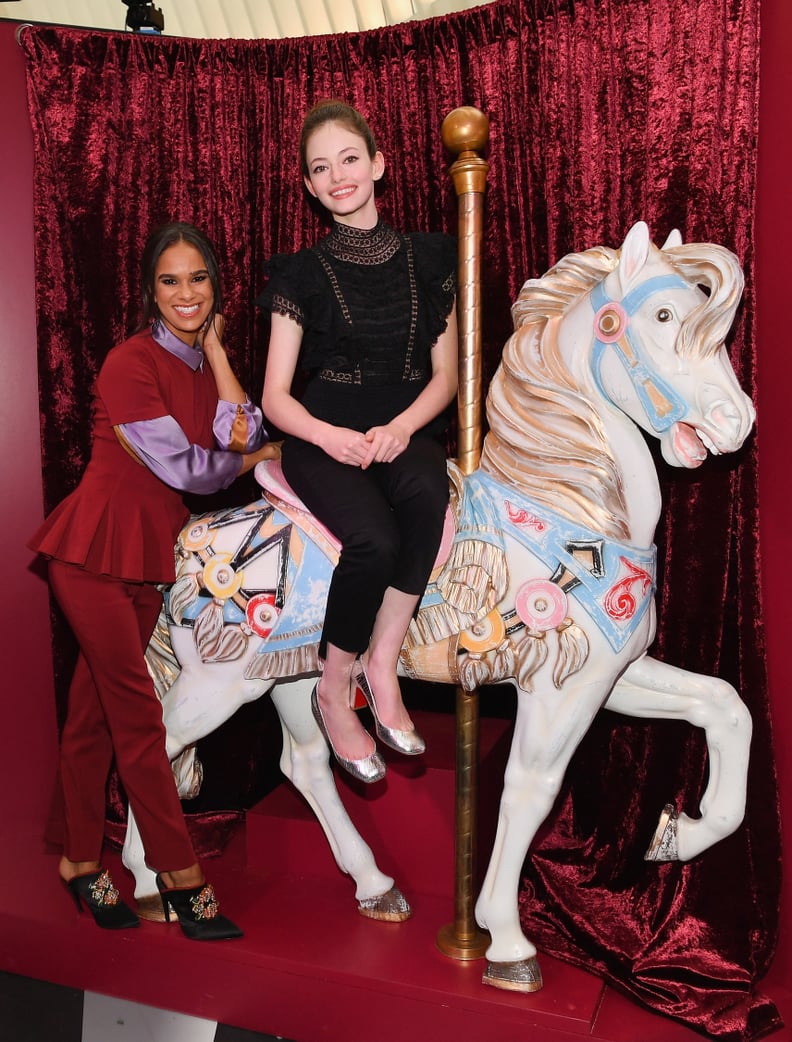 Copeland feels a similar connection with her character. In fact, The Nutcracker was the first ballet she danced in when she was just 13-years-old. "I just feel like my life's kind of come full circle," she said. The opportunity to play such a big role holds another special meaning near and dear to Copeland's heart. Touching on the importance of representation, particularly in the world of ballet, she notes that she doesn't exactly fit the current common perception of what ballerinas look like. But with her landing a significant part in the contemporary remake of a classic tale, she can be the one who helps change the landscape.
"This is going to be something that lives on in this film," she said. "That people will look at this brown ballerina, and it won't be a brown ballerina. It'll just be, 'That's a ballerina. That's what a ballerina looks like.'"
Despite this being Copeland's first major motion picture, one look at her in the film's trailer will tell you that she's still in her element when it comes to bringing the beauty of ballet to life. With pointed toes and gracefully fluid movements, she dons an elegant white tulle dress that's just one of the many elaborate ensembles viewers can expect to see. Evidently, the costuming was yet another fun experience for both Foy and Copeland.
"The costumes were really beautiful," Foy said. "And there's so much detail that went into the petticoats and the corsets. They hand dyed the tights, and they hand dyed the shoes. Every little inch of these costumes was nitpicked and perfected. It was just absolutely beautiful to be in them and be in the purple party dress, with the bustle and the little roses and sparkles on it, and just run through the realms and go on an adventure. It was amazing."
Copeland was also in awe of the opulent attire. "It was stunning to see live," she said. "I think that one of my favorites was definitely Keira Knightley as a Sugar Plum Fairy."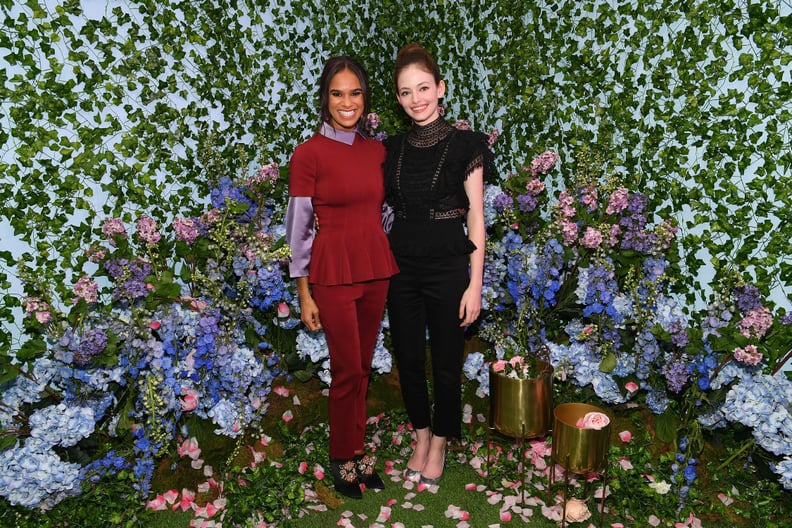 In a nutshell (pun intended), Foy and Copeland are both proud to be a part of the Disney magic.
"There's tons of those pinch-me moments," Foy said, before remembering how production brought the imaginative world to life. "They filled the soundstage with real trees and real dirt. It was massive. And they had brought in the snow, and they built courtyards with a working portcullis. They had a working portcullis — it's crazy! There's tons of moments where it was like, 'Wow. We're making the fantasy world.'"
Still, behind such colorful spectacles and set designs is a story that will take viewers on a journey more complex than any other Nutcracker rendition. "It's not as light and surface as the ballet story," Copeland said. "It's kind of digging deeper into these characters. It's like another dimension."
Watch Foy and Copeland embark on the adventure when The Nutcracker and the Four Realms hits theaters on Nov. 2.