Mädchen Amick Dishes on Riverdale Season 5 and Makes a Strong Case For Team Bughead
Riverdale is one of the many productions experiencing indefinite delays due to the coronavirus outbreak. In March, the show had to halt filming in the middle of its current season, causing it to cut three chapters from the installment and making the 19th episode the official finale. Although the altered denouement was unplanned, it now has new value since it will be the network directorial debut of Mädchen Amick, aka Alice Cooper.
Amick, who told POPSUGAR that directing Riverdale's finale "gave me a new appreciation" for the show, has also stayed in the loop when it comes to season five's capricious planning. Between the unpredictability of self-isolation guidelines and the exits of Skeet Ulrich (F.P. Jones) and Marisol Nichols (Hermione Lodge), quite a bit is up in the air, and we have questions. Thankfully, we got to speak with Amick about the future of Riverdale, what might be in store for Alice and F.P.'s romance, and, of course, the Barchie vs. Bughead debate.
POPSUGAR: Obviously, with production on Riverdale halting, the show's schedule has shifted. How will that affect season five?

"Roberto is never about closing the door on any character. A lot of times, we joke that if you die on Riverdale, you actually are guaranteed more screen time."
Mädchen Amick: I don't know, and I don't know if they know yet. Everything's up in the air. It definitely cut season four short. We were supposed to do 22 episodes, and 19 will be our finale. So we'll be short three episodes. I know that Roberto [Aguirre-Sacasa] had the prom and graduation planned to finish up season four, which now I'm assuming will be moved forward to season five. I don't really know what he's coming up with or how he's adjusted the storylines and the arcs. It depends on when the self-isolation and quarantine stuff lifts and when we will be able to get back together as cast and crew. By nature, we're like the worst example because we work so closely together a lot of months out of the year. We'll have to do whatever is safe for everyone's health and adjust. It might mean that we start filming a little bit later.
PS: Skeet Ulrich and Marisol Nichols are leaving the show, which are two big exits. Falice shippers are especially going to miss seeing Alice and F.P. together.
MA: Ugh, I know!
PS: How are you feeling about their exits? I'm sure it must be bittersweet.
MA: I'm definitely going to miss them. I think Roberto has a time jump planned between season four and season five. I believe he spoke about that. I know that shifts storylines a bit, so it must have been something that was planned with those exits happening. But I love Skeet and Marisol dearly, and I know that they are both going to continue to have amazing careers. They already have had very long, successful careers, but I know that they have adventures to go on, and they'll have fun. But I am absolutely going to miss them.
PS: Are there any ideas floating around about how Alice and F.P.'s storyline will wrap?
MA: I know that Roberto is never about closing the door on any character. A lot of times, we joke that if you die on Riverdale, you actually are guaranteed more screen time. He loves bringing characters back. Even if a storyline changes and something shifts, he just loves revisiting characters, and I know he really likes Skeet and Marisol. He's expressed to me that he hopes that their characters will continue to return, depending on their availability. With that said, I hope neither of their characters die, even though it could mean that we see more of them. I just hope something will bring them back to town, and we'll be able to revisit their characters and see them in the future — that kind of open-ended storyline. But, gosh, poor Alice. I'll go back to being selfish for Alice. She's been through so much and now, somehow, she's going to lose F.P. in some way. It's like, ugh, poor thing.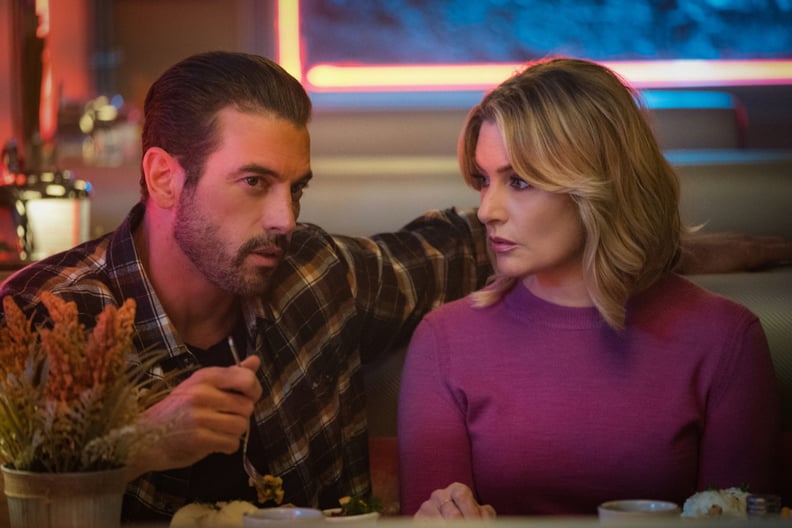 PS: I know! It's funny because I'm Team Falice, but I'm also Team Bughead. Is that weird, considering the familial element?
MA: [Laughs] It's certainly complicated, but there's no blood relation between Betty and Jughead, so that helps.
PS: True! This season, the whole Bughead vs. Barchie debate really picked up steam. Do you have a particular stance on that?
MA: Personally, no. But I think it's fun to see the love quadrangle — I would say "love triangle," but it's involving the four of them. But I think Alice is more of a Bughead fan than a Barchie fan because she made it pretty clear in season one that she didn't want Betty and Archie together. She likes Archie, but it was complicated because it reminded her of the tryst that she had with Fred, Archie's dad, back in her teenage years. It was bringing up a lot of open wounds, so I think, from Alice's view, she understands the Bughead relationship more, and the whole Barchie situation hits a little too close to home. Her heart was broken by Fred, so she didn't want her baby's heart broken by Archie.