Meghan Rienks and Arden Cho Get Real About Revisiting High School in The Honor List
Movies and TV don't always get it right when it comes to representing teen girls and their inner lives — and that's exactly what actor Meghan Rienks and writer Marilyn Fu set out to remedy when they joined forces on the coming-of-age movie The Honor List.
The collaborators debuted the film — which Lionsgate's Studio L and POPSUGAR Films teamed up to produce — last night at the fourth annual Bentonville Film Festival, presented by Walmart and Coca-Cola. I was on hand to catch up with the Fu, Rienks and her costar Arden Cho, director Elissa Down, and producer Liz Destro for a Q&A after the screening. We talked about portraying girls who exist beyond stereotypes, stacking the cast and crew with women, and why they reveled in featuring women's bodily functions on screen.
Rienks said that from the time she came up with a seed of the concept for the film, she wanted to show that teen girls are complex, and focus on relationships that weren't just romantic.
"A lot of times these popular girl [characters] are really one-sided, and they're just mean to be mean, and I think it was nice to have the girls kind of learn their lessons from each other," Rienks said. "I think a lot of times we get them learning lessons through getting their heart broken, so I think that, going into it, was something that was really important to us."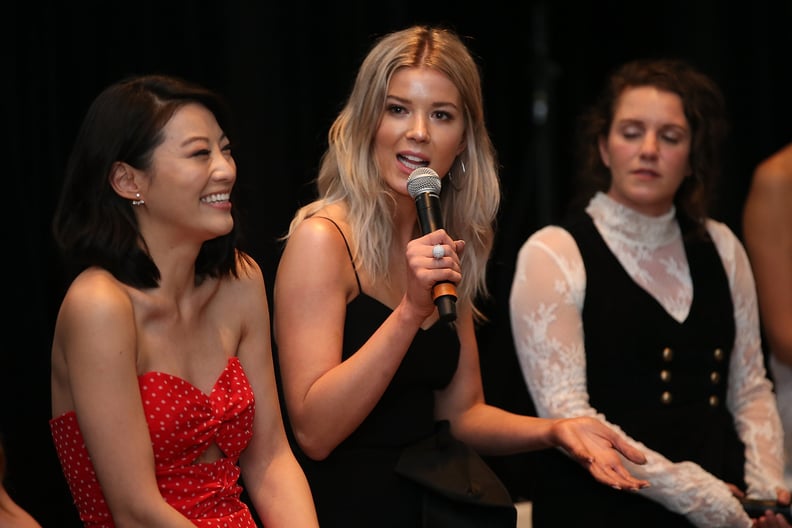 Cho admitted she had her reservations about signing on for the film — but they had to do with her own self-doubts about convincingly playing a teen.
"The very first thing I said when Elissa and I first met was, 'I'm way too old for this! I love this script, I love your work, but I am like 10 years too old for this,'" she laughed. "I think for me, I like being open with it, because a lot of women feel like they have to hide their age, or they feel like they get shamed when they get older. So I love saying, 'Hey, I'm 32, and I can still play 16 or 17, and it's OK.'"
In front of and behind the camera, women were a driving force on The Honor List. Not only did Down direct, but powerhouse women like Zoe Saldana and Destro served in producing roles. The film also boasts a female production designer, costume designer, and cinematographer. (As Down pointed out in our conversation, the latter is extremely rare: only nine percent of cinematographers are women.)
Still, Destro said that while locking down a heavily female cast and crew was important to the filmmakers, it wasn't a notable thing once they got down to work.
"There's a part of me that wants to say 'Yes, that's so great that women are getting hired.' And I think it's up to women to hire other women, and I truly believe that and I have tried to do that with all of my movies," Destro said. "But when people say, 'Is it different working with an all-female crew?'. . . the answer's really no. Women do the job just as well as men, so we really need to come to the table and really support other women so we can get a 5-0-50 share of the jobs that are out there."
When we opened the conversation up to audience questions, there was one scene in the film that people were clearly dying to know about. (Without giving too much away, it involves a shocking — and, weirdly, refreshingly subversive — moment featuring Rienks's character and a vengeful pee.)
"That was the moment we were all like, 'I wanna do this movie.' Because I do love seeing women do bodily functions," Down said to much laughter, which only grew louder when she added: "Not that I'm in special little online group or anything."
Down noted that it's rare that we allow women to get a little gross and be that real on screen. "In terms of depictions, you don't have women doing their business — it's sort of reserved for men. And I just loved the joyful liberation she has when she pees on the bed. We've just never seen that before."
Check out The Honor List on iTunes May 11 and on DVD on May 15.