Let's Talk About the Final Shocking Minutes of On My Block
Warning: BIG spoilers for the season one finale of On My Block below!
On My Block is the latest coming-of-age comedy to hit Netflix, but don't misunderstand — this is not yet another attempt to re-create the magic of shows like Freaks and Geeks or Dawson's Creek. The young cast — Jason Genao, Sierra Capri, Diego Tinoco, Brett Gray, and Ronni Hawk — is incredibly talented, and also incredibly diverse. On My Block, cocreated by Awkward's Lauren Iungerich, Jeremy Haft, and Eddie Gonzalez follows lifelong friends Monse (Capri), Ruby (Genao), Cesar (Tinoco), and Jamal (Gray) as they navigate the ups and downs of both freshman year of high school and life in general in a rough neighborhood of South Central LA.
As the flawless soundtrack pulses in the background, the crew is forced to grapple with some seriously harsh realities when Cesar is basically forced to join his older brother Oscar's gang. Conversations about studying for math tests and attending homecoming are cut with arresting scenes like confronting racist rich kids in nearby Brentwood, escaping a block-wide lockdown, and debating whether or not to murder a rival gang member. If that's not what you imagine the typical 14-year-old having to go through in high school, that's just another reason why shows like On My Block are so vital.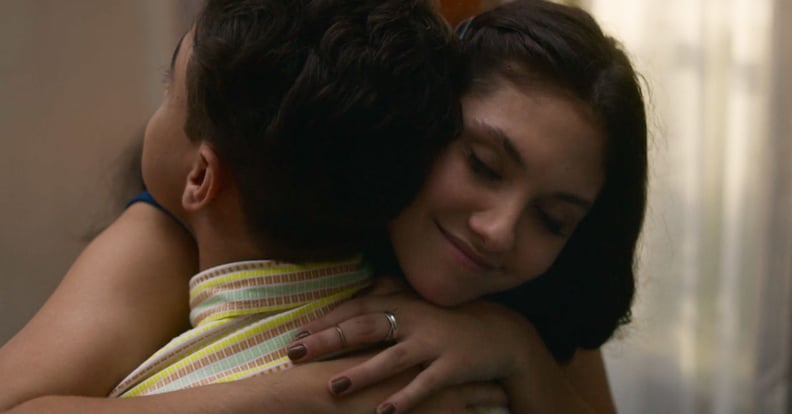 That brings us to the final, absolutely shocking minutes of season one. There are moments of darkness interspersed with all the comedy in the 10-episode season, but nothing comes close to how it ends: Ruby (Genao) and Olivia (Hawk) both bleeding out from gunshot wounds to the chest on the dance floor of the latter's quinceañera. The newfound lovebirds are shot by the same rival gang member Cesar was tasked with killing by Oscar in the previous episode (Cesar can't bring himself to take a life, and lets the guy go). We can only imagine the guilt he's already feeling.
Although we later see two ambulances racing through the neighborhood, things definitely aren't looking good for Olivia and Ruby — will they survive their injuries? And more importantly, will Netflix renew the series for season two so we can find out? Of the two gunshots, Olivia's definitely looks more serious, even though Ruby is the one wordlessly gasping for breath.
A second season of On My Block hasn't been announced by Netflix just yet, but it's hard to imagine that it wouldn't be. It's obvious that the show is an inclusive look at what a lot of teenagers are going through right this minute, even if it's not the norm depicted on TV. These are the kinds of stories that are necessary to bring into the conversation. And at the very least, we really need an answer to that cliffhanger, don't we?
If you're still reeling from what happens to Ruby and Olivia, you're not alone — fans of the show are currently sobbing their way through it on Twitter. Scroll through the best reactions to the emotional finale as we all wait for season two together.