Natalie Portman Is Ready For Audiences to Meet Her Female Thor
Natalie Portman is opening up about returning to the Marvel Cinematic Universe for "Thor: Love and Thunder." The actor is reprising her role from the first two Thor movies as scientist Jane Foster, only this time, Jane is also taking on the mantle of Mighty Thor, complete with armor, a cape, and a hammer of her own.
Portman spoke to Variety about her experience joining the movie. One reason she decided to come back to the franchise? Her kids, Aleph and Amalia, whom she shares with husband Benjamin Millepied. "I feel like it's the phase of my career where I'm really trying to just impress my kids. My 5-year-old and my 10-year-old were so enthralled by this process, getting to visit the set and see me dressed up in a cape," she said. "It made it really cool. You know, it's very rare that my kids are like, 'Please go to work!' Usually, it's quite the opposite."
She also talked about how she bulked up to play a superhero. "On 'Black Swan,' I was asked to get as small as possible," she said. "Here, I was asked to get as big as possible. That's an amazing challenge — and also state of mind as a woman." Portman worked with a trainer for 10 months before and during production.
Portman's Jane in the movie is also much taller than her nonhero counterpart, clocking in at 6' tall. Portman couldn't actually change her height, so the crew would build a platform about one foot off the ground for her to stand on during scenes.
"I've seen her play the scientist character in 'Thor' 1 and 2, and it just seemed pointless to do it again," the movie's director Taika Waititi told Variety of bringing the character back in a new way. "That character feels like just a love interest. It's an Earthwoman who runs around being mortal and not really consequential throughout."
As for what Jane's plot in the movie will be, both Portman and Waititi were pretty tight-lipped. In the comics the character is based on, a 2014 series where Jane takes up the mantle of Thor, Jane is dealing with a cancer diagnosis, and being a hero is draining her. Neither would say if her plot will be the same in the movie, though Waititi said, "Part of why [Natalie] wanted to play that character is that she has a dilemma in the book." He added that Jane "has big choices to make within the comic" and that the creative team behind the movie was interested in the same thing.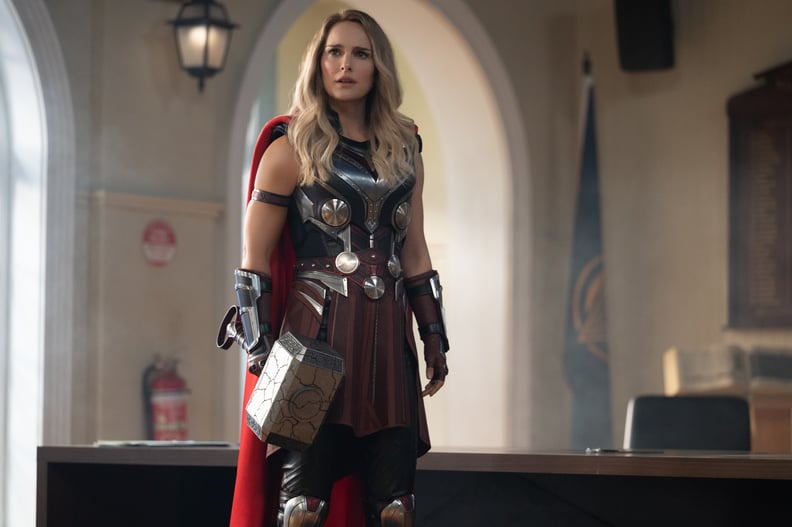 Portman added that she was also happy that Jane isn't the only female hero in the movie. Tessa Thompson's Valkyrie and Jaimie Alexander's Sif are also part of the action in a big way.
Portman's involvement in "Thor: Love and Thunder" was first announced at San Diego Comic-Con in 2019. The movie marks the first time Portman will appear in the franchise since "Thor: The Dark World" in 2013, though the character did appear briefly in flashback in "Avengers: Endgame." Portman told Variety she recorded some voice-over for that film.
"Thor: Love and Thunder" will hit theaters July 8. The movie sees Thor (Chris Hemsworth) come out of retirement thanks to the terrifying Gorr the God Butcher (Christian Bale). This is the second Thor movie directed by Waititi, who also helmed 2017's "Thor: Ragnarok."