Yes, That Huge Character Exit on Grey's Anatomy Is Real — For Now
We've seen lots of doctors come and go on Grey's Anatomy, and fans of the show can still feel the sting of certain series exits (ahem — Derek and Lexie!) to this day. This week's episode saw the exit of yet another season regular, Dr. Nathan Riggs (Martin Henderson), but at least for our sake he was able to walk away with the happy ending we all wanted for him. So why exactly did Riggs leave Seattle? Well, he did it for love and a fresh start, and we definitely can't be mad at him for that.

The episode focuses on Nathan and Megan's (Abigail Spencer) love story, as well as their individual relationships with Owen. The episode is filled to the brim with flashbacks to when the trio served in Iraq together — with Teddy, of course — and it fills in the blanks and gives us a look at a few major details of their relationships, including Nathan's first proposal to Megan (featuring another woman's necklace) and both of their infidelities.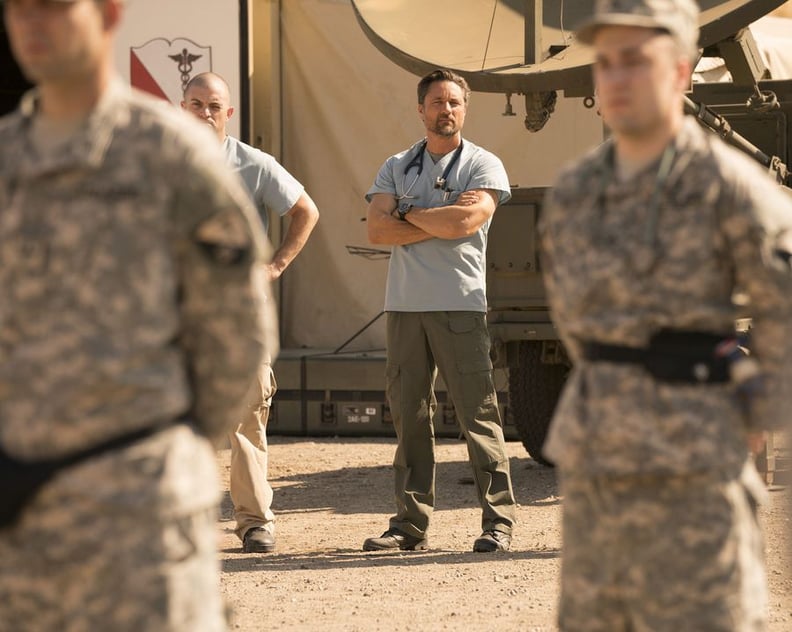 There are also cuts to the present day littered in between, which show Nathan making a home for himself, Megan, and Farouk in California, while Megan, fully recovered from surgery, takes a road trip to meet him there, despite Owen slyly trying to talk her out of it. Fortunately, her love for Nathan prevails in the end, and the two finally prepare to start their new life together when she makes it to Malibu by the end of the hour.
Riggs's exit is a pretty tough pill to swallow, but compared to the ways that a few other less than fortunate characters left the series, we think we'll be able to manage.
"As for Martin, this is not an ending for our relationship."
"I loved that we were able to give Riggs a happy ending worthy of his character and talent," Grey's creator Shonda Rhimes told The Hollywood Reporter of Henderson's exit. "As for Martin, this is not an ending for our relationship. He has been part of the Shondaland family since the pilot of Inside the Box and he will always be family. I can't wait to find a new project to work with him on in the future."

Yeah, we definitely can't wait to see what that project turns out to be. Maybe he'll appear alongside Ben (Jason George) in a few episodes of the upcoming Grey's firefighter spinoff. Or maybe he'll get his own spinoff? These things might not be super likely to happen, but Riggs exiting on a positive note can at least leave us with a little bit of hope that he hasn't left Grey Sloan completely behind just yet.