Scream Queens Has Nothing on Nick Jonas's New Movie When It Comes to Scathing Portrayals of Greek Life
Nick Jonas got to portray a silly, satirical side of Greek life in last Fall's Scream Queens, playing a guy in a fraternity with the ridiculous name of the Dickie Dollar Scholars. Now the actor is starring in another project about the Greek system — only the fraternity life in indie drama Goat is far different from that on Ryan Murphy's candy-colored, serial-killer-stalked world. Goat, which just premiered at the Sundance Film Festival, stars Ben Schnetzer as Brad, a young man who pledges a fraternity that his brother, Brett, is already part of. Jonas plays Brett, the older, cooler, more confident brother.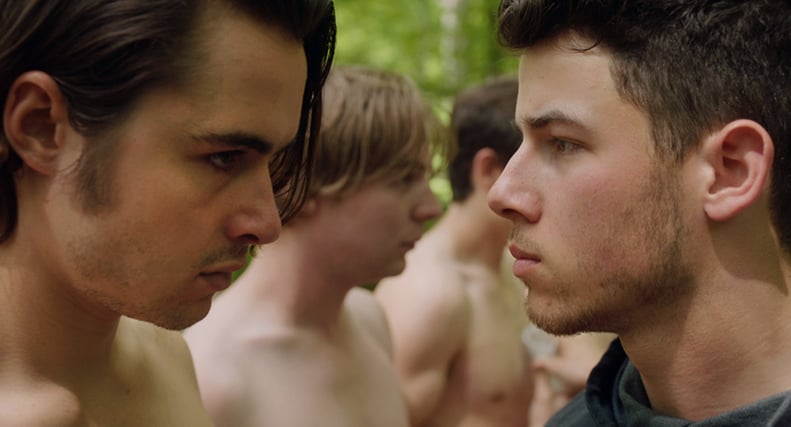 Goat is based on a memoir by Brad Land and follows a thread in Brad's life just before he enters college. One night after a party thrown by Brett's fraternity, Brad is attacked by two young men in a random act of violence. The traumatic event almost throws off Brad's college plans, but Brett manages to get him back on board and lined up to pledge his fraternity. There's a lot of underlying reasoning for Brad joining his brothers frat: it'll bring them closer, it makes sense because Brad is a legacy, and of course, it'll help Brad forget about the nasty business of his attack. No one seems to bother mentioning that it might be a bad idea, given Brad's mental state after the physical assault.
This is where Goat gets real — and puts fictionalized versions of fraternities and sororities to shame. Brad is initiated into the fraternity through a series of horrifying hazing rituals, wherein the entire pledge class are referred to as "goats." On Scream Queens, you had Chanel ordering her minions around and terrorizing them mentally, but there was very little hazing involved. Chanel is mean, but she has nothing on the brothers of Phi Sigma, Nick Jonas's Goat fraternity.
Even the friendships of Scream Queens' Dickie Dollar Scholars seem real, when you think about it in retrospect — Chad Radwell (Glen Powell) devoted himself to solving the mystery of his fraternity brother Boone's (Jonas) death. However absurd their interactions, the fraternity members on Scream Queens seem like friends. Not so in Goat: the fraternity brothers put their pledges through such intense physical and mental harm that it's impossible to believe that these people care for each other.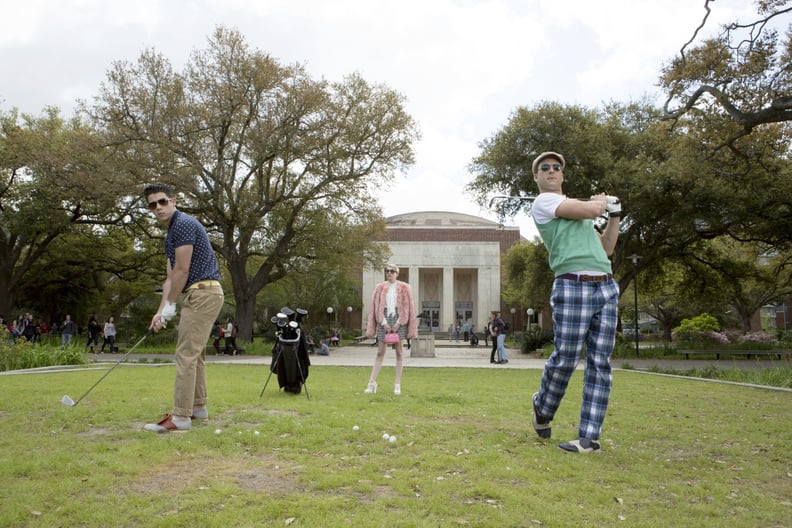 Then there is the portrayal of masculinity: the Dickie Dollar Scholars are so evolved that they are accepting of a gay member (Boone) — but if you've been to any national, mainstream fraternity lately, you'd know what a rarity that is. The guys of Scream Queens seem at ease with their masculinity, interestingly, but in Goat, the most important question is, "Are you a p*ssy?" A simple phrase, yet it's applied to just about every situation the men are in. There is only one answer — and only one way to be a man.
What you come away with after seeing Goat is shock and dismay that this kind of ritualistic abuse is happening, all the time, at college campuses everywhere — and that shows like Scream Queens and movies like Old School have shied away from what really happens behind closed, Greek-lettered doors. The irony is that Scream Queens is supposed to be the extreme portrayal of Greek life, so nuts that a serial killer is stalking students. But Goat? It has the real horror story.