The 13 Cutest Friendships to Come Out of The Bachelor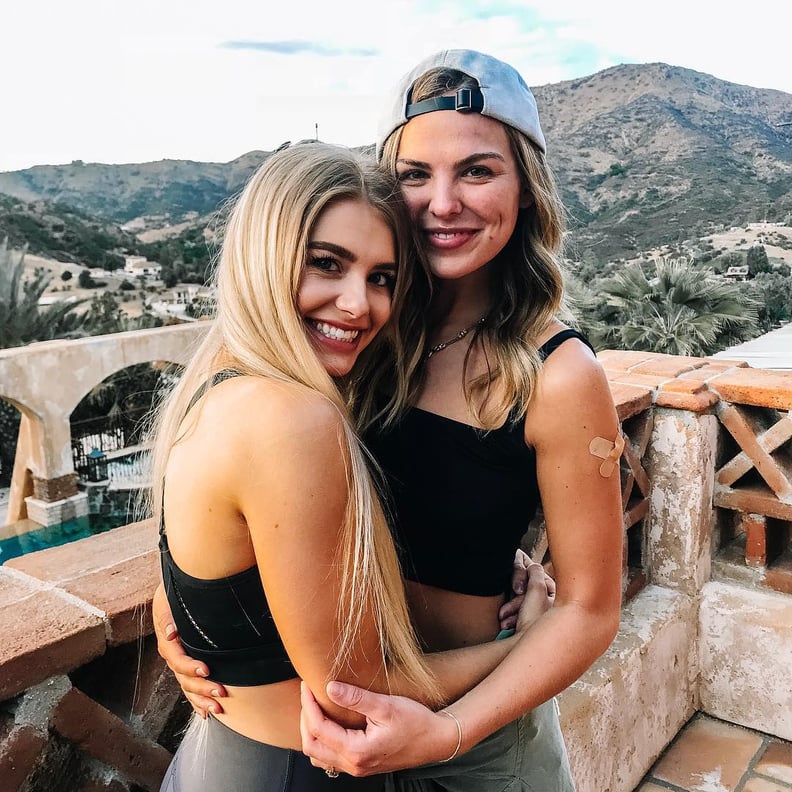 The Bachelor might be about finding love — and sitting at home in your sweats and drinking wine with your best friends — but if we're being honest, some of the biggest things we remember are the friendships that come from the reality show. Seriously, hear us out; there are a lot of great friendships that have come from the franchise, and we can't get enough of them.
It sounds weird when you say, "I met my BFF while competing for a man's heart," but there are a decent amount of ladies who can actually say this, and we love them for it. Sure, there are a few good bromances that have started thanks to The Bachelorette, but the ladies who've become lifelong friends thanks to The Bachelor are much better and more fun. Sorry, but it's true.
Whether you watch every season to actually see a man find the love of his life or tune in to see which girls will cause drama and which ones will drink a little too much before a rose ceremony, we can all agree that ladies bonding even though they are technically competing with one another is a good thing. To see which of your favorite former Bachelor contestants became instant besties and continue to be close today, keep reading. Oh, and maybe grab a glass of wine and your BFFs as you do . . . it's more fun that way!
01
Cassie Randolph and Caelynn Miller-Keyes
Cassie Randolph and Caelynn Miller-Keyes met while competing for Colton Underwood's heart on season 23 of The Bachelor. Even though Cassie was ultimately given the Bachelor's final rose, her friendship with Caelynn has continued to be strong.
After their season wrapped, Caelynn even moved to California and now lives in the same apartment complex as Cassie and Colton in Los Angeles. Now, the two besties can be seen all over California, including Cassie's hometown of Huntington Beach, and Caelynn isn't afraid of being the third wheel!
02
Jade Roper and Carly Waddell
Jade Roper (now Tolbert) and Carly Waddell's friendship might be one of the best to come out of The Bachelor franchise, and we can prove it. After meeting on The Bachelor's 19th season, the duo has become inseparable. The two furthered their bond when they both starred on Bachelor in Paradise, and Jade even moved to Nashville to live closer to Carly before she got married to Tanner Tolbert in 2016.
When Jade did tie the knot, Carly stood by her side as a bridesmaid and even wrote her a song for her big day. In June 2017, Carly got married to Evan Bass, and Jade returned the favor by being one of her bridesmaids. Now, the two are enjoying motherhood side by side and frequently get together with their kids in tow.
03
Tia Booth and Becca Kufrin
Blondes might claim they have more fun, but when it comes to Tia Booth and Becca Kufrin, it seems like brunettes have a blast, too. These two friends met while on season 22 of The Bachelor while trying to win Arie Luyendyk Jr.'s heart.
Although Becca did win, she was eventually dumped by Arie for runner-up Lauren Burnham, but it's all good now, since Becca had her own run as The Bachelorette and found love with Garrett Yrigoyen.
Despite having a little bit of drama on her season when Tia showed up to say she had feelings for one of Becca's suitors (Colton Underwood), these ladies have always had each other's backs.
Nowadays you can see the two girls on trips together or meeting up to promote Bachelor Nation whenever they can — even if they live in different cities. They also like to make their duo into a trio by bringing Caroline Lunny along on their adventures.
04
Joelle Fletcher and Becca Tilley
Before Joelle "Jojo" Fletcher started her own journey for love, she competed on season 20 of The Bachelor for Ben Higgins's heart. Even though she didn't find love then — she later did as the Bachelorette — she did become instant friends with Bachelor fan-favorite Becca Tilley, who was on two different seasons of the franchise.
Since the two became BFFs, they've frequently been seen hanging out together, have done ads for different products together (like an adorable face-cleaning ad), and are always making jokes on social media about their sweet friendship. If The Bachelor needs another spinoff idea, Jojo and Becca: Best Friends Forever is our vote!
05
Rachel Lindsay and Astrid Loch
Rachel Lindsay leaned on a lot of her friends, whom she met while competing for Nick Viall's final rose, when searching for love on her own season of The Bachelorette. In fact, Rachel has been very vocal about which of her friends from the reality series have been supportive of her, and Astrid Loch is definitely at the top of her list.
"A real one left last night . . . but forever in my life #realfriends #friendsforlife #rbf #bachelornation #thebachelor #squad," she wrote on Instagram on a picture with Astrid, and their friendship is still as strong as ever.

The two former contestants also spend time with Alexis Waters and Raven Gates, and together, the foursome have a ton of fun.
06
Hannah Brown and Demi Burnett
While competing for Colton Underwood's heart on The Bachelor, Hannah Brown and Demi Burnett found a sweet friendship instead. Hannah B. trusted her new BFF so much that she actually turned to her for advice while searching for love on her own season of The Bachelorette. She even had her spy on the guys on her season during two episodes.
When Demi later appeared on this Summer's Bachelor in Paradise season, Hannah had her back. She even showed up in Mexico to help her bestie navigate her romance with Kristian Haggerty. Plus, the two friends see each other as much as possible, and recently went to Alabama to watch the Crimson Tide during football season.
07
Kristina Schulman and Sarah Vendal
Kristina Schulman has been a topic of discussion for two seasons of Bachelor in Paradise after finding herself within Dean Unglert's love triangle one season and trying her hand at love with Blake Horstmann in another. Back when she was on season 21 of The Bachelor however, she was not only winning Nick Viall's heart (or trying to), but she found herself a really great friend in Sarah Vendal.
Despite the fact that these two ladies don't live close to one another, they frequently make time to visit one another and can't help but post fun BFF-style pictures when they do.
"Friends that attempt modeling together, stay together. Thankful to have met this incredible human through such a unique experience. Yeah, I feeeel #blessed #themlegsthough #thatcollarbone #thebachelor," Kristina wrote on one of her many pictures with Sarah, proving these two are real-deal best friends.
PS: Kristina is also close friends with Astrid Loch, Whitney Fransway, and Rachel Lindsay.
08
Amanda Stanton and Lauren Bushnell
Blondes seem to have more fun — at least, when it comes to these two besties. Amanda Stanton and Lauren Bushnell became friends while on Ben Higgins's season, which Lauren won, and even after the Oregon native got that final rose — and then later broke up with Ben — Amanda has been by her side. These two blond beauties spend time together in both Orange County, CA, (which is where Amanda lives) and Nashville (where Lauren now lives with her fiancé Chris Lane), have been to Stagecoach Festival together, and take girls' trips with some of their other Bachelor ladies as much as possible. Plus, with Lauren now engaged, perhaps Amanda will be a bridesmaid!
09
Kaitlyn Bristowe and Whitney Bischoff
Even though Whitney Bischoff broke up with Chris Soules after winning the final rose back in 2015, she did keep her friendship with Kaitlyn Bristowe intact, and we are so grateful for it.
After meeting on the reality series, these two have continued to be close, despite living in different states. The good news is that this duo frequently makes time for one another, takes trips to each other's respective cities (Kaitlyn is always on the go with her new Bachelor Nation beau Jason Tartick and Whitney lives in Chicago), and always finds time to be goofy together.
Oh, and Kaitlyn was there to celebrate Whitney's wedding after attending her bachelorette party, before Whitney stopped by Kaitlyn's podcast, Off the Vine, in July 2019.
10
Renée (Oteri) Maynard and Desiree (Hartsock) Siegfried
OK, these two beautiful ladies weren't on the same season of the reality series, but they did meet thanks to being Bachelor alum, and they've been friends ever since. In fact, the duo has been through everything together. Desiree Siegfried was a witness at Renée Maynard's wedding, and later threw her a baby shower when she was expecting.
Renée and Desiree were previously pregnant at the same time, which gave Renée her chance to return the favor and throw Desiree a baby shower — it's so freaking sweet! Plus, these two are often seen on double dates with their husbands, which, again, is super cute.
11
Andi Dorfman and Kelly Travis Hamm
We have season 18 of the reality series to thank for Andi Dorfman and Kelly Travis Hamm's friendship. When we first met these two, they seemed like total opposites. Andi was a lawyer, while Kelly said her job title was "Dog Lover" (strange, but true). Now these two can't stop spending time with one another and seem to have a lot in common.
They go on girls' trips all over the world together (including Greece), have been a part of each other's big life moments — including Kelly's wedding, which Andi attended (as well has her bachelorette party) — and they also have a blast with another fellow Bachelor contestant, Sharleen Joynt.
12
Taylor Nolan and Vanessa Grimaldi
Taylor Nolan and Vanessa Grimaldi met while on Nick Viall's season of The Bachelor. The good news is that their friendship has had much greater success than Vanessa's short-lived engagement to Nick.
The pals are two peas in a pod. They travel all over the world together, love visiting one another, and even go on double dates with their new boyfriends. Oh, and they can't help but share sweet photos together all the time.
"Been sharing food, cuddles in bed & smiles (sometimes tears) since 2016," Vanessa recently posted with a photo from the duo's visit in Canada in September 2019.
13
Jason Tartick and Blake Horstmann
We have The Bachelorette to thank for this adorable bromance between Jason Tartick and Blake Horstmann. After Jason started dating Bachelor Nation favorite Kaitlyn Bristowe in early 2019, and Blake became a big topic of conversation on Bachelor in Paradise, you might've forgotten that this friendship exists, but we haven't.
Even though both Jason and Blake fell in love with Becca Kufrin on her season of The Bachelorette, and both were left heartbroken, their bromance became stronger because of it. Since losing on the show, these two have traveled together, competed on Family Feud, attended sporting events together and even cohosted Bumble events together.
Basically, their bromance is what dreams are made of and we want a spinoff series starring these two stat!